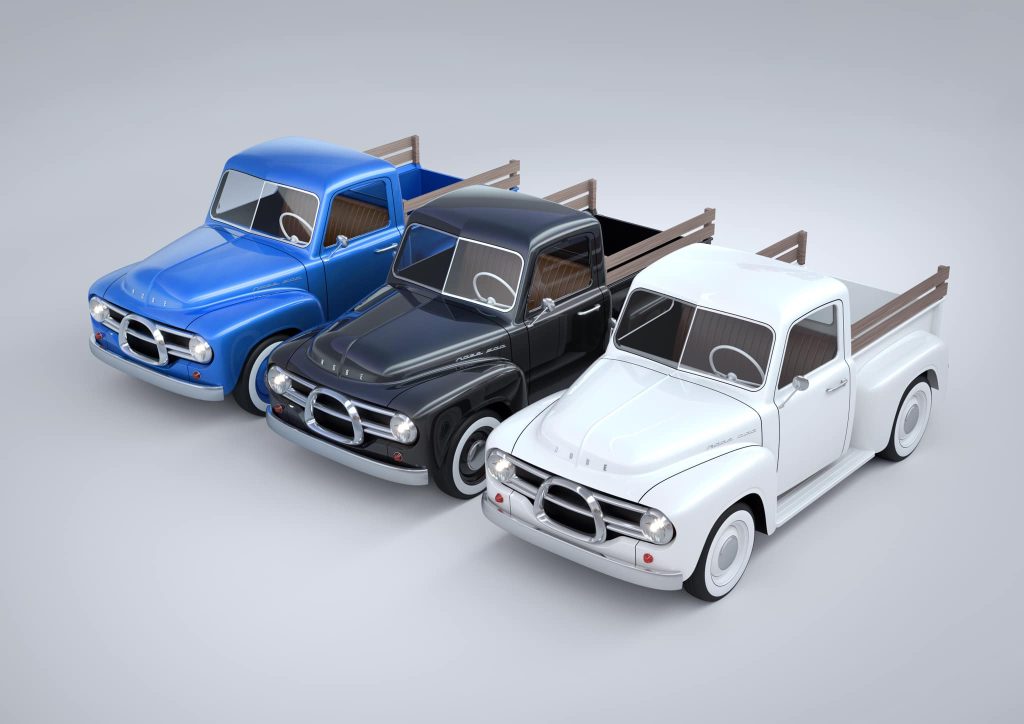 Four years ago today, on 2017-10-29, a weblog post titled Stuffing a 10-car garage was published. It presented a number of electric vehicles (EVs) that had awakened my curiosity over the years, along with one internal combustion engine (ICE) vehicle, the Citroën Berlingo. The one advantage of a virtual garage is that it is very easy to acquire and then dispose of vehicles.
The 2021 United Nations Climate Change Conference, the 26th held (COP26), is scheduled to begin 2021-10-31 in Glasgow, Scotland, two days after publication of this weblog post. The conference will end 2021-11-12. Hopefully something will be accomplished to prevent a climatic disaster.
EVs are not only increasing in number, but improving, technically and in terms of design. Unfortunately, most of this development is happening in vehicle segments that people should be avoiding . This weblog post presents six EVs made by six companies for six different segments from six different European countries. During the year this post has been in development, all of the models originally selected have departed the list, and been replaced by others. The number of continents represented has decreased from four to one, with an encouragement for people to buy locally produced products. I don't believe I could do the same using North American products. Even, with this focus on smallish, affordable European EVs, it has been difficult.
Not many specifications are available for the selected vehicles at the time of publication. Those missing will be provided in subsequent updates, when I remember. The worst case situation in this post, is that of Fiat and its Giardiniera. Despite the initial hype and promises, at the moment it is looking more like vapourware. It is included to remind people that vapourware is a major problem in the automotive industry. It allows manufacturers to pretend that they are doing something, when in all likelihood nothing is happening at all.
In terms of the A segment, I had hoped that the Zetta CM1 had been developed further. I had wanted to put an improved Zetta in the A class, and even contacted the manufacturer, Russian Engineering and Manufacturing Company (REMC) in Toliatti about it. I received no reply to my email.
Segments D and above/ larger are ignored in this post out of concern for the environment.
| | | | |
| --- | --- | --- | --- |
| Company | Model | Segment | Country |
| Nobe | 500 | Pickup | Estonia |
| Renault | Kangoo | MPV | France |
| Microlino | Microlino | Micro (L7e) | Switzerland |
| Freze | Nikrob | A | Latvia |
| Fiat | 500 Giardiniera | B | Italy |
| Sono | Sion | C | Sweden |
Six companies producing six vehicle models for six segments in six European countries.
Nobe 500
Pickups are typically regarded as American, so there would probably not have been many objections if this slot had been filled by any number of American vehicles including, in alphabetical order by brand, the Ford F-150 Lightning, the GMC Hummer, the Lordstown Endurance, the Rivian R1T, and the Tesla Cybertruck, There was a time when this list might have also included the Havelaar Bison and the Nikola Badger.
None of the vehicles listed above appeal to me. They are too massive. However, I will also admit, that the first vehicle I leaned to drive on, at the tender age of 14, was a Chevrolet Advance Design 3100 pickup, probably from 1952, in the farm fields of Okanagan Mission, near Kelowna. This featured the same split windshield, found on the Nobe 500. The Ford F-series, from the same time period, did not have this characteristic, although certain other F-series features do appear on the Nobe 500. This vehicle is at the top in terms of charm. I am waiting for it to appear dressed as a woodie (sic) wagon before buying one!
Renault Kangoo
In terms of COP26, this vehicle should probably not have been included. It is, but only because of my infatuation with this type of vehicle. People should determine if this is the type and size of vehicle that meets their needs.
When we purchased a Citroën Berlingo in 2002, the other vehicle we considered was a Renault Kangoo. Both were considerably smaller than today's vehicles. The Citroën was chosen, in part, because at that time there was no local Renault dealership. Currently, we are facing the opposite situation. There is no local Citroën dealership, but there is one selling Renaults. In addition, there are some indications that the upcoming 2022 Kangoo EV (termed Etech, previously ZE in Renault-speak) will offer a range of 285 km. Other specifications released so far include: battery capacity theoretical/ usable = 52/ 47 kWh; motor type = AC synchronous motor; power = 90 kW; torque = 245 Nm; and, importantly, a trailer towing weight braked = 1500 kg.
On 2021-10-28, a day before publication, we visited the local Renault dealer in Steinkjer, and found out that a vehicle should be available to test drive in 2022-05.
Badge Engineering: The Renault Kangoo will be badge engineered into a Mercedes-Benz EQT and a Nissan Townstar.
Microlino
Driving requirements vary, which means that a variety of vehicle types have to be made available. Many people live alone, and have little or no need for a vehicle that can transport more than themselves. For such people, a two person vehicle may be ideal.
In Our Journey, the idea for the Microlino originated when Wim, Oliver and Merlin Ouboter, asked: "How much car does one really need for daily driving?" In Switzerland the answer involved 1.6 passengers and 36.8 km on an average journey, along with parking challenges. This indicated to them that modern cars were over-engineered for urban use, especially if environmental factors, such as global warming, are considered.
Specifications: Overall length / width / height = 2 435/ 1 473 / 1 501 mm; wheelbase = mm; ground clearance = mm; curb weight = 513 kg; seating capacity = 2; battery type = Lithium-Ion (NMC/NCA); battery capacity = 14 kWh; range per charge = 230 km; motor type =; power = 12.5 kW; torque = 118 Nm; speed: max = 90 km/h; acceleration 0 – 50 km/h = 5s; regenerative braking = yes; cargo volume = 230 l; towing weight braked = 0 kg .
Freze Nikrob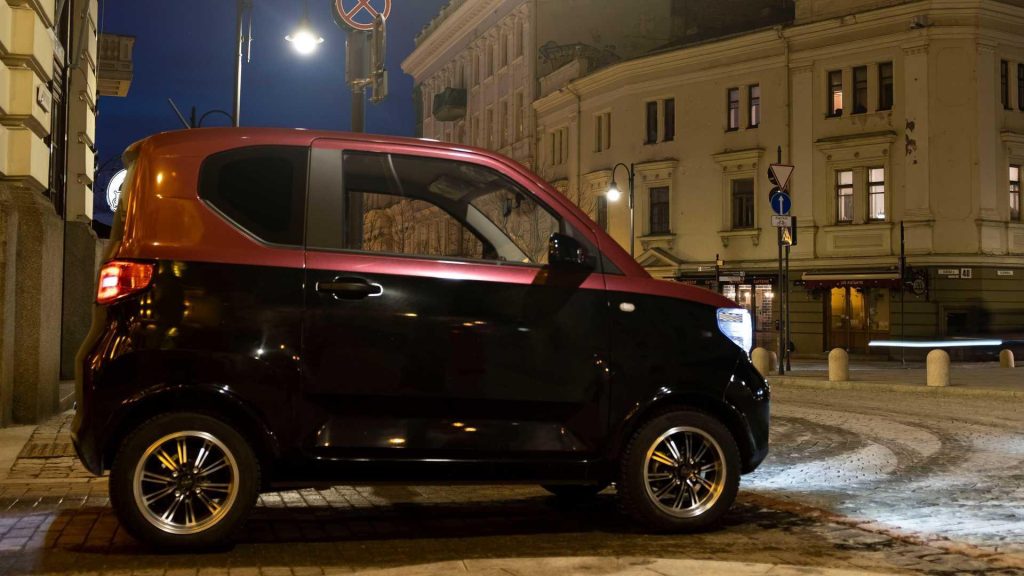 Another answer to the Ouboter question could have been the Freze Nikrob, based on the Wuling Mini EV. Rebadged and restyled by Dartz, it is assembled in Lithuania by Nikrob UAB. Dartz wants to sell the Freze Nikrob and its convertible version, the Freze Froggy, in European left-hand-drive markets. It aims for a 10-20% market share of the segment. At a price of €10 000, it is the cheapest in the EU. The focus is on selling to carsharing companies.
Specifications: Overall length / width / height = 2 917/ 1 493 / 1 621 mm; wheelbase = 1 940 mm; ground clearance = mm; curb weight = 665 kg; seating capacity = 4; battery type = lithium polymer; battery capacity = 13.8 kWh ; range per charge = km; motor type = permanent magnet; power = 13 kW; torque = Nm; speed: max = km/h; acceleration 0 – 100 km/h = s; regenerative braking = yes; cargo volume = l; towing weight braked = 0 kg.
Fiat 500 Giardiniera
Giardiniera was a name used for Fiat station wagons. The name, in this context, means gardener. Fiat in 2018, before it became part of Stellantis, announced in general terms that it would be making a five-door, station wagon, hybrid version of a new 500. Fiat now seems to be transitioning to a battery electric brand. A Fiat 500 Battery EV station wagon appeals to me because, we need a vehicle that can be used to carry four (sometimes five) people, groceries, and workshop materials. When, or even if the vehicle will launch, remains speculative. Currently, Fiat is working on an electric replacement for the Panda, probably based on the Centoventi = 120 prototype. That vehicle is expected to launch in 2023.
One of my hopes with the Giardiniera is that the rear door will open more like a conventional door, hinged on the left/ traffic side, rather than a hatch, opening upwards. This was the way it opened on earlier models, made between 1960 and 1977, as shown in the above advertisement.
Sono Sion
Of the vehicles described in this weblog post, the Sono Sion is the one closest in size to our current vehicle, a Mazda 5. Of its many attractive characteristics, it is its Open Service System that will be focused upon here. There are three different levels of service. Level 1 instructional videos and a catalog ensure that almost anyone can replace wear parts, without much prior knowledge. Level 2 involves a publicly viewable and available manual, that allows an extensive network of mechanic partners to offer more extensive repairs and service at an affordable price. Level 3 is for repairs involving high-voltage or body parts, Sono here wants to cooperate with an established European service provider.
I asked a number of people about this vehicle, and sent a copy of an information brochure. One response – from a person who works in the EV industry but for another company that doesn't compete in the same market, was: "Oh interesting. Exciting for more players. The solar portion is neat! The aesthetics kind of baffle me. Utilitarian, met with early 2000's interior design with forced elements like the screen and the green house strip. Doesn't seem cohesive." Another reply was: "it looks very generic Aka like a Toyota." The most enthusiastic response came from a third person, "Love it. I'm a solar power human, so this has my full seal of approval." Four and a half hours later, he added: "Upon further reflection, I would rank this as my top EV."
Specifications: Overall length / width / height = 4 470/ 1 830/ 1 660mm; wheelbase = 2830 mm; ground clearance = 165 mm; curb weight = kg; seating capacity = ; battery type = liquid cooled lithium ion; battery capacity/ usable = 54/ 47 kWh; range per charge = 260 km; motor type =; power = 120 kW; torque = 270 Nm; speed: max = 140 km/h; acceleration 0 – 100 km/h = 9.0 s; regenerative braking = yes; cargo volume = 650 l; towing weight braked = 750 kg.
Personal Reflections
One of the most important specifications for a vehicle operating in a rural environment in winter is ground clearance. Here, there is no requirement to remove snow before it reaches 100 mm. Thus, ideally, this should be at least 150 mm clearance. However, is not always an easy specification to find. Our Mazda has only 135 mm, and this is noticed. Seating height is also important. In comparing different vehicles, the H-point measures the pivot centre of the torso and thigh, and the height of this in relation to the road, is what is important. This value is a compromise between being able to enter a vehicle elegantly, and being able to see the road.
In terms of range anxiety, we drive a car about 3 times a week, but often less. Once or twice the return distance will be under 40 km, often under 30 km; the other time(s) it will be under 80 km. About five times a year, our driving exceeds these values. Two or three times it will be less than 250 km; two or three times it will exceed that, but be under 400 km. Since our retirement started in 2017, we have only had one trip where the driving distance exceeded these values, when we drove to and from Bergen. It is about 750 km in each direction, but we spent two days driving each way, which also puts it in the 400 km a day range. When our daughter, Shelagh, lived in Umeå, Sweden, we would drive the 600 km distance in about 10 hours (including stops) in a single day.
The Norwegian Electric Car Association has an EV selector app (Elbilvelgeren), that can be used to help limit the number of EVs under consideration.
It allows one to select a range of values for price, range, brand, new or used, trailer capacity. Yes, trailer = tilhenger (in Norwegian) capacity is a must for Norwegians. A utility trailer is used instead of a pickup. These are the standard inputs one can choose from. In addition one can select/ add: launch year, heat pump, four wheel drive, high speed charging, battery size, trunk/ frunk size, electrical power usage, normal charging, number of doors, ground clearance, app for the car, number of seats, dimensions, roof rack capacity, acceleration, kW (power), guarantee, weight, wheel size and body type.
I used the standard one with some modest values, but only two cars came up: VW ID 4 and Skoda Enyaq. The list included both current and announced models to be purchased new. The reason only two models appeared could be because of the trailer capacity selected (1000 kg) and a price (max NOK 360 000). The two cars had a price of just under NOK 350 000. Of those two, I would select the Skoda. I tried the selector again, without the trailer, but with a ground clearance of 150 mm. Again, those two models came up, along with a Hyundai Kona and a Kia Soul.
My hope is that in four years time, 2025-10-29, that there will be a vastly improved EV market, with many more vehicles in the A – C segments, and even smaller vans/ multi-purpose vehicles.
The ICE Age
Frequently, I am accused of being a Citroën 2CV fanboy. In reality, I have always preferred the more elegant Citroën Dyane and the more practical Renault 4. However, I am more enthusiastic about fourgonnettes = small panel vans. French models include: the Citroen AU, AZU, AZ and, especially, the Acadiane, based on the Dyane, and the Renault 4 Fourgonette. English models include: the Morris Minor 1000 van variants, and the Traveller, a station wagon. However, the Hillman Husky, another small wagon, was my favourite. Since moving to Norway, I have come to appreciate the Saab 95, sold as a wagon as well as a panel van. Among larger vehicles, my preference is the International Metro Van, designed by Raymond Loewy (1893 – 1986). In terms of European vehicles the Morris Commercial J-type is next best.
I would like to thank those members of School District 40, New Westminster, who ensured that teacher parking, rather than facilities for pupils, were placed in the courtyard of Vincent Massey Junior Secondary School. This provided me ample opportunity to reflect on the merits of various vehicles, and made me an avid fan of European vehicles, because they seemed so much more appropriately sized than their American equivalents. Thank you.
Tama Electric Car
This weblog post will end with a short portrait of a predecessor to the Nissan EVs, such as the Leaf, developed by Tokyo Electro Automobile Company, which was spun off from the Tachikawa Aircraft company. The Tama Electric Car, assigned vehicle code E4S-47 I. E is for electric, 4S is for 4-seater sedan, 47 is for the year 1947, and I stands for the initial type. The Tama brand name refers to the factory location, a city in the Tokyo metropolis, in the foothills of the Okutama Mountains of southwestern Tokyo. Nissan notes, "When this car first rolled out in 1947, Japan was suffering from an acute shortage of oil, goods and food while the supply of electricity had a surplus since there were almost no home appliances or bulk users of electricity." This particular vehicle was used as a taxi until 1951. Even as I complain about the Citröen E-Berlingo Multispace, it shows how far electric vehicles have progressed during the 70 years between 1947 and 2017.
Specifications: Overall length / width / height = 3 035/ 1 230/ 1 630mm; Wheelbase = 2 000mm; Curb weight = 1 100kg; Seating capacity = 4; Range per charge = 65km; Motor = 36V DC series-wound, rated at 3.3kW; Batteries = Lead-acid 40V/ 162Ah; Speed: Max = 35 km/h, Most economical = 28km/h.