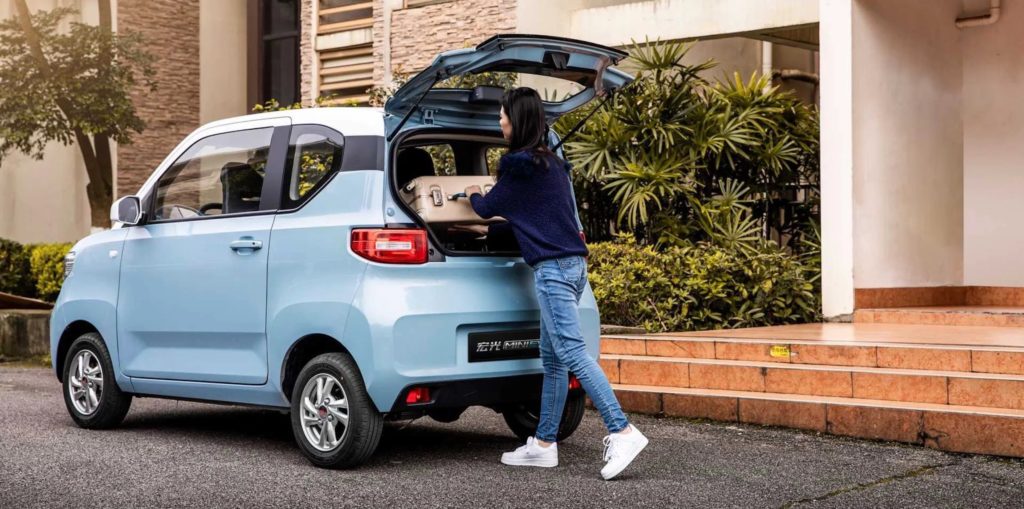 The Wuling Hongguang Mini EV is being made by the SAIC-GM-Wuling joint-venture, with each company having 50.1, 44 and 5.9% of the shares, respectively. The company is located in Liuzhou prefecture, in south-eastern China. It is known for its microvans (bread box cars), especially the ICE-powered (internal combustion engine) Wuling Sunshine. As China has become richer, microvans have become less popular, encouraging Wuling to focus on other segments.
After first being announced in 2020-03, recent attention has focused on deliveries for the Mini EV. It was launched 2020-07-24, with 15 000 vehicles were sold in the first 20 days. Now, there are more than 50 000 orders. According to Wuling partner, General Motors, the vehicle is inspired by the Japanese Kei car, their smallest highway-legal passenger car segment.
In the future, about 100 Experience stores will be opened, throughout China, to market the car, particularly in urban centres. According to Gasgoo, this is being done to attract fashion conscious younger owners.
The Mini EV dimensions are: length 2917 mm on a 1 940 mm wheelbase, width 1 493 mm and height 1 621 mm. It can provide seating for four adults.
The range is 120 km with a 9.2 kWh battery or 170 km with a 13.8 kWh battery. Charging is via a 240 V outlet. The motor has 13 kW of power, and 85 Nm of torque. This provides a top speed of 100 km/h. It comes equipped with an intelligent battery management system (BMS), as well as low-temperature pre-heating technology and battery insulation. It has an IP68 waterproof and dustproof rating and, according to Wuling, been put through 16 rigorous safety tests. The battery's functions can be remotely monitored via a smartphone app.
The price of the vehicle in China ranges from 28 800 yuan (ca. €3 550) to 38 800 yuan (ca. €4 750).
More than half (57%) of the Wuling Hongguang Mini EV's body consists of high-strength steel. It also comes with the anti-lock braking system (ABS) with electronic brake-force distribution (EBD), the tire pressure monitoring system (TPMS) and reversing radar. The back seats are equipped with two ISOFIX child safety seat restraint interfaces. When the rear seats are not in use, there is 741 litres of storage space. In addition, there are 12 storage compartments in the cabin, including a smartphone tray.
While the Wuling Hongguang Mini EV is currently only available in China, some characteristics hint that it could be built to satisfy European microcar (L7e), or city car (A-segment) specifications. The 13 kW engine power hits at it being a microcar, can only have a maximum of 15 kW. However, the contra-indication to this is the seating for four adults. This would mean that the payload would exceed the maximum 200 kg allowed. If the rear seats were removed, this would put the maximum payload below 200 kg. As a city car, the vehicle would have to be equipped with airbags, and other safety equipment, raising the price.
Given a choice between a Zetta CM1 and a Wuling Hongguang Mini EV, there is no doubt (at least in my mind) that the Zetta is a superior vehicle, and probably gives better value.