A cockade is a knot of ribbons, or other circular, sometimes oval, symbol of distinctive colours which is usually worn on a hat, cap or lapel. In addition, women traditionally had the option of wearing one in their hair. The noun, cockade, dates from 1650 – 60; It comes from French cocarde = a knot of ribbons, (from its resemblance to a cock's crest), from Middle French cocquard = boastful, silly, cocky = the boastful behavior of a rooster, from coq = a rooster, and especially to the bird's crête (Fr.) = comb (Eng.) = fleshy growth/ crest on the top of its head. In modern français québécois, the term cocarde is an identification badge.
Starting in the 15th century, these were originally derived from identity ribbons used by medieval knights. By the 18th and 19th centuries, these became common, and showed: the allegiance of their wearers to a political faction, their social status or rank or (by wearing colours of a particular livery) their subordinate status. Because of the confusing multiplicity of military uniforms, cockades became a de facto and cheap mechanism to show a person's (national) identity. Colours are listed from the centre to the outside ring.
Colours
In pre-revolutionary France, the Bourbons used white cockades. Their Jabobite supporters in Scotland, also used white. Meanwhile, in the United Kingdom, the Hanoverians had taken over the monarchy, starting with George I, in 1714. They used black cockades. Periodically, after the French revolution, and since 1830, French cockades have been blue – white – red. The Hanoverian dynasty ended in the UK at the death of Victoria in 1901. Her eldest son Edward VII, was a member of the House of Saxe-Coburg and Gotha, which later changed its name to Windsor. At some time after the adoption of the Union Jack/ Union Flag in 1801, British cockades became red – white – blue, the opposite of the French. Since its independence in 1922, Ireland has used cockades of green – white – orange. India has used the same colours, in the same order, although India refers to its green as India green and its orange as saffron.
Until the Russian revolution in 1917, Russia has used cockades of black – orange – black – orange – white, featured in the Order of Saint George, originally from 1769, but with the Russian Federation revival dating from 2000. Modern Russian cockade colours are black – orange – black – orange. Ukraine uses light blue – yellow.
American Cockades
During the American revolutionary war (1775 – 1783), the Continental Army was the army of the thirteen American colonies. They had no uniforms. George Washington (1732 – 1799) attempted to use cockades to differentiate ranks: red/ pink = field officer; yellow/ buff = captain; green = subaltern. Several sources note that there was a substantial use of black cockades, identical to those used by the British. When France allied itself with the Americans, the Bourbon white cockades were added to create a black and white cockade. The French reciprocated, adding black cockades. This is generally referred to as the union cockade.
Yet, the term union can be confusing in an American context. During the American civil war (1861 – 1865) there were both confederate and union cockades. There was no single standardized design. Confederate/ southern versions tended to be one color (often red or blue). Union/ northern cockades often incorporated red, white and blue. Some designs were embellished with buttons depicting palmettos = fan-leaved palm trees, eagles, Union president Abraham Lincoln (1809 – 1865), Confederacy president Jefferson Davis (1808 – 1889). In Texas, they often incorporated a metal star.
Nordic Cockades
In Sweden, the military used yellow cockades, while civilians used blue and yellow. This contrasts with Denmark, that used red – white – red. Norway used red – white – blue – white; Iceland: blue – white – red – white – blue; Finland: white – blue – white.
Roundels
France began the first Aéronautique Militaire = Air Force, in 1909. Roundels were mandated on military planes, starting in 1912. They were based on the blue – white – red of the French national cockade. In addition, aircraft rudders were painted the same colours in vertical stripes, with the blue forwardmost. During World War I, other countries adopted national cockades and used these as roundels on their military aircraft.
Some of the more interesting roundels include Australia, Canada and New Zealand, with the centre red of the Royal Air Force replaced with a kangaroo (Family Macropodidae), sugar maple leaf (Acer saccharum) and kiwi (Apteryx sp.), respectively. In the Nordic countries, Sweden has three yellow crowns displayed on light blue background, with an outer ring of yellow.
Corporate Roundels
Corporations/ organizations that have made use of roundels in their branding, include: Transport for London, and the London Underground specifically. It was trademarked for the London General Omnibus Company, in 1905, but was first used on the Underground in 1908.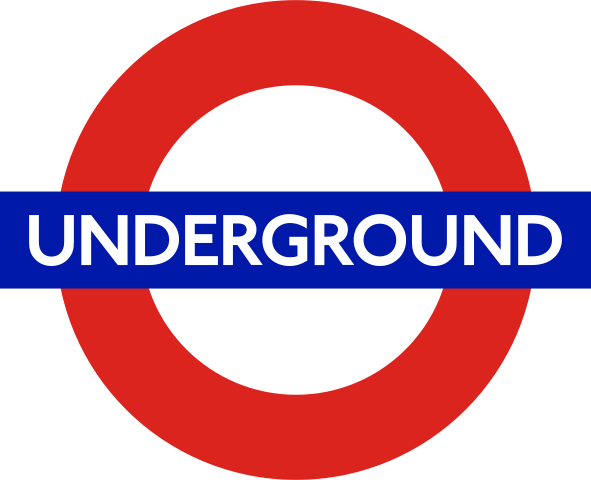 Use of the BMW roundel required both the circumvention of laws, as well as the creation of myths, to become successful. The Wikipedia article section on BMW's logo and its slogan – The Ultimate Driving Machine – tells the story.
The Tide trademark is an orange and yellow roundel, sometimes referred to as a bull's eye. It was designed by architect and industrial designer Donald Deskey (1894 – 1989).
The London rock band, The Who, formed in 1964, used Royal Air Force (RAF) roundels on stage. Later, this roundel symbolized British Mod culture, with its emphasis on fashion and Italian scooters.
Sabaton
This weblog post was inspired by the Sabaton music video, The Uprising, about the Warsaw Uprising = powstanie warszawskie (Polish) in the summer of 1944. It was the single largest military effort undertaken by any European resistance movement during World War II. It unsuccessfully attempted to liberate Warsaw from German occupation. It involved 63 days of fighting in the summer of 1944, and it was led by the Polish resistance Home Army = Armia Krajowa (Polish). This operation extracted a massive human cost. It is estimated that about 16 000 members of the Polish resistance were killed and about 6 000 badly wounded. In addition, between 150 000 and 200 000 Polish civilians died, mostly from mass executions. This is mentioned in part because the Allies refused to offer military assistance to Poland at this decisive moment in history. In contrast, Poland is offering massive support to Ukraine in the current war, and illegal occupation of Ukraine territory by Russia.
In the Sabaton video there are glimpses of the Polish two-finger salute, as well as of improvised red and white replacement of the cockade, shown on Polish helmets and other military headgear. These are similar to the blue and/ or yellow marking used on Ukrainian military headgear in 2022.
The rogatywka, sometimes translated as peaked cap, is an asymmetrical, peaked, four-pointed cap used by various Polish military formations. Some people see it as forming the basis for the Polish roundel, which is anything but round. Warszawo Walcz = Warsaw fight!
Notes:
Sabaton = part of a knight's body armor that covers the foot. The Swedish power metal band Sabaton is noted for their albums about wars and battles. It originated in 1999 in Falun, about 600 km, and 8 hours driving from Cliff Cottage (depending on the specific route). It involves an eastward journey on the E14, across the Norwegian – Swedish border, and then onwards, almost to Östersund, followed by a southern leg on highway 45 to Falun. Falun's Great Copper Mountain area has been designated a World Heritage Site since 2002.
If anyone should wonder why I take an interest in Warsaw, and Poland more generally, it is because it keeps asserting itself into my life. Historically there is: Nicolaus Copernicus (1473 – 1543), Frédéric Chopin (1810 – 1849), Józef Teodor Konrad Korzeniowski (1857 – 1924), Marie Salomea Skłodowska–Curie (1867 – 1934), Grażyna Bacewicz (1909 – 1969), Henryk Górecki (1933 – 2010), Wayne Gretski (1961 – ), Olga Tokarczuk (1962 – ), Kinga Baranowska (1975 – ) and Agata Zubel (1978 – ). Alasdair spent six months living in Warsaw. One of our closest neighbours is from Poland. One of our friends specializes in relationships with Polish women. My only sister-in-law has Polish origins.
I have previously written about redneck(erchiefs), that have a similar function to cockades.