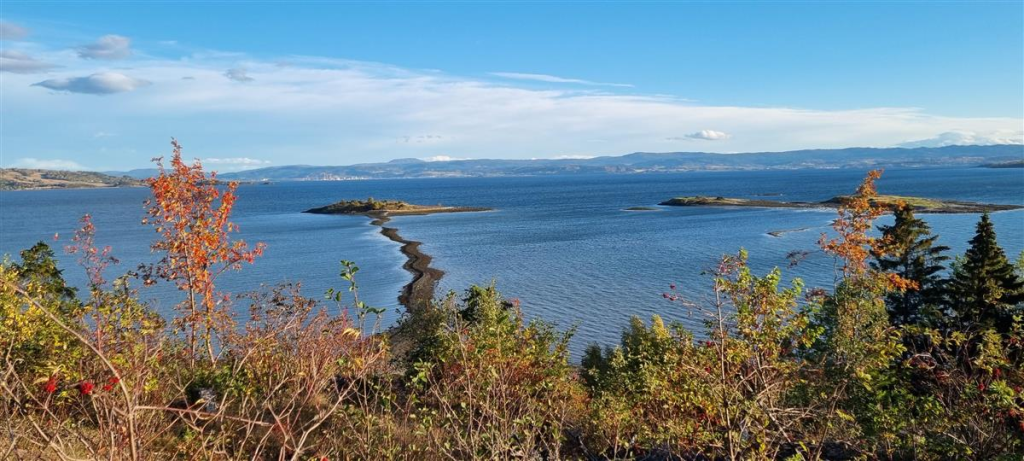 Today, this year's Inderøy Walks opened at 11:00 at the Mosvik Museum. This is the 18th consecutive year that Inderøy Walks is being held. In 2023, there are 48 posts. 13 can be visited by wheelchair users. Twelve posts are accessible from a kayak (when the tide is favourable). This year, as last year, parking is available that allows one to visit several destinations/ posts on a slightly longer trip. As usual, Trish and I will be participating in the opening arrangement, but a day later to avoid the crowds. We have the posts downloaded onto our hand-held devices/ mobile phones. These are used to register a visit to a post. After a recorded visit, a post cannot be visited again for 22 hours, for it to be counted!
For us, Inderøy Walks is the closest we come to the spirit of Universal Athletics. In 2016 this weblog criticised the elitism of the Olympic Games in a post titled Universal Athletics. This was followed up with another post about a proposed logo and motto the next day. There was yet another post two days later, with a suggestion for a manifesto. The sequence ended with a post about parades, a week later. This weblog post is being published seven years later, with further suggestions for ending elitism, and the Olympic Games themselves, and encouraging everyone to become physically, mentally, emotionally and ethically strong, given their capabilities and the current situation.
In particular, my concern is that the pandemic contributed to a negative spiral where people became physically, mentally, emotionally and ethically weaker, at the same time as they are become less tolerant of other people.
I have no objection to people watching videos, listening to podcasts or even reading for inspiration. However, there is no need for the majority to watch the Olympics or other sporting events, either in person, or on screens, for entertainment. The goal of Universal Athletics (and of Inderøy Walks) is to ensure that everyone has the opportunity to participate locally, in their own community, and to have fun. Spectatoring should be allowed in some situations. For example, it seems appropriate that parents should attend activities where their children, or other family members, are participating. This might even be extended to local communities, where some people participate while others work for the benefit of that community. These will be live events, although even here, there could be valid reasons why some people will need to see the events on video.
There is no need for any committee to organize events, internationally, nationally or even regionally. There is no need for any form of competition, except – perhaps – an individual attempting to compete against a previous incarnation of her-/ himself.
In previous posts, I was particularly concerned that an elite tried to make an artificial distinction between amateur and professional. One specific incident is of particular importance. Wa-Tho-Huk = Bright Path, in the Fox language, aka James (Jim) Francis Thorpe (1887 – 1953), who was stripped of his pentathlon and decathlon medals when it was discovered that he had played semi-professional baseball before the Olympics.
In 1983, 30 years after Jim Thorpe's death in 1953, the International Olympic Committee (IOC) restored his Olympic medals with replicas, after ruling that the decision to strip him of his medals fell outside of the required 30 days. Until 2022-07-14, Thorpe was listed as co-champion in both the decathlon and pentathlon events according to official IOC records. However, on 2022-07-14, the IOC reinstated Thorpe as the sole winner of the events.
One important characteristic is that he excelled at many different activities: ballroom dancing, baseball, football, lacrosse, the pentathlon (with the five events being long jump, javelin throw, 200 metres running, discus throw and 1500 metres running). The decathlon doubles this to ten events over two days. Day 1: 100 metres, long jump, shot put, high jump and 400 metres. Day 2: 110 metres hurdles, discus throw, pole vault, javelin throw and 1500 meters.
By design, the Olympic Games were a means for the aristocracy and other members of an elite to promote their own interests. They have no interest in the well being or proficiency of ordinary people. Ordinary people are only useful for their ability to finance events, most often indirectly by watching television advertising, but also through taxation, when governments pay to host games.
With the pandemic, the Olympic games of 2020 were postponed to 2021. Because of social distancing and other prophylactic measures, there was no opportunity for any universal athletics in that time frame. Athletics should be fun, but should focus on people developing their own personal athletic potential, but with a sense of humility.
Parkour
Previously, as word of the year, I have written about parkour, and its origins. Two other terms for parkour are freerunning and l'art du deplacement. Parkour seems to give the greatest freedom of interpretation, as does the term traceur, for a participant, rather than freerunner. In this post I would like to mention two video representations showing parkour, in a form only suitable for younger people, that were made twenty years apart.
The first video is Yamakasi, modern day Samurai, from 2001. The link shows a highlight from the film. Wikipedia explains that the Yamakasi are a group of young thrill seekers of different ethnic backgrounds who are all dedicated to parkour. They live in France in a banlieue, a ghetto especially designed for paupers and traditionally inhabited by immigrants from former French colonies. The motley group uses their sport to enjoy themselves without drugs and to gain recognition in a peaceful way. One morning, they are reported buildering, the act of climbing on the outside of buildings and other artificial structures, a portmanteau, combining the word building with the climbing term bouldering the east side of the Bleuets building in Lisses, France. This is the place where David Belle invented Parkour in 1990 and evading the police after that. Each member is introduced through his birth name and alias to the spectators of the film too: Zicmu (Ousmane Dadjacan, played by Yann Hnautra), Tango (Jean-Michel Lucas, played by Laurent Piemontesi), Rocket (Abdou N'Goto, played by Guylain N'Guba-Boyeke), the Spider (Bruno Duris, played by Williams Belle), the Weasel (Malik N'Diaye, played by Malik Diouf), Baseball (Oliver Chen, played by Châu Belle Dinh), and Sitting Bull (Ousmane Bana, played by Charles Perrière).
The second, much shorter video shows Nicholas Visintin, Italian national parkour athlete and parkour team technician, appearing on a 2021 music video, Animus! performed by the Italian band, Moonlight Haze. According to Chiara Tricarico (1989 – ), frontwoman and lyricist of Moonlight Haze, the title track was selected as their first single because it best represents their upcoming album's essence. It is a mix of symphonic, power and epic elements, and a choice of words that encourages people to work hard and never give up. Animus has nuances of a Latin word for courage and willpower. To quote Ovid (43 BC – 17/ 18 AD), Animus tamen omnia vincit = courage conquers all things.
"While we were thinking about the meaning of the song, the analogy with a sport was the first idea that sprung to mind. Therefore, we decided to involve Nicholas Visintin – an athlete of the Italian parkour national team. We've been listening to the song together, surprised at how much its message matched the ethics of this sport perfectly: having a goal, overcoming obstacles and often falling and getting hurt, but always struggling to get up and fight till the end."
When your task seems too hard
Remember all the times
You thought you would have failed but then you made it
So if the path appears so narrow
And the road is steep
Go gather all your strength right from within (from within)
Climb way higher, free your fire
Never looking down below
Aim for the top, keep in motion
Get ready sometimes to fall
Step by step, till the end
Even if you're afraid
Just focus on your goal with no distractions (no distractions)
What if I slip today?
My efforts would be in vain
My fear of heights is getting stronger
…then you'll try again!
Climb way higher, free your fire
Never looking down bеlow
Aim for the top, keep in motion
Get ready somеtimes to fall
Light the embers, make it happen
Dare to fight against the odds
Be the one to shape your future
Just unleash you inner force
"Animus tamen omnia vincit
Animus omnia vincit"
Climb way higher, free your fire
Never looking down below
Aim for the top, keep in motion
Get ready sometimes to fall
Light the embers, make it happen
Dare to fight against the odds
Be the one to shape your future
Just unleash you inner force
(Unleash your inner force!)
Animus!
The purpose of this post is to encourage each individual to become physically, mentally, emotionally and ethically strong, given their current condition and situation. It is not my intention that someone who is 70 should act as if they were 20, or even 50. The New York Post had an article about seniors (all between 60 and 85) learning parkour, but with the main elements adjusted to a level that can be handled by those over 60 who have replacement joints or other medical conditions.
Hopefully, people will see their local environment in a new and challenging way, and envision the potential for navigating it by movement around, across, through, over and under its features.
Unleash your inner forces: physical, mental, emotional and ethical!