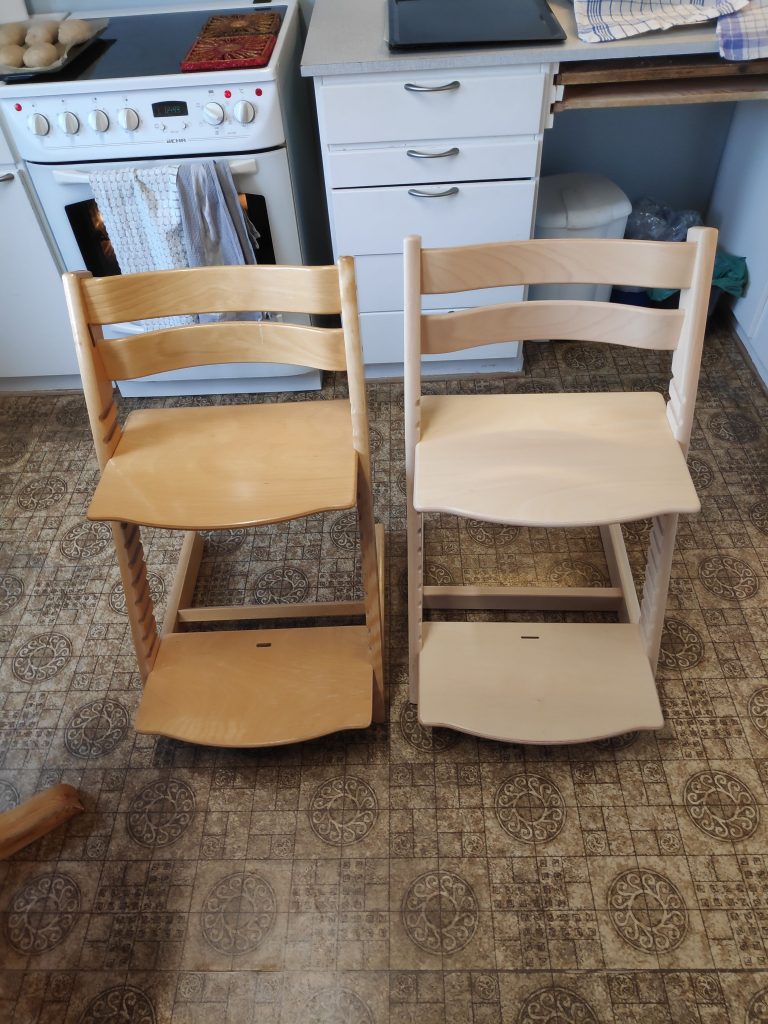 One of the great appeals of the Tripp Trapp chair is its use of wood, which offers its own warmth and aesthetics. So much better than plastic! On Thursday, 2019-06-13, we assembled our third – and probably last – Tripp Trapp chair. The other two chairs were purchased when our children were about six months old, in 1984 and 1989 respectively. They are now about 35 and 30 years old.
This iconic adjustable wooden chair for children was developed by a local (Norwegian) furniture designer in 1972 for a local (Norwegian) furniture manufacturer. When we bought the first chair, we were living in the same county (Møre og Romsdal) where the chair was made. Both the first two chairs were made by Norwegian workers in Norway. By purchasing the chairs, we felt we were supporting the local economy.
Fitting a globalized world, the company producing the chair is now owned by a Belgium investment company, itself fully owned by a South Korean investment company. The new chair was made in Romania. Today, I feel I am helping a foreign billionaire increase his wealth.
The name Tripp Trapp is derived from the game tripp-trapp-tresko (Norwegian) = Tic-tac-toe (American English) = noughts and crosses (British English).
Furniture design inspires myths. In the case of Tripp Trapp, it is that Peter Opsvik (1939 – ), the designer, couldn't find a chair that could position his son at table height. Tripp Trapp was Opsvik's response to that situation.
Years ago, we visited Opsvik's Cylindra workshop in Sykkylven, to see his exhibition of sculptural furniture. They lacked the functionality of the Tripp Trapp, and seemed pretentious. I was not impressed. In fact, none of Opsvik's other designs appeal to me.
The Furniture Museum, in the same village, Sykkylven, was much more interesting, for it put into perspective how and why the furniture industry developed. Two words explain it all: poverty and necessity.
The furniture manufacturer, Stokke AS started as Møller & Stokke, a partnership, in 1932 by Georg Stokke and Bjarne Møller. It was located near Ålesund, which became the locus of the Norwegian furniture industry. In 1944, it was converted to an aksjeselskap (AS) = limited liability company. Bjarne Møller sold his interest in the company in 1955, and the company changed its name to Stokke Fabrikker AS = Stokke Factories Ltd. Since 2014, the company has been owned by NXMH, an investment company based in Belgium, fully owned by NXC in South Korea. NXC is the largest shareholder in NEXON Corporation, a Korean video game publisher.
Tripp Trapp did not sell well in the beginning, but a news segment on Norwegian television in 1974 sparked interest. By 2016 Tripp Trapp had sold more than 10 million chairs.
The Norwegian Wikipedia article on the chair reports that it has been the subject of over 500 cases where other companies have made almost exact copies of the Tripp Trapp chair. One hundred and thirty of these cases have been tried in court, with Stokke winning most cases. The Supreme Court in Norway, along with other courts in Denmark and Germany, have stated that the Tripp Trapp design is an intellectual property. This means that royalties will have to be paid on the chair for the life of the designer, plus 70 years. Even if Opsvik died tomorrow, it means that this chair design will remain out of the public domain, until 2090.
Tripp Trapp has a distinctive design that is characterized by two boards (a seat and footrest) that can be placed at different heights so that the child can sit on the chair at the correct height to the table with feet firmly planted on the lower board. Since both boards are adjustable not only in height, but also depth, the chair can be adjusted to accommodate the child as s/he grows. The chair has a height of 790 mm, occupies a depth of 490 mm and has a width of 460 mm. It will support an adult weighing up to 110 kg.
All our Tripp Trapp chairs have been made from solid as well as laminated beech components. The chair is also available in natural and painted beech in numerous colour combinations, as well as in ash and oak. This last chair also had a name, Trish. engraved on its back.
The rationale behind purchasing this chair is that a dining room/ kitchen table has a fixed height, so that it is the chair that has to be adjustable. The reason the table is fixed, is that multiple people have to sit around it. In other circumstances, a table/ desk/ working surface just has to accommodate a single person. In this situation, the sitting height of the chair can be adjusted so that the user can have her/his feet comfortably on the floor. Then, a height-adjustable, sit-stand work surfaces can easily adjusted to accommodate user anatomy – elbow height especially – allowing for varied work postures, when sitting or standing.
In 2013, together with Danish furniture manufacturer Evomove, Opsvik launched a new chair he claims is described by consumers and test panels as the world's best high chair, Nomi. Unfortunately, I am not sure that this chair is suitable for an adult. It is totally unappealing, regardless of its ergonomic and other claims.
At a price of almost NOK 1 900, (USD 200) in beech/ ash or NOK 2 100 in oak, for the basic model, the Tripp Trapp chair is not cheap. However, used chairs abound. There are currently 48 of them on offer in Trøndelag county on the most popular website, at an average price somewhere around NOK 500.
The most basic model of the Nomi chair is even more expensive at NOK 2 200. Its price is an outrageous USD 380 at Modern Natural Baby in Ferndale, Michigan. I could not find any Nomi chairs for sale, used.
A Timeline
We ordered the Tripp Trapp chair on 2019-06-04 at 16:45. This is acknowledged by Stokke in a separate email.
A message arrived saying that the chair had been sent, complete with engraving on 2019-05-05 at 17:20 (24 hours 35 minutes later). Oddly, Stokke was using UPS to send a parcel in Norway. This is the first time that I have ever had something from Norway sent by UPS.
A request for an evaluation of our purchasing experience arrived on the same date at 21:15 (3 hours 55 minutes later). What sort or evaluation are these people expecting? We had not yet received the product.
A reminder for this evaluation arrived on 2019-06-07 at 09:12 ( 35 hours 57 minutes later). Again, what are these people expecting? We still had not yet received the product.
An e-mail arrived saying that UPS has attempted to deliver the product on 2019-06-12 at 08:50 ( 6 days 15 hours 30 minutes after being sent). It is a very interesting email, since Trish was on scaffolding on our house painting, at this very moment, and there was no sign of any delivery vehicle anywhere.
Despite both Stokke and Bring as well as the Norwegian Post Office registering our telephone number and address to send out an SMS, no SMS or email was received to say the chair is ready to be picked up at our local postal pick-up point. Why did you ask for this information if you are not going to use it?
The chair was picked up at Co-op Extra in Straumen on 2019-06-12 at about 19:00.
A notice was received by snail mail saying that the chair could be picked up. This was delivered 2019-06-13 at about 9:00.
The chair was assembled 2019-06-13 at about 12:00. The instructions provided were adequate. Immediately after this, the chair was in use.