At the start of Putin's war in the Ukraine (2022-02-24), we reconsidered our general purchasing strategy. We didn't want our purchases to support companies in countries lacking democratic governments, made with non-union labour or without workers on the boards of directors. Note: I still retain my union membership in Lektorlaget, a teachers' union. Most of the time, we try to find suitable companies. Suitable is a relative term. Depending on product category, characteristics vary, but with a geographic component. For eggs and milk, geography involves two neighbouring farms. For EVs, computers and hand-held devices, the geographic range has to be extended, to include not just Europe, but also North America (Canada and USA) and a few countries in Asia (notably, South Korea and Taiwan, but also Japan). These conditions exclude Chinese vehicles, and Tesla.
On Friday, 2022-05-20, we received an email from VW about the pricing of their new 5 passenger ID. Buzz. It had a base price of NOK 495 000 = USD 50 000 = CAD 70 000, or about NOK 200 000 less than expected, and almost in our price range. At the time I was not quite sure how to convince Trish that we needed one, because it was at least NOK 100 000 more than our original budget. However, even third place candidate Stellantis, came in NOK 75 000 over the limit. In addition to the advantages shown in the specifications, one practical advantage of the ID. Buzz, is its considerably more space for passengers and for goods. That is because it was designed as an EV from the ground up, which the others were not. In addition, many of the options on the competitors are standard equipment on the ID. Buzz.
Features
There are certain features that I appreciate on assorted EVs. For example, on the Fiat 500, there are Easter eggs = artwork/ design details etched into the vehicle. I found these an attractive addition. It may not quite be personalized, but it is a step away from commodification. On the Hyundai Ioniq 5, there is bidirectional charging capability that allows the car to provide power to a house during a power outage. I think especially of it as useful for keeping food in a refrigerator or freezer at an appropriate temperature. The VW ID. Buzz had this too.
Colours
The colour history of our cars from 1986 to 2012 shows two red cars, followed by two green cars, followed by two light blue cars. For years, I have talked about buying a yellow car. Volkswagen made some vehicles that I admired in Saturn Yellow. My parents owned a 1974 Volvo 144, in Kanaro Yellow. Trish and I rented a yellow Volkswagen Rabbit in Sunbrite Yellow to use on our honeymoon, in 1978. All three colours were close to signal yellow.
Even before May, I had already made the decision, subject to a veto by Trish, that I wanted a yellow car, potentially a special order, painted at the factory. If after-market solutions were needed, then a white vehicle would be purchased that could either be painted, or covered with a yellow wrap.
Decisions
On Saturday, 2022-05-21, I showed Patricia the same photo of the interior of a Volkswagen ID. Buzz, that appears at the top of this post. This attracted her to the vehicle. When asked to explain in more detail what attracted her, it was the brightness of the interior, and especially its use of yellow colour. In addition, she felt the cabin felt roomy, with large windows.
I agreed with all of these points. In addition, I appreciated that the console occupying the space between the driver and passenger was removable, to create a passage between the front and rear seats of the vehicle, or to carry boards 2 400 mm long inside the vehicle!
On Sunday, 2022-05-22, I sent an email to our local Volkswagen dealer saying that we wanted to buy an ID. Buzz. On Monday, 2022-05-23, this was followed up by telephone calls and additional emails. We visited the dealer on Tuesday, 2022-05-24 and attempted to sign a contract, without success because of internet connection issues. Finally on Monday, 2022-05-30, a contract was signed. Our May goal was met.
The agreed price of the Buzz was NOK 572 000 = US$ 57 000, as long as the vehicle arrived in Norway before 2022-12-31. Fortunately for the Norwegian state, the vehicle arrived after that, allowing them to collect almost NOK 42 000 in assorted taxes, for a price just a hair under NOK 614 000. Obviously, people can discuss if this is an acceptable price. People in other places are having to pay considerably more. One worse case situation in Europe is the Netherlands, where consumers would have to pay €81 000 = NOK 850 000 = USD 85 000 for an identical vehicle. (These exchange rates are approximate, but were valid on 2022-05-30.)
When the ID. Buzz was offered for sale in Norway it was available in standard white, pearl effect black, metalic grey, blue, green, orange and yellow, and two-tone variants of the last four, with white on top, and colour beneath. We have chosen the two-tone yellow variant, referred to in our contract as Pomelo Yellow, but also called lemon yellow and lime yellow in assorted publicity materials. This is not a signal yellow, but yellow with a significant green tinge.
According to Volkswagen, ID stands for intelligent design, identity and visionary technologies. All of the various models are EVs, built on the Modularer E-Antriebs-Baukasten = modular electric-drive toolkit = MEB-platform. ID vehicles are powered by an APP 310 permanent magnet brushless electric motor. Motor and gearbox are parallel to the axle. Maximum torque is achieved at low speed, allowing use of a single speed gearbox. The motor and gearbox weigh about 90 kg. The motor is produced in Kassel, with rotor and stator produced in Salzgitter, both located in Germany.
Sandy Munro has torn down, and in other ways evaluated, the Volkswagen ID. 4. Information has been presented in six videos, starting on 2021-04-07. The most interesting one is the wrap up with Alex Guberman, released on 2021-04-19. One important point that was brought out was the need for a planned transition from one vehicle to the next. This resonates with me because I never mastered the transition from a Citroën Evasion to a Mazda 5.
Volkswagen Group's next transition is to the Scalable Systems Platform (SSP), a modular electric vehicle platform. It was announced 2022-07-15, as part of a new strategy, to use a single battery electric vehicle (BEV) platform across all the group's brands. Its introduction is planned for 2026. This will be too late for our Buzz, but is probably a sensible approach for Volkswagen to successfully compete with other brands.
lnterestingly, the Buzz has artwork added to the vehicle, much like the Fiat 500. In addition to assorted smilies, and Buzz shapes, there is a drawing of an umbrella found under the rear window wiper blade. There is also V2G charging capability. Our dealer stated that an electric trailer hitch was an essential item, in Norway. We had intended on ordering it anyway.
In contrast to other car dealers that want to maximize optional equipment, I found our local Volkswagen dealer often suggesting restraint. For example, we were also advised against electric rear sliding-door openers, if only because they operate too slowly. Yes, at times, consumers can want too many features.
Challenges
On 2022-06-27, it was announced that there were battery issues with the ID. Buzz at the battery supplier according to Hannoversche Allgemeine Zeitung. Some battery packs contain cell modules that may result in a voltage drop, reducing driving range and – in a worst-case situation – posing a safety risk . These quality-related deficiencies were discovered at the un-named supplier. Around 500 vans were manufactured with the bad cell modules. None were delivered. ID. Buzz production resumed 2022-07-04.
On 2022-07-22, it was announced that Herbert Diess (1958 – ) would stop working as chief executive officer (CEO) of Volkswagen AG on 2022-08-31, to be replaced by Oliver Blume (1968 – ). Severe software-development delays set back the scheduled launch of new Porsche, Audi and Bentley models. Unsuitable software also postponed the debut of some ID models, and some customers are still unable to access over-the-air (OTA) updates.
Volkswagen's software unit, Cariad, was underperforming. In 2021-12, VW overhauled its management board. Diess had some responsibilities removed, but was given the major task of turning around Cariad. Transforming VW into a leader in electric-vehicle production, requires an emphasis on software solutions. Hardware is not enough. This did not happen. In addition, Diess failed to build alliances within the company, especially with its labour leaders. Thus, he became increasingly isolated.
Delivery
In preparation for delivery of a vehicle we had an Easee Home charger installed on 2023-01-04. It has 3-phase wiring, with 230 V and 32 A, offering the potential to produce up to 11 kW of power. We expect this system to provide most of the vehicle's energy. This is a Norwegian product, made in Stavanger, by a company owned in large part by immigrants to Norway.
Buzz (as in Lightyear) is the affectionate name of this vehicle. While it should not be treated as a toy, it should not be treated solemnly. Driving and riding in it should be fun, but it should be done safely and with purpose.
On 2023-02-08, we received word that Buzz had arrived at the Volkswagen dealership in Verdal. We agreed with our salesperson, Tormod Olsen, that we would pick up the vehicle on Monday, 2023-02-13. The 13th has significance , especially, in Trish's life. In chronological order, she was born on 12-13, her nephew was born 11-13 and we married on 01-13.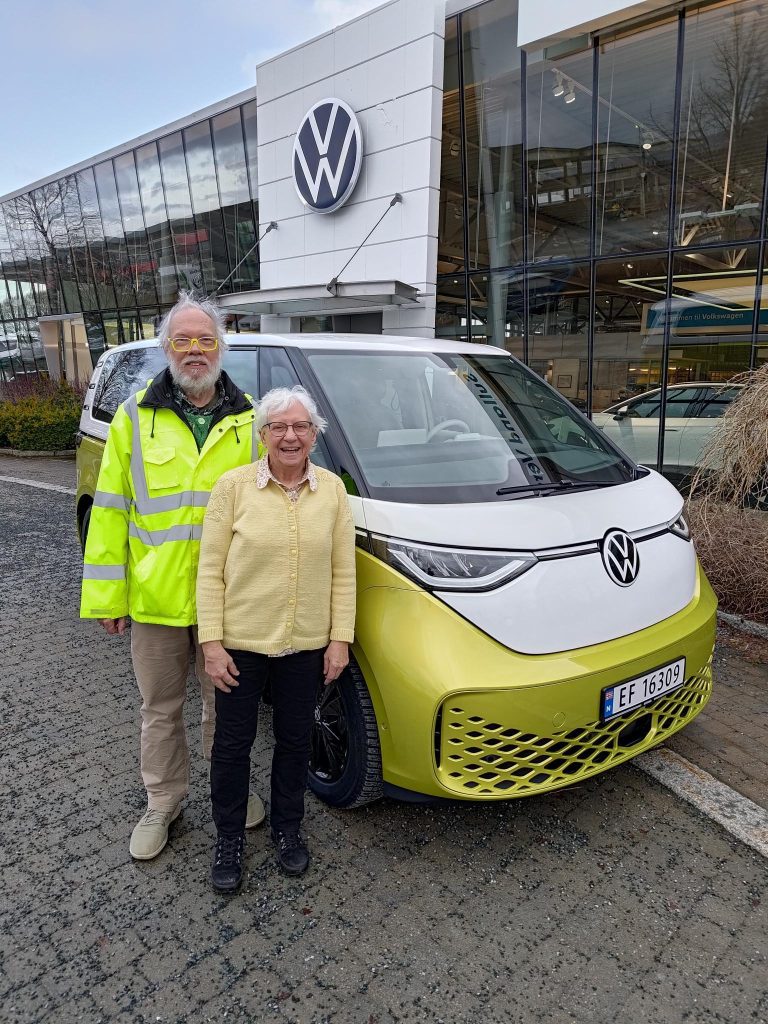 The Future
There are certain items that I have no intention on selling. Cliff Cottage, our residence since 1989-03-01 is one, as is much of its inventory. I expect Cliff Cottage to be used as a holiday residence, a place where my descendants, friends and family will be able to relax and enjoy a form of solitude close to nature. Buzz is another. I expect that he will be able to meet the land transportation needs of people when they come to stay at Cliff Cottage.
As noted in a previous weblog post, within a decade, 2033, solid-state batteries are expected to mature, offering over a million kilometers of transportation service. I envision Buzz lasting a century. He has been bought with that intention. The next milestone on his path to venerability will be on 2053-02-13, when he turns thirty. At that moment, he becomes a Norwegian veteran car. I will not be present for that event. Our son, Alasdair, will be quickly approaching seventy, while Shelagh, our daughter, will, at sixty three years and ten months, soon be reaching the upper limits of what could be referred to as middle age.