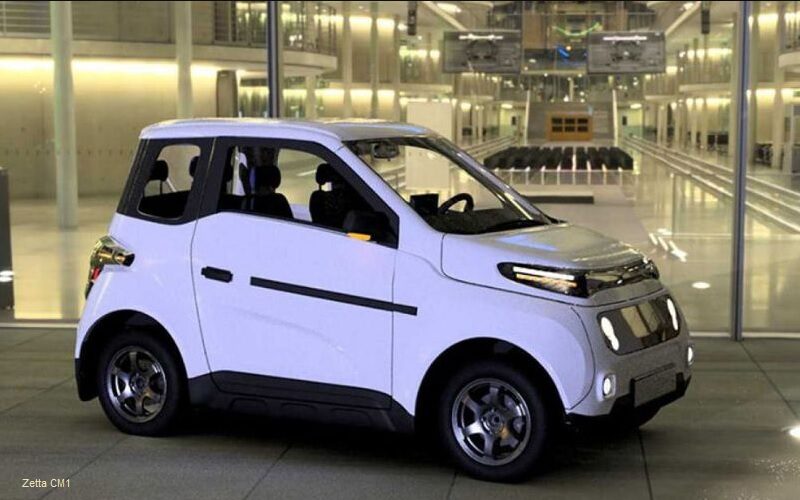 The Zetta City Module 1 (CM1) is the first Russian built EV to enter production, according to Automotive Logistics. Unfortunately, detailed information is difficult to access. Even the English version of the Zetta company site fails to mention the CM1, devoting its content to technological issues of its drive train, especially the in-wheel = in-hub induction motors. However, some information is available from Russian Auto News.
The modular approach used by Zetta means that different modules can be built for different purposes, goods as well as person transport. Some of these will be mass produced focussing on common needs. This is the case of the CM1. Others may have more limited appeal, such as outfitting a vehicle to accommodate a person with disabilities, who has very specific and individual needs. Yet flexibility is not the only attribute. The Zetta is also technologically efficient, economic and – to repeat that so-often misused term – ecological.
The in-hub drive train is exceedingly important for Zetta. Zetta CEO Denis Schurovsky says "Summer and winter validation has shown us that induction motors can endure road dynamic stresses. They are resistant to chemicals, dust, water, etc. All wheels are connected to a single management system that simulates electric ABS and ESP with high recuperation capability." Each in-hub motor is rated at 20 kW, for a total of 80 kW, a respectable power for such a small vehicle.
The CM1 has a length of 3 030 mm on a 2 000 mm wheelbase, and with a width of 1 270 mm and height of 1 600 mm. It is configured as a four-seater. Inside EVs makes a point that the car is just 340 mm longer than a Smart Fortwo, and that the seating must only be for children in the back. This misses the point entirely that an EV with in-hub electric motors will use space much more efficiently than an ICE (internal combustion engine) designed vehicle. Top speed is 120km/h and battery capacity ranges between 10kWh and 32kWh, for a range of between 200 and 560 km. Depending on the battery pack selected, the weight of the vehicle should be between 500 and 700 kg.
About 90% of the vehicle content is Russian. Much of the remainder is in the batteries, imported from China. The vehicle has been in development since 2017.
At a price of €5 300, Zetta CM1 claims to be the cheapest EV in the world. The vehicle has been developed by Russian Engineering and Manufacturing Company (REMC) in Toliatti/ Togliatti, the Russian city named after Italian Communist Party Leader Palmiro Togliatti (1893 – 1964). Estimated production is 15 000 vehicles a year.
And so to the question many readers will be asking, would I buy one? I would like to answer yes, especially after a theoretical regret at prioritizing a Japanese Subaru Justy four wheel drive in 1986, instead of the cheaper Russian Lada station wagon (VAZ-2104) or its similarly priced, but considerably larger and more powerful 4×4 off-roader, the Lada Niva (VAZ-2121). Andy Thompson in Cars of the Soviet Union (2008), states that Lada "gained a reputation as a maker of solid, unpretentious and reliable cars for motorists who wanted to drive on a budget." It is my hope that the Zetta will offer purchasers a similar, positive experience. Unfortunately, the answer will probably be no, and I will be unable to engage in the one-upmanship that comes from owning a €5 300 EV, capable of doing the same basic driving tasks as a €53 000 (or more) Rivian R1S or Tesla Model Y.