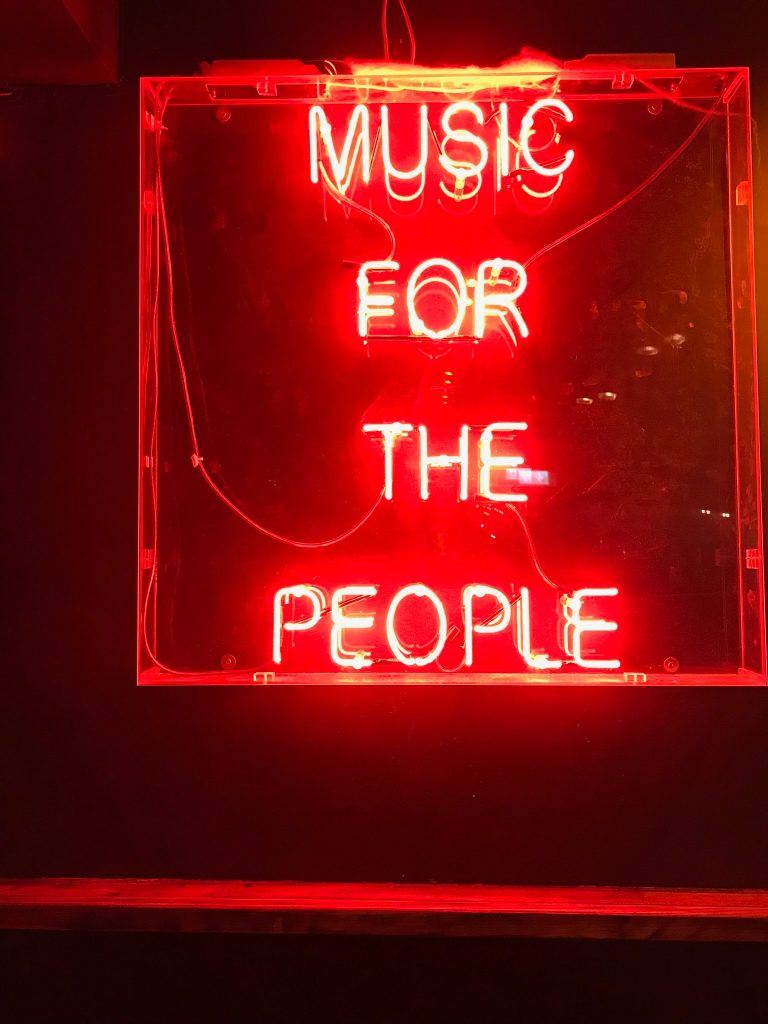 Let's compare the names of the musicians we currently listen to. Here are some of the recent names on my list: Approaching Nirvana (USA), Frode Fjellheim (Norway), Front 242 (Belgium), Front Line Assembly (Canada), The KLF (England), Lebanon Hanover (Germany & England), Madis (Poland), Melodicka Bros (Italy), Molchat Doma (Belarus), PettyRock (Thailand), Rockmina (Romania), Spetsnaz (Sweden), Violet Orlandi (Brazil), VNV Nation (Ireland), Zahara (South Africa) and Zodiac (Latvia).
If you have any noteworthy alternative musicians that you enjoy, please comment on them.
Mainstream media does not offer much choice in music. It is no longer music for the people. Almost everything is commercial, provided by a music industry, where each company has a vested interest in promoting its particular – to use their word – artists. Why not musicians? While this situation have been the case since mid-twentieth century, the situation today is compounded by corporate consolidation. Rick Beato (1962 – ) refers to this decrease in availability as the Y2k Curse. He attributes this to the American Telecommunications Act of 1996, that consolidated American media. In 1983, 90% of American media was owned by 50 companies. By 2011, this had been reduced to 6 companies. This significantly reduced the number of music gatekeepers. These consolidated their playlists, so that the American public (and beyond) were exposed to a narrower band of musical products.
To avoid music gatekeepers and consolidated playlists, one could use online services that have developed since the start of the millennium. This weblogger has experienced Bandcamp, Chosic, Discogs, Jamendo, Last.fm, MySpace, SoundCloud and Spotify but to varying degrees and in different time periods. He has not experienced WiMP or Tidal directly, and has no intention to do so, but comments on them as well.
Discogs is the oldest, but smallest social networking platform discussed in this weblog post. Discogs (short for discographies) is a website and crowdsourced database of information about audio recordings. Located in Portland, Oregon, it was started in 2000. Its initial goal was to become the largest online database in the electronic music genre. Currently, rock music is the dominant genre. According to Wikipedia as of 2019-08-28 "Discogs contained over 11.6 million releases, by over 6 million artists, across over 1.3 million labels, contributed from over 456,000 contributor user accounts". In addition to its main database, there were six specialty databases, all of which have closed down except Vinylhub, which provided information on record stores, and has been integrated into the main database. The others were Filmogs, Gearogs, Bookogs, Comicogs and Posterogs, which provided marketplaces for products associated with the database name. Discogs data is contributed by registered users. For people with a special interest in music, either as producers or consumers, this is an important information source.
Audioscrobbler was started by Richard Jones as a computer science project in 2002. He defined the term scrobbling as the finding, processing, and distribution of information involving people, music and other data. Audioscrobbler was a music recommender system that used plugins, and an application program interface (API) to keep track of songs its users played on a registered computer. This allowed charting and collaborative filtering.
Last.fm was also founded in 2002, by German and Austrian enthusiasts, as an an Internet radio station and music community site, using similar music profiles to generate dynamic playlists. In 2003, Audioscrobbler and Last.fm started to merge, by co-locating their offices in Whitechapel, London. Later, Last.fm was fully integrated with Audioscrobbler profiles, so that input could come through an Audioscrobbler plugin or a Last.fm station. The two organizations were fully merged on 2003-08-09.
Started in 2003, MySpace, is an American social networking site with a focus on music. It was, from 2005 to 2008, the largest in the world, reaching more than 100 million users per month. MySpace served as an inexpensive distribution hub for Black musical artists. Yet, in many respects MySpace was second-rate. Users experienced their products and features as slow and bug prone, often due to testing issues. Gradually, users drifted away from MySpace to other platforms such as Facebook. On 2019-03-18, Ars Technica revealed that MySpace in 2015 had botched server migration. This resulted in a permanent loss of over 50 million songs and 12 years' of user content. In 2019-04, the Internet Archive recovered 490 000 MP3s or 1.3 TB. The songs, uploaded between 2008 and 2010, are known as the MySpace Dragon Hoard.
Spotify AB, the Swedish audio streaming service was started in 2003. It offers about 60 million recordings/ tracks for consumers to choose from. Listeners can either listen for free, and be subjected to advertisements, or pay a monthly fee, to avoid these. There are about 345 million monthly active users, including 155 million paying subscribers. Users can create, edit and share playlists. Currently, there are about 3 billion playlists available. Unbelievably, this amounts to 8.7 playlists per active user.
A Follow tab lets users follow friends to see what they are listening to. A Discover tab provides users with new releases, music, reviews and concert recommendations based on listening history. Tracks can be added to a Collection section of the app as well as to specific user-generated playlists.
Of particular interest was Spotify's 2017 acquisition of Niland, a French artificial intelligence (AI) technology company, started in 2013. It offers high performance music search & recommendation engines, accessible by an API that allows music catalog owners and music providers (such as Spotify) to build intelligent music applications. Spotify has used this to improve user personalisation and recommendation features. As with many other aspects of AI, its internal workings are undoubtedly non-trivial and opaque. This means that users face uncertainty as to why specific recommendations are made.
Jamendo is a Luxembourg-based music website that has been a subsidiary of Belgian company Audio Valley and Independent Management Entity (IME) since 2019. It started as a music platform using Creative Commons licenses. From 2015-10, Jamendo described itself as a free streaming service for personal use. In addition it provides opportunities for artists to earn money through its licensing services to commercial clients.
Another similar site is the Berlin, Germany based SoundCloud, that was also started in Sweden in 2007. It has 175 million monthly users worldwide. In particular, it is noted for influencing the music industry through artists who have used the service to launch/ advance careers.
Bandcamp is yet another Internet-based music company, founded 2008-09-16 in Oakland, California by Ethan Diamond, Shawn Grunberger, Joe Holt and Neal Tucker. Artists/ labels upload music for free, set prices, but with an option for consumers to pay more. They can also sell merchandise. Music can be streamed once for free. Purchasers can download music or stream it unlimited times, if they retain their purchase voucher. There are options to purchase music for a gift, view lyrics, and save individual songs/ albums to a wish list. Bandcamp initially takes a 15% cut of sales along with payment processing fees. This drops to 10% after an artist's sales surpass $5,000. Downloads are available in various formats, including CD and vinyl physical media.
Aspiro was founded in 1998 by Swedes Jörgen Adolfsson, Christer Månsson and Klas Hallqvist, who had working together at Europolitan, a Swedish mobile phone operator. When Adolfsson and Månsson moved to Oslo, to work for Telenor Mobil they realized that changes in the Wireless Application Protocol could have significant implications for mobile communications. They contacted Hallqvist, who had remained in Sweden at Europolitan, and founded Aspiro. Between 2000 and 2008, Aspiro acquired 13 communications related companies. In 2009 they developed their a music streaming service that became their core business.
WiMP was a music streaming service developed by Aspiro AS and the Norwegian music store chain Platekompaniet AS and was first launched in Norway 2010-02. It was available on mobiles, tablets, network players and computers and provided a music library of some 25 million tracks. As WiMP expanded into new countries, local editors were engaged to present the local and international music, in-app magazines and some music videos. Last.fm was integrated into it. On 2015-01-30 it was announced that Aspiro had been acquired by Project Panther Bidco Ltd, a company controlled by Shawn Corey Carter (1969 – ), better known by his stage name Jay-Z.
In 2014, Tidal emerged from WiMP as a subscription-based music, podcast and video streaming service that combines lossless audio and high-definition music videos with exclusive content and special features on music. While the company claims to be owned by a number of high profile artists seeking to be independent of the commercial recorded music industry, it is still controlled by Shawn Corey Carter. In a digital forensics report, Norwegian University of Science and Technology's Center for Cyber and Information Security concludes: "We have through advanced statistical analysis determined that there has in fact been a manipulation of the data at particular times. The manipulation appears targeted towards a very specific set of track IDs, related to two distinct albums." These are Beyoncé's (1981 – ) Lemonade (2016) and Kanye West's (1977 – ) The Life of Pablo (2016). Jem Aswad, writing in Variety, presented information from the Norwegian business newspaper, Dagens Næringsliv, that claimed that: "listener numbers on Tidal have been manipulated to the tune of several hundred million false plays… which has generated massive royalty payouts at the expense of other artists." Note that Beyoncé is married to Tidal's majority owner, Shawn Corey Carter. Tidal denies this manipulation.
It has been difficult to find out much about Chosic. It offers Arabic and English as site languages, and provides a number of tools that aid in the discovery of new music. One of these is a playlist generator. Their Facebook page refers to itself as All Chosen Music, which indicates that there is some degree of censorship. Their site motto is, Listening is a Skill.