In the twenty-first century, the ancient Greek word, aptera = wingless, has been reused, this time to refer to a brand of extremely aerodynamic vehicles. Perhaps, it can best be regarded as reassurance that this vehicle will remain flightless, and not ascend into the skies. An equally appropriate name for the vehicle would be Phoenix, for the Aptera brand and vehicle was born in 2006, died in 2011, but was resurrected in 2019.
The original Aptera Motors, Inc., was founded by Steve Fambro (1968 – ) in 2006 and was originally named Accelerated Composites. Fambro was educated as an electrical engineer at the University of Utah, where he studied electo-magnets and antennas. Immediately before starting Aptera, he worked as a senior electrical engineer at Illumina, designing robots that make DNA, and vision systems to inspect that DNA. On LinkedIn, he writes, "Embracing efficiency as an ethos for a car company means we endeavour to do more with less. More range, more performance, more safety, more fun- with fewer batteries, less mining, less energy, less carbon. Doing more with less."
Fambro initially worked as chief executive officer (CEO) at Aptera. He hired Chris Anthony to be the chief operating officer (COO) shortly after the founding. Thirty million dollars was raised in three rounds of funding, and Aptera grew from 3 to 50 employees. Aptera launched a prototype, the Typ-1, in 2007.
The design of the Aptera Typ-1 was futuristic, but due in large part to Jason C. Hill, president/ owner/ designer at Eleven, a transportation, automotive and mobility design consultancy, started 2003-11. Hill describes himself and his company on LinkedIn as "Specializing in design and product development as well as strategic design, advanced design, and design DNA creation. Currently working with a top New Energy Vehicle Company. Worked on AV solutions regarding the integration of sensor technology for the leading company of LiDAR tech. Recently worked with a MAAS start-up defining the design DNA and UX/UI for their unique urban mobility solution."
The Aptera 2 Series, was a rebadged Typ-1, to be made available in two variants, a battery electric 2e, and a plug-in hybrid 2h. These could accelerate from 0 to 100 km/h in about 6.3 seconds. Their top speed was 140 km/h. About 5 000 pre-orders for the vehicles were made by California residents.
In 2008, Fambro relinquished his CEO position to Paul Wilbur, and became chief technical officer (CTO) for the company. When Wilbur joined Aptera he had 20 years of experience with Ford and Chrysler, and over 10 years experience as CEO of American Specialty Cars Incorporated, a tier 1 supplier. My thought on reading this, is that he was too integrated into the conservative automotive industry to function as a CEO of a venture capital financed startup.
Because of assorted production challenges that made it difficult to receive government financing for a three wheeled vehicle classified as a motorcycle, instead of a four wheeled vehicle classified as a car, the design was changed to that of a four wheel vehicle. This added immensely to the cost, and the original company was liquidated in 2011. Various reasons are cited for this, but one is the enormous amount of capital needed to actually produce a car.
After several years working with vertical farming, Steve Fambro and Chris Anthony, once again found an opportunity to relaunch the Aptera in 2019. This time it was Chris Anthony who was given the role of CEO. He had gained experience working as founder and chairperson at Flux Power, an energy storage technology company, for ten years from 2009-10 to 2019-12. Another major differences was that this new Aptera relied on crowd funding from enthusiasts, rather than venture capital from impatient capitalists. During the course of the intervening nine years, electric cars had matured. Batteries were larger and cheaper, motors were more powerful, and there was a better understanding of how everything worked.
Dimensions of the Aptera 2e and 3 respectively
| | |
| --- | --- |
| Wheelbase | 2 819 / 2 743 mm |
| Length | 4 394 /4 369 mm |
| Width | 2 311 / 2 235 mm |
| Height | 1 346 / 1 448 mm |
| Kerb weight | 680 / 800 kg |
Dimensions of the Aptera 2e & Aptera 3.
The Aptera 2e used an A123 Systems for the 20 kWh lithium iron phosphate (LiFePO4) battery pack, and Remy International for the 82 kW HVH250 electric motor. This was mated to a BorgWarner 31-03 eGearDrive transmission. A SAE J1772 compatible charging system at either 110 or 220 V was to be provided. The range was about 190 km.
The hybrid version also had a small, water-cooled electronic fuel injection (EFI) gasoline engine with closed loop oxygen feedback and catalytic converter that was connected to a 12 kW generator/starter. It is similar in approach to the range extender found on the BMW i3. With a 20 litre fuel tank and fully charged battery, the 2h could offer a range of 970 – 1130 km.
Aptera 3 evokes deja vu. It repeats the basic Jason C. Hill design, but modernized for the 2020s. Like many other smaller manufacturers of electric vehicles, Aptera has engaged the services of Munro & Associates, a company established in 1988. Munro & Associates, Inc., focuses attention on profit improvement through design innovation; not financial trickery or outsourcing. He claims that they use their 3 000 m2 facility to benchmark and redesign products using purpose built software, and an internal search engine to remove 20% to 60% of the cost while improving the product's function and quality. Sandy Munro has his origins, like this weblog writer, in Windsor, Ontario, where he started working as a toolmaker at the Valiant Machine Tool Company.
The resin composite skin contains microfluidic channels filled with a coolant to transfer heat from the batteries, motors and solar panels to the underbelly and sides of the vehicle.
Technically, the Aptera 3 will come with either two or three wheel hub motors for front-wheel drive or all-wheel drive. Each motor provides 50 kW, and is provided by Elaphe Ltd, in Ljubljana, Slovenia. Multiple solar panel, motor and battery configurations are planned, with ranges from 400 to 1 600 km provided by 25, 40, 60 or 100 kW·h lithium-ion battery packs. Embedded solar cells will contribute up to an additional 65 km per day from sunlight alone under ideal conditions. With average daily commute distances estimated to be about less than 50 km per day, this allows Aptera to claim that they are producing a never charge vehicle. Prices vary from US$ 25 900 to over US$ 47 000. The all-wheel-drive version will accelerate from 0 to 100 km/h in 3.5 s. The two-wheel-drive versions have a 0 to 100 km/h time of 5.5 s.
A number of details for the Aptera 3 are missing. This includes the charging technology to be used. Several enhancements/ options are offered: SafetyPilot adds Level 2 autonomy capability, including facial tracking, lane keeping, adaptive cruise control, and emergency braking; Enhanced audio provides three more channels of audio including an added lightweight transmission-line subwoofer; Off-road kit increases ground clearance and provides tougher wheel covers; Camping kit provides an integrated tent and rear awning; and, Pet kit adds a pet divider, a way to secure a pet, a rear ladder and other assessories for an animal.
From other sources, it appears that Aptera will use batch processing (rather than an assembly line) to produce its products. A batch could consist of between 100 to 200 units that have highly similar characteristics. Batch production would reduce capital investment.
Two new front-wheel drive (FWD) limited editions will be available. The Paradigm Edition is described as "The Most Efficient Vehicle on the Road" with a 640 km range, 100 kW drive system, with solar panels. The Paradigm + is "The Most Efficient Long Range Vehicle on the Road" with a full 1 600 km range, 100 kW drive system, and solar panels.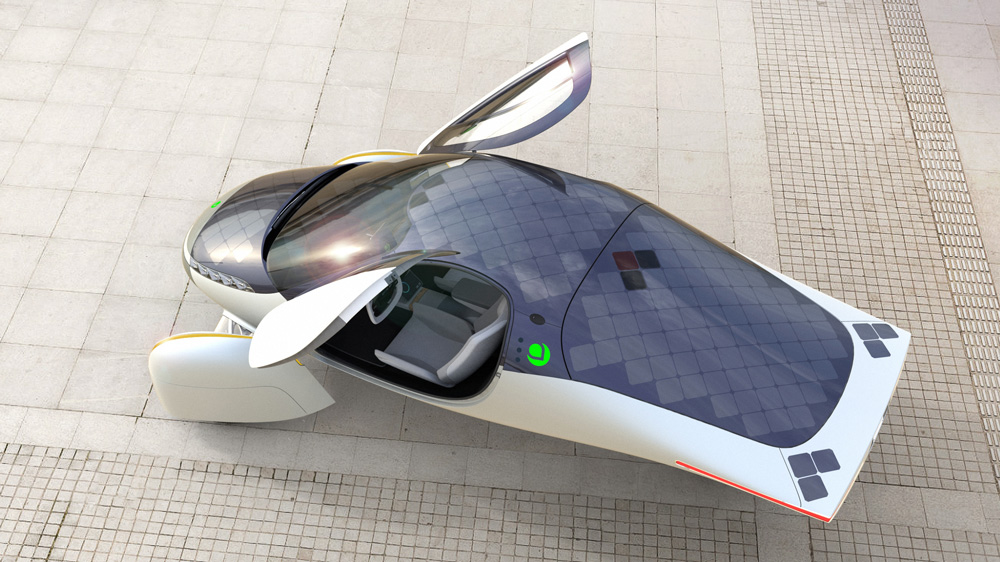 Notes: 1. The noun Aptera, has a long history. It was the name of an ancient city in Crete, as well as the name of another ancient city in Turkey. Carl Linnaeus (1707 – 1778) classified Aptera as the seventh and last order of Insecta. It included many diverse creatures without wings, including crustaceans (crabs/ lobsters/ shrimp/ woodlice/ barnacles, etc.), arachnidans (spiders), myriapods (terrestrial creatures having anywhere from about 10 to 750 legs), and more. In 1795 Pierre André Latreille (1762 – 1833) divided it into seven orders: Suctoria, Thysanura, Parasita, Acephala, Entomostraca, Crustacea, and Myriapoda.
2. Wikipedia claims that the 2e was (going to be) assembled in Canada. Canada is a big place, and I haven't been able to find out where, specifically, this was going to happen. If anyone knows, please advise and the text will be modified appropriately, with an acknowledgement.