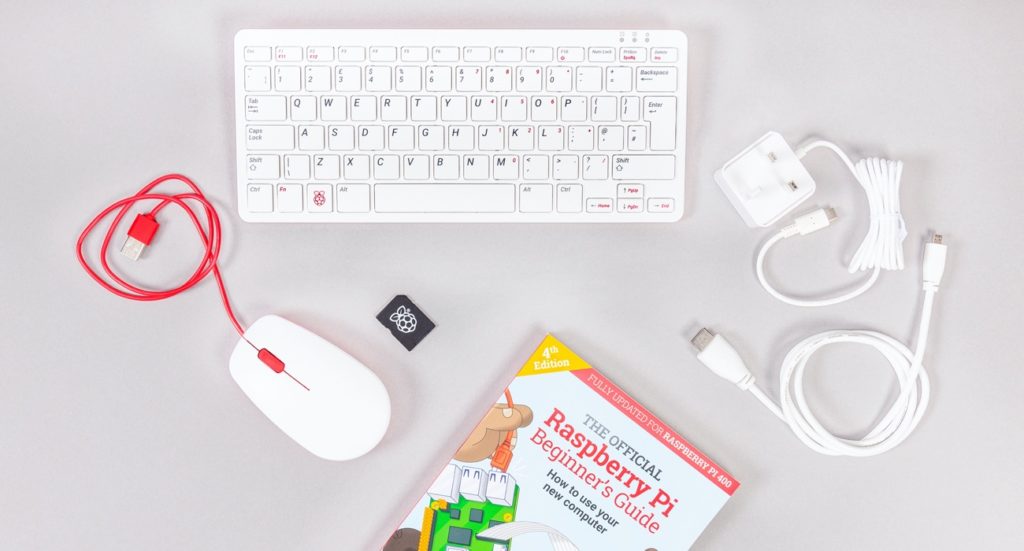 The pandemic has increased hunger and homelessness, and prevented some people from attending a physical school. This might be because of a legitimate health reason, but in some cases it might just be political. Affected students need digital equipment to access online schooling. Hopefully, this is being provided by the educational authorities, but where it isn't an inexpensive solution may be needed.
The Raspberry Pi 400 Personal Computer Kit, may be precisely what the teacher ordered. Of course, the machine can also be used for work and entertainment purposes, in addition to education. At a cost of about £/ €/ $ 100 it contains everything one needs in a basic personal computer (except the display/ monitor/ screen/ television). As long as a proposed display supports a high definition multimedia interface (HDMI) connector, it can be used. Unfortunately, even an inexpensive machine like this will not help if the real problem is a lack of broadband infrastructure.
Specifications:
Processor: Quad-core 1.8GHz Cortex-A72 (ARM v8) 64-bit (BCM2711)
Random-access memory (RAM): 4GB (LP DDR4-3200)
Dual-band (2.4GHz and 5.0GHz) IEEE 802.11b/g/n/ac for wireless local area network (LAN) connectivity,
Bluetooth 5.0, BLE
Gigabit Ethernet for wired LAN connectivity.
2 × USB 3.0 and 1 × USB 2.0 ports
Horizontal 40-pin general-purpose input/ output (GPIO) header
2 × micro HDMI ports (supports up to 4Kp60) for video display
Video decoders: H.265 (4Kp60) / H.264 (1080p60 decode, 1080p30 encode)
OpenGL ES 3.0
microSD card slot for operating system and data storage
78- or 79-key compact keyboard (depending on regional variant)
USB-C power connector
Dimensions: 286mm × 122mm × 23mm
Currently, the English (UK) keyboard (with UK power supply) is available as is an English (US) keyboard with a North American power supply, and a French keyboard with a European power supply. Soon, these will be augmented with German, Italian and Spanish keyboards, with an EU power supply. Beginner's guides are provided in the same language as the keyboard type: English, French, German, Italian or Spanish. There is no mention of an official Nordic keyboard.
For the first time a RPi has an on/off power switch, activated by pressing Fn+F10 simultaneously. Pressing these for two seconds will turn on power.
Unusually, the mouse plugs into a USB-port at the back and to the left of the keyboard. This makes it ideal for left-handed people. This appears to be a design issue (read: flaw).
A wireless, Bluetooth mouse will not have any such challenges. These cost about £/ €/ $ 7. If this is needed, then one should probably buy all of the components separately. A universal USB-C power supply costs about £/ €/ $ 9. The keyboard module is about £/ €/ $ 67. The Beginner's guide can be freely downloaded. This results in a total price of about £/ €/ $ 83.
The RPi 4 series is noted for having temperature issues. The RPi 400 contains a heat spreader to dissipate heat from the entire machine, so no part will be too hot. It is claimed that there is enough thermal capacity to overclock = run faster than the design speed.
The RPi's GPIO header/ interface/ connector is often used for interacting with electronic components placed on a breadboard = electronics test circuit, such as sensors or actuators (motors, for example). This may be only for educational purposes, or it might even serve real-world needs. It is this capability that makes the RPi a much better machine for learning about computers than a laptop or desktop machine.
The smallest and cheapest RPi model, the Zero, at about £/ €/ $ 5, is being used to provide computing power to ventilators being produced from locally available parts in Columbia, South America. The RPi 400 could also do this, but its capabilities far exceed the computing needs of a ventilator.
The RPi 400 PC kit is following a tradition that emerged in the early 1980s, with Acorn's BBC Micro (1982), Sinclair's ZX Spectrum (1982), Commodore's Amiga 1000 (1985) , and others that integrated the motherboard directly into the keyboard. There was no separate system unit or keyboard cable. Just a computer, a power supply, a cable to a display, and (sometimes) a mouse.
The first RPi was launched 2012-02-29. According to the RPI Foundation, this new RPi 400 model, launched 2020-11-02, is about 40 x more powerful than the original. On launch day, Chris Barnat, on his Explaining Computers YouTube channel, made a video describing the RPi 400 in detail. Other single board computer (SBC) influencers, released similar videos.