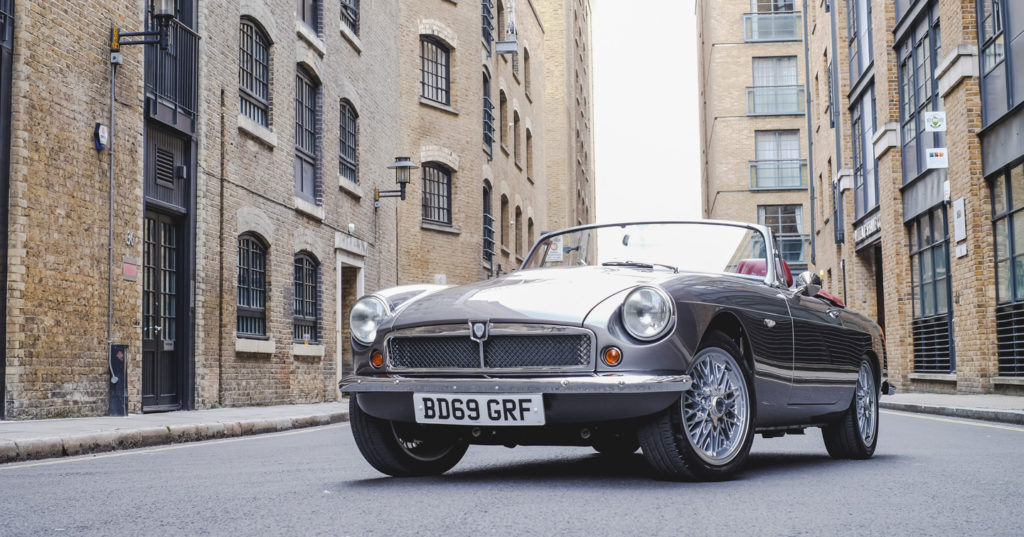 When enthusiasts comment on sports cars they commonly show their prejudices in their first sentence. This enthusiast is no exception. I cannot hide my delight that the age of the ICE (internal combustion engine) sports car is ending. Long live the electric sports car!
What seems to be happening is that people are taking their favourite 1960s vehicle bodies and fitting them with an electric power-train. Sometimes these bodies are real, with steel parts that have had sixty years to rust. At other times these bodies are constructed in fibreglass, original if available or a replica if not. Presumably there are also carbon-fibre replicas. Many of the drivelines come from Teslas, or other electric vehicles, that have been totally damaged in an incident.
RBW Electric Classic Cars takes a different approach. Recently, they have produced a prototype of a sports car based on a MGB.
The body shell is new, produced under licence to the original specifications, by British Motor Heritage, of Witney, in the Cotswold. It is powered with a patented driveline system, incorporating three years of development by RBW, Continental Engineering Services (CES), and Zytek Automotive, a 100% owned subsidiary of Continental Engineering Services. This driveline is derived from Formula E technology. All three companies are based in Lichfield. While the electric motor is placed at the rear of the car, a lithium-ion battery pack is located in the abandoned engine room, giving a balanced weight distribution.
The front and rear suspension consist of independent coilovers. The brakes, feature discs and callipers, but also integrate regenerative braking technology.
While the interior features a 7″ dashboard display with wi-fi-enabled navigation, the system seems underwhelming, at least to a computer scientist.
| | |
| --- | --- |
| Top Speed | 80 mph = ca < 130 km/h |
| 0-60 mph = ca 0-100 km/h | 9 s |
| Range | 160 miles = ca 260 km |
| Batteries | Six Hyperdrive Lithium-ion battery packs |
| Power Output | 70 kW |
| DC Charging | 3.0 kW |
| Recharge Hours | 8 hours |
Electrical and related characteristics of the RBW Electric Roadster.
Thirty examples of the RBW Electric Roadster will be produced, starting in early 2021. Prices will start from £90 000, plus taxes, with an initial £5 000 deposit.