Back in December 2017, 500 other people and I pledged €32, to become Prime Contributors to Eelo, an Android-based mobile operating system, without Google. Of course, there were lots of other contributors at other levels. Altogether, €94 760 was raised, on a goal of €25 000. Today my stickers arrived.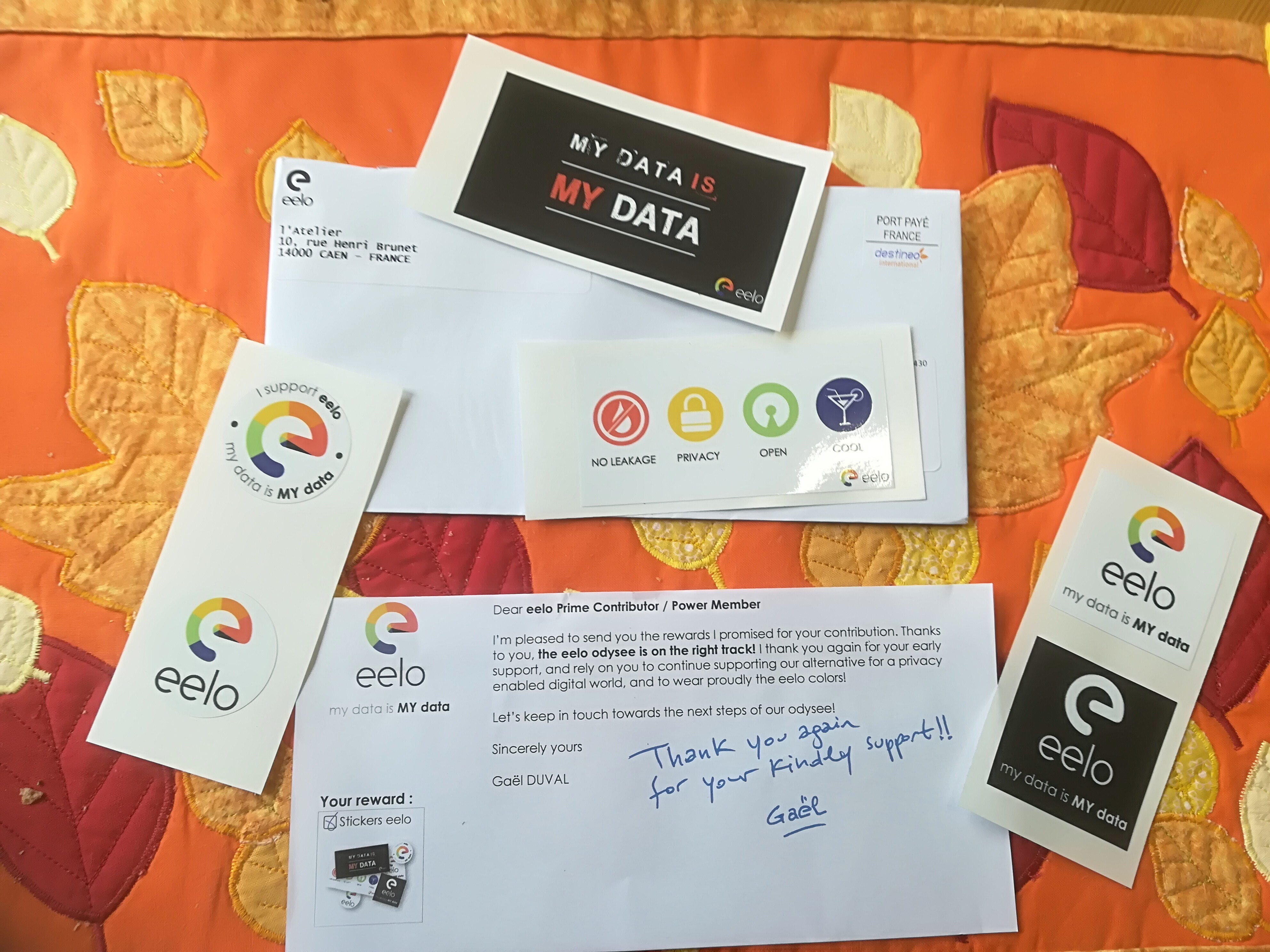 Gaël Duval, creator of Mandrake Linux, is the primus motor of Eelo.  I've always had a soft spot for Mandrake throughout its various incarnations, including Mandriva, and more recently Mageia, if only because of New Westminster's Mandrake the Magician. Eelo has a focus on open-source software.  Eelo does not have a business model, as it is intended to be a non-profit project, with a product suitable for unsophisticated users.
Eelo is not a new Linux-based smartphone operating system. That is because building  a new OS on a wide variety of smartphone hardware will be too big a challenge. One of the reasons I'm backing Eelo is because of my experiences with Linux on my Asus laptop. Daily freezes just aren't fun! Eelo is using the existing Android clone, LineageOS, as its starting point. LineageOS is a CyanogenMod fork. The core of AOSP [Android Open Source Project]/LineageOS is usable and works well – for geeks! Unfortunately, it is not working well enough for everyday users, which is why I have not installed LineageOS on my Huawei P10 lite.
There is a lot of work that has to be done. First priorities for the project are a launcher, notification system and control center. These are currently running in beta. The real challenge comes in removing Google Play Store, Google Play Services, and Google Services.
Eelo will use F-Droid and APKPure to installing programs. MicroG will be used to replace Google Services. This is an open-source implementation of Android user space apps and libraries. SafetyNet will be replaced with Magisk Manager. Search will probably use DuckDuckGo and/ or Qwant or whatever the customer wants. Quad 9 DNS will be used for Domain Name System (DNS).
There are a number of other issues that have to be resolved, such as low-level proprietary smartphone hardware drivers.