My childhood home was clad in rockdash stucco. There are no rocks in it, only 3 – 6 mm pieces of broken coloured glass. It is a technique not favoured today, in part because it is extremely difficult to repair.
My wife's childhood home was also clad is stucco, but in a form of roughcast, which is slightly less of a problem to repair because it adds stones to the mix, whereas rockdash puts them on top.
Despite the fact that there are numerous ugly stucco buildings, I still find it the most appealing method of cladding. It has only taken me forty years to come around to this view. OK, sixty five years plus. Wood rots. I'm not in a social class that uses stone – being neither a laird nor a crofter. I'm not brutal enough to appreciate massive concrete. Nor am I English, so brick doesn't have much appeal either. I am stuck with stucco.
I had considered manufacturing cement fiber sheeting, but in order to make the sheets thin enough (4 – 8 mm), the process requires the use of expensive silica sand and even more expensive special purpose chemicals.
Wikipedia states that stucco is the predominant exterior wall material in both residential and commercial construction in five states: California, Nevada, New Mexico, Arizona and Florida. https://en.wikipedia.org/wiki/Stucco
While many stucco houses use a subdued pallet, this does not apply in all cases. Personally, I would like to have our house continue to be bright yellow.
There are many other colours available, some even less subtle: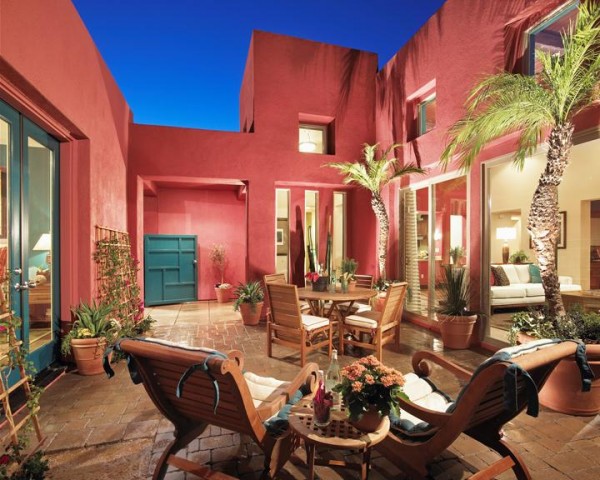 There is not an excessive amount of information about DIY stuccoing on the net. Here are three important sources:
For restoration work: https://www.nps.gov/tps/how-to-preserve/briefs/22-stucco.htm
Text materials about contemporary methods: http://thestuccoguy.com/
Videos about contemporary methods: https://www.youtube.com/user/StuccoPlastering
My plan for the spring of 2018 is to use stucco as part of Project Pumpkin, the construction of a ca. 15 m3 gardening shed, to replace one expropriated.