Somewhere, sometime I read that pandemics release creative energy. After two years of Covid-19, I am not sure. However, it sounds good. One form of creativity is inventing new words, or using old words to denote new things. Recently, it has been claimed that there has been an explosion in new word invention and usage.
The words listed here relate to my personal (re)discovery of them. Other people may have completely different perceptions of what is a new word, or a new usage of an old word.
January – Yoke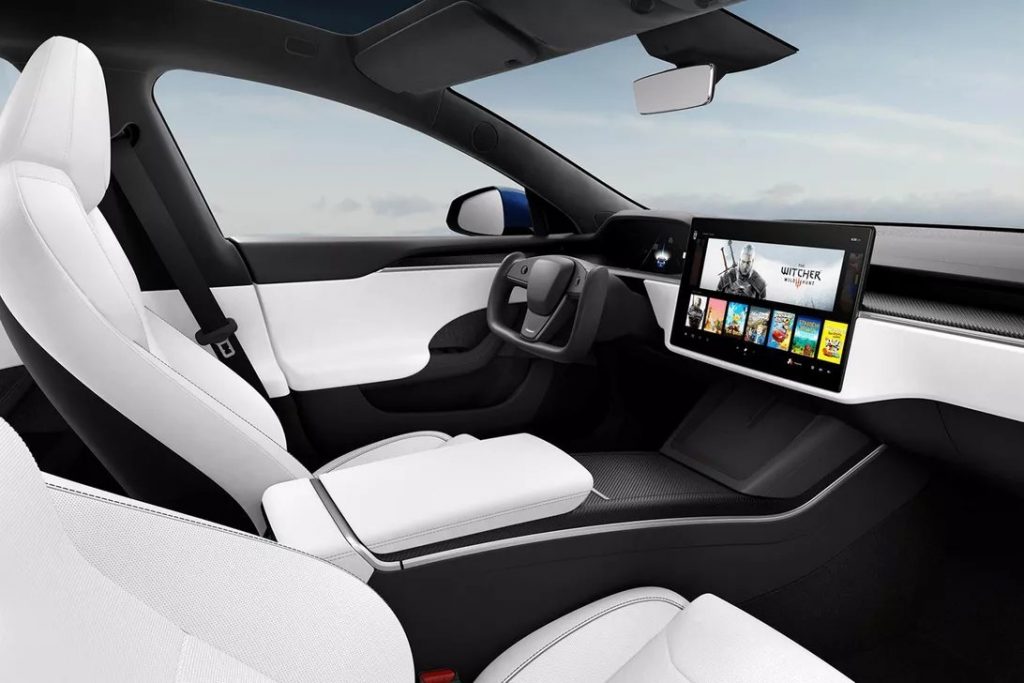 In Tesla news, for only $140 000 (Lets just call it NOK 1 500 000) one can get an updated version of Tesla Model S (as in S3XY) Plaid. The basic design of the Model S has been unchanged since 2012, although it has been updated before. Most of the discussion about this current update has been about the steering wheel, although not everyone wants to use that term. Tesla uses the term yoke. There are no stalks, either, meaning the turn signals, lights and other typical features are now controlled by touch buttons on the yoke.
February – Side-hustle
Yes, it is normally written as a phrase, but I've added a hyphen to transform side-hustle into a word. Elaine Pofeldt, writing in CNBC, has provided The ultimate side hustle guide for 2021. Citing a State of Independence report from BMO Partners, she claims that, "56% of Americans said they'd be more secure working for themselves than in a traditional job in 2020, up from 32% in 2011."
A side hustle or side job or side gig is a job that a person takes in addition to their primary job in order to supplement their income. In my youth this was often referred to as moonlighting. This contrasts with a person's day job. Some dictionaries give a much more sinister definition of moonlighting going back to 19th-century Ireland, where people murdered or maimed cattle, during the night, to protest against the oppressive land-tenure system.
March – Fungible
Mike Winkelmann (1981 – ) is responsible for bringing everyone's attention to fungible vs non-fungible tokens, often just abbreviated without explanation as NFT. If it were not for his alter-ego, Beeple, and the sale of Everydays: the First 5000 Days, a collage of images that sold for $69.34 million on 2021-03-11, no-one would have heard these terms. A non-fungible cryptographic token represents something unique. In this case, it is 5 000 digital images, making it the third most expensive artwork by a living artist. This contrasts with fungible tokens, used with cryptocurrencies such as bitcoin, that are mutually interchangeable.
April – Voltswagen
It may have started off as a bad April Fool's Joke, but Voltswagen is an impressive name. If Volkswagen hasn't secured it, then I would consider it for a future project, ahead of the more Italian-English VoltaVan, an Italian-Norwegian VoltaVogn, or an all Italian VoltaVagona.
May – Adulting
Some claim that Kelly Williams Brown (1984 – ) invented the present participle, adulting, in 2015. It is a neologism that refers to behaving in an adult manner, or making someone behave like an adult, or even transforming someone into an adult. Unfortunately, for Brown, @unholytwerp tweeted the following on 2008-10-02: Grew up in a town of 2k and adulted 10 years NYC. Same values: Keeping the job. Feeding the family. Educating the kids. Buying the stuff. This abecedarian = word collector, only discovered it 2021-05-06.
June – Fast Food
This phrase refers to food that is permitted to be eaten by a person who is observing a religious fast. While I have on occasion used this term while observing a fast, in the years before I turned 70, it now appears to be part of the Oxford English Dictionary.
It has nothing to do with burgers or other sorts of food from an A & W root beer stand, or its later iterations, derived from the one that Roy W. Allen opened 102 years ago, on 1919-06-20, in Lodi, California.
July – Locovore
Other people may have come across this word in 2005, but for some people, such as myself, it is new. It refers to a person who eats foods grown locally whenever possible. At locovore.co, it seems possible to buy quail eggs from Quail Haven Urban Farm in Fort Worth, Texas. That would make a change from walking up the road to a neighbouring farm to buy chicken eggs. It appears possible to buy local foods from all over the world!
August – Flexcation
A holiday during which parents spend some of the time working from home and children are homeschooled, allowing the family to go away for a longer period than usual and at a time of year when they would not normally be able to go on holiday.
With the pandemic continuing, flexcations to distant parts of the world are not always permitted. Indeed, for the residents of Cliff Cottage, the travelogue, typically a video in segments lasting up to an hour, has become a substitute, but without excessive heat, humidity or hoards of mosquitoes. See this article about travelogues.
September – Petroholic Rehab
I am only 11 years and 2 weeks late in discovering Petroholic Rehab. It was used at the Oil Fair held in Stavanger, Norway. Marius Holm, deputy chairman of the Norwegian environmental organization, Bellona, presented this program to wean petroholics, on 2010-08-21.
For over [5]0 years, [corrected from the original 40 years] Norway has chosen to make themselves dependent on oil. Little Norway accounts for almost three percent of the world's CO2 emissions, through its oil and gas exports. Norway's dependence on oil money not only provides large CO2 emissions, but also destroys a greater restructuring for more renewable energy and energy efficiency. Norwegian politicians should realize that they must reduce the oil business, shield vulnerable areas along the coast, and cut oil industry subsidies. They should, but they don't.
There has to be a transition to renewables. There are 12 steps to weaning:
We admit that we have a problem, that. we have let ourselves become addicted to petroleum.
We admit that our constant petroleum abuse has led to a heavy hangover.
We admit that our petroholism has negative consequences for our loved ones and for the surroundings. Consequences such as poverty, destruction and despair.
We admit that our successful, oil-based economy cannot last, and understand that we must invest both labour and capital in renewable energy sources such as algae, biomass, sun, wind, geothermal energy, tidal power and wave power.
We admit that the idea of ​​a life without petroleum scares us. Nevertheless, we realize that there is no future in a petroleum-based life.
We realize that our future has to be green.
We admit that we have wasted large amounts of valuable energy. By using energy more effectively, we reduce the burden on the environment, the economy, and the resource base.
We choose to protect the Lofoten and the Arctic areas and to manage the fisheries in a sustainable manner.
We commit ourselves to green solutions such as electric cars.
We choose to fly through the landscape of wind-powered high-speed trains instead of taking planes. [This may have to be modified to take electric aircraft into consideration]
We realize that CO2 capture and storage are required for the remaining fossil emissions and also for the future production of carbon negative energy.
When we finally woke up, we commit ourselves to bringing this message to other petroholics, and to deal with these principles in everything we do.
October – Nanolearning
Learning that involves reading/ hearing/ watching very small pieces of information. Typically provided on the internet. It takes a minute, perhaps two, sometimes less. The key is to deliver content engagingly. It solves minute, but specific problems, using few a minimal of sentences/ soundbites/ video sequences.
November – Tshinanu
With COP26 being held in Glasgow, living-language-land offers a platform to minority and endangered language-holders to share a word and story that reflects a relationship to land and nature. They have shared 26 words to give a global audience fresh inspiration for tackling our environmental crisis. Their website explains each of these words in depth.
Of these, I have chosen Tshinanu from Nehluen, the common language used throughout the Innu communities in Quebec. According to the website, the Innu alphabet has 11 consonants and 7 vowels. It is complex, but pictorial. Words animate a thought, linking a precise action with the environment. There is one vocabulary for village life, and another for the bush. These nuances are linked with the corresponding environment, which itself is indissociable from thought, and therefore the verbal expression. The vocabulary changes with the landscape from south to north, as well as from east to west. Words enable people to understand the relationships between flora, fauna and people, who must adapt to the environment. Tshinanu – the inclusive form of we – invites sharing, community life, as there are no fences in the word tshinanu. It is a collective 'we', an open hand extended to others, inviting them to be a part of the circle. It also correspondingly tells a story, the story of the community of life of the person who speaks or writes. This word brings into relation the land, the animals, the plants and the peoples in the same pronoun.
December – Jazz hands
Many organizations have replaced applause with jazz hands, in an attempt to make events more accessible for people with disabilities. Unfortunately, the term might also be confused with a dance performance where the performer's hands position the palms toward the audience with fingers splayed. This position is also referred to as webbing. It is commonly associated with especially exuberant types of performance such as musicals and cheerleading.
As an applause substitute for clapping, both arms are outstretched upwards, with fingers wiggling. This is sometimes referred to as spirit fingers or jazz fingers. Loud noises, including clapping, and especially whistling and other noises expressing appreciation, can create issues for people with anxiety, autism, deafness or other sensory issues.
Sign languages are languages with their own grammar, syntax and idioms. For many, they are languages of necessity and of access. The wave applause used at many sporting events, is another example of sign language making a positive contribution to a wider group of users.
Word of the Year – Parkour
Parkour is a training/ exercise discipline where traceurs move from one place to another in a complex environment, without assistive equipment and in the fastest and most efficient way possible. This includes the best of climbing, crawling, jumping, martial arts, obstacle courses, rolling, running, swinging and vaulting. These terms should be understandable for most readers. Yet, the tenth term, plyometrics, may require people to use Wikipedia (or other sources) to discover yet another new word.
Parkour is usually an urban activity that can be practiced alone or with others. Traceurs see their environment as a challenge, to be navigated by "movement around, across, through, over and under its features." David Belle (1973-04-29 – ), a French actor, film choreographer and stunt coordinator, is credited with starting it in France in 1988, based on the training/ teaching of his father Raymond Belle ( 1939-10-03 – 1999-12-01).
As is often the case, parkour had a predecessor, méthode naturelle, developed by Georges Hébert, (1875-04-27 – 1957-08-02) who promoted athletic skill based on the models of indigenous tribes he had met in Africa. He noted: "their bodies were splendid, flexible, nimble, skillful, enduring and resistant but yet they had no other tutor in gymnastics but their lives in nature." His natural method involved ten fundamental activities: walking, running, jumping, quadrupedal movement, climbing, balancing, throwing, lifting, self-defence and swimming, that helped develop three main forces: energetic (willpower, courage, coolness, and firmness), moral (benevolence, assistance, honour, and honesty), and physical (muscles and breath).
My first appreciation of parkour came in the Luc Besson (1959-03-19 – ) film Taxi 2 (1998). However, I was unaware of it by that name.
Discouraged words
Yes, this writer may be inconsistent, even sloppy, in word usage, but in general he finds the following words annoying enough to discourage their use, in theory if not in practice.
Artist as in a vocalist or other musician who is performing live or in a recording. Please use either musician or, preferably, a more specific terms (such as guitarist, vocalist) to describe them. In the same way, one should use specific terms in other arts to describe practitioners. A person can be engaged as a painter, a print maker, a sculptor, a writer or even a poet, plus many others. If all else fails, then use performer, explaining why a more precise word is unavailable.
Expat as in an emigrant from/ immigrant to somewhere else. The correct term for an ex patriot is emigrant/ immigrant. I am one myself. I am not an expat.
The Importance of Words
This year's Human Rights Day was celebrated on 2021-12-10, the day before the publication of this weblog post. It is celebrated annually on this date and honours the United Nations General Assembly's adoption and proclamation, on 1948-12-10, of the Universal Declaration of Human Rights, the first global enunciation of human rights and one of the first important achievements of the new United Nations.
On this same day, journalists Maria Ressa (1963-10-02 – ) and Dmitry Muratov (1961-10-30 – ) received the Nobel peace prize. Ressa was almost blocked from attending because of travel restrictions related to legal cases filed against her in the Philippines. She is the CEO and co-founder of Rappler, an online news platform noted for exposing power abuses/ authoritarianism under Philippine president, Rodrigo Duterte (1945-03-28 – ).
Muratov is editor-in-chief of Novaya Gazeta, a prominent defenders of free speech in Russia, or in the words of Berit Reiss-Andersen (1954-07-11 – ), chair of the Norwegian Nobel committee; "Novaya Gazeta is the most independent newspaper in Russia today, with a fundamentally critical attitude towards power." The above link is to the Russian edition. The English version, appears to be through Facebook, a company and website that I am avoiding. Information about it appears in Wikipedia.
Reiss-Andersen also said that Ressa and Muratov were "participants in a war where the written word is their weapon, where truth is their goal and every exposure of misuse of power is a victory".
Meanwhile, in Britain, on the same day, the High Court overturned a judgment from earlier in 2021 that prevented Julian Assange (1971-07-03 – ) from being extradited to the US, to face charges related to WikiLeaks' publication of hundreds of thousands of documents, including diplomatic cables, about the Afghanistan and Iraq wars, in 2010 and 2011. This new ruling was condemned by advocates of press freedom.