While the focus of this weblog post is a kitchen, information about the house provides some context.
We have lived in our house since 1989-03-01, almost thirty-five years. Officially, it is known as Fjellheim = Mountain Home, from a time when residences in a municipality all had a unique name. Later, it was given a street address, once streets were given names, and houses were assigned numbers. This system is specifically designed and imposed to help emergency vehicles, such as ambulances, find any location! It applies everywhere in Norway. So, convention ensures that there is a starting point for a street, with odd numbers on the right and even numbers on the left. The number shows the distance from the start point, with #100 located one kilometer from the start. Thus, Vangshylla 82, indicates that our house is about 820 meters from the start point, on the left side of the road leading to Vangshylla. The start point is where this road meets National Highway 755.
We refer to the house as Cliff Cottage, because it sits on bedrock, on a cliff about 35 meters above sea level, as shown in the satellite image.
The house was built in 1963, and had two previous owners. The first owner built it as a replacement for a house that had burned down at the same location. The main floor had an area of 90 m2, close to the maximum size allowed for residences built at the time, 100 m2. The second owner had bought it as a potential retirement house. After the rules were relaxed, an additional 15 m2 bedroom was added.
The house does not meet everyone's 21st century expectations, with the possible exception of its servers and fibre-optic Internet cables. Some people regard it as small. We refer to it as a cottage. However, it is not a single-story dwelling. The main living area is upstairs from the entrance. However, on the entry level there are rooms suitable for various activities. There is a weaving studio, a library (for books made of paper), a bedroom, laundry room, bathroom and two storage rooms. The house was large enough to raise two children. It is still suitable for a retired couple, capable of using stairs. With mobility issues, it is also possible to add other measures, such as a chair lift/ elevator.
We have remodelled much of the house over the years, making it more appropriate for our specific needs. Changes include adding sliding doors to enter most rooms, hardwood floors in bedrooms, and ceiling tiles. In about 2010, the bathroom was transformed, but the people who did the remodelling did not put in pipe-in-pipe plumbing, despite it being required at the time. This has now been corrected.
Before and during the great pandemic, two outside walls were enhanced with increased insulation, along with the remodelling of the living room that included larger windows and a glass balcony door that opened onto a terrace, above a carport and shed for the gardener. These efforts allowed more light to enter the house, as well as providing residents with greater opportunity to see the land- and waterscape of Trondheim Fjord.
In 2023, it was time for the kitchen to be remodelled. Apart from some new floor coverings, the kitchen was the same as it started life in 1963. There were two main problems with the kitchen. A lack of usable counter space, and a lack of storage space. Relative to income, kitchen cabinets and counters were expensive in Norway in the 1960s.
I searched for some advice about kitchen remodelling in 2022. Google news continues to provide links to posts about kitchen trends in 2023 and, more recently, 2024. The general suggestions were that people wanted increasing convenience, comfort and personality, along with less grey and more green. The advice that I appreciated most was to construct less perfect kitchens, because perceived perfection was inhibiting use. A kitchen shouldn't be a trophy on display 24/7. I interpreted this to mean that kitchens should be simple in design, yet sturdy in their construction.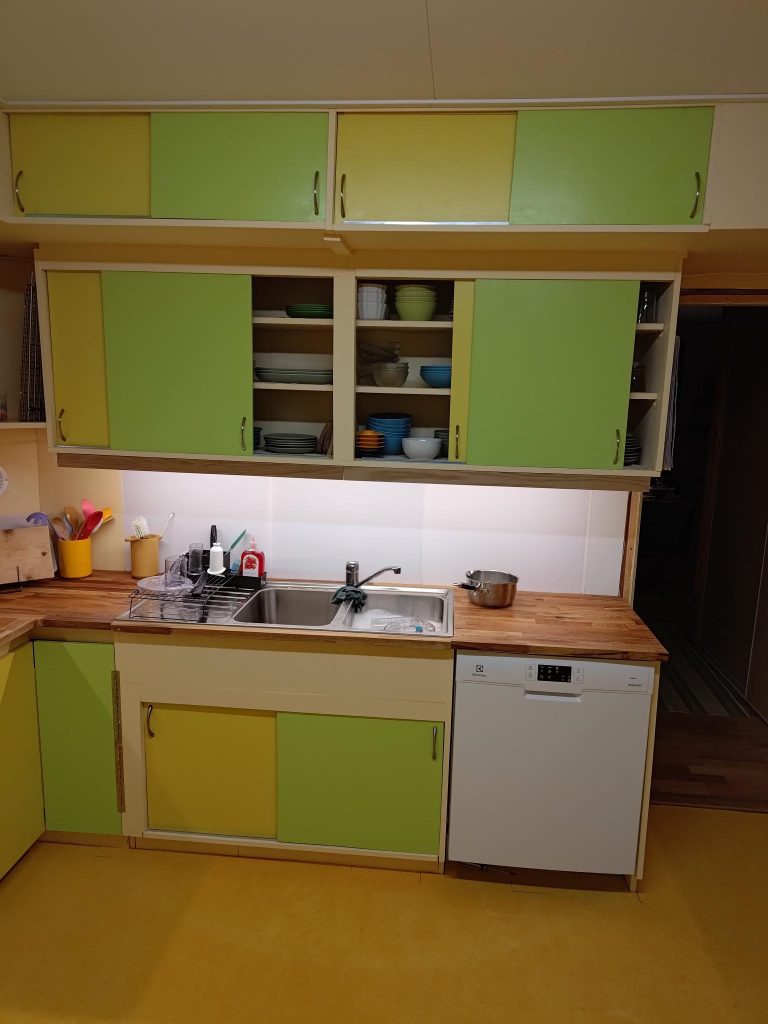 Making a kitchen less perfect has not been difficult. The major supplier of building materials was Biltema = Car theme (literal translation), yet another Swedish chain that provides tools/ equipment/ supplies far beyond its automotive starting point in 1962. In most cases, its products are not great, but gudenuf. Take the oak countertops as an example. They are available in one size only: 25 x 600 x 2 400 mm/ 1″ x 2′ x 8′. They now cost about 2/3 the price of an equivalent IKEA product, and are of lower quality. When we first started buying them, before the pandemic, they were half that price. These were used not just for the countertops, but also for a folding kitchen table, allowing the two main residents to view wildlife events in the trees. In the future, some countertops will be cut into risers for the main stairway.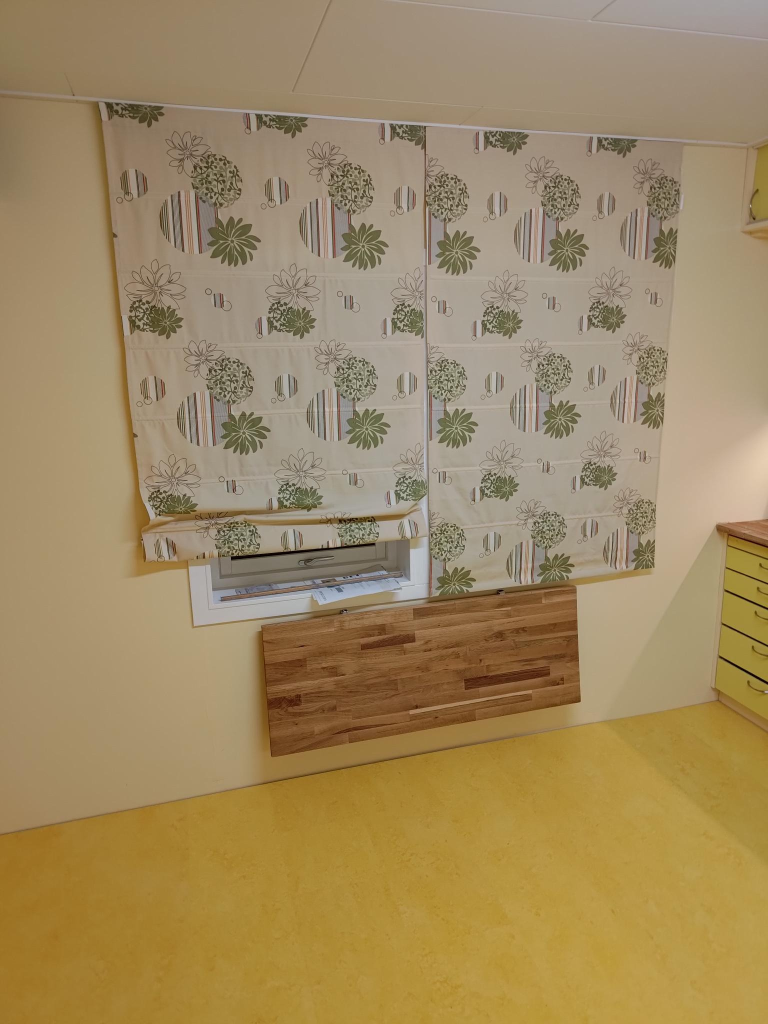 The cabinets all started life as 18 x 600 x 2 400 mm spruce shelving material, that were then cut to size. All of the hardware (think hinges, drawer slides and handles) were also supplied by Biltema, as was all of the ventilation material. Why Biltema? Perhaps the answer lies in its cafe, providing a good tasting, but inexpensive, chocolate milkshake. This encourages Biltema to be the last stop on shopping expeditions to Steinkjer.
12 mm birch plywood was also used, for doors and drawers. It was supplied by the Coop! Slides for the sliding doors were provided by a specialist company in nearby Verdal. We had used them before to make troughs to remove rainwater flowing from the terrace.
The workshop, a repurposed single car garage, has been used to transform the wood into kitchen fixtures. Much of this was painted or oiled in the carport, before it was fitted in place.
At one point, to save time, I decided to use a local company in Inderøy, to make ten kitchen drawers. These drawers were all to have the same depth and width, but in two heights, four short = 100 mm and six tall = 150 mm. This outsourcing had two negative results. First, there was no time saving because they used three months to make them. Second, two of the short drawers were made with 20 mm insufficient depth, so that the IKEA fittings would not fit in them. All of the other eight drawers were made the correct size.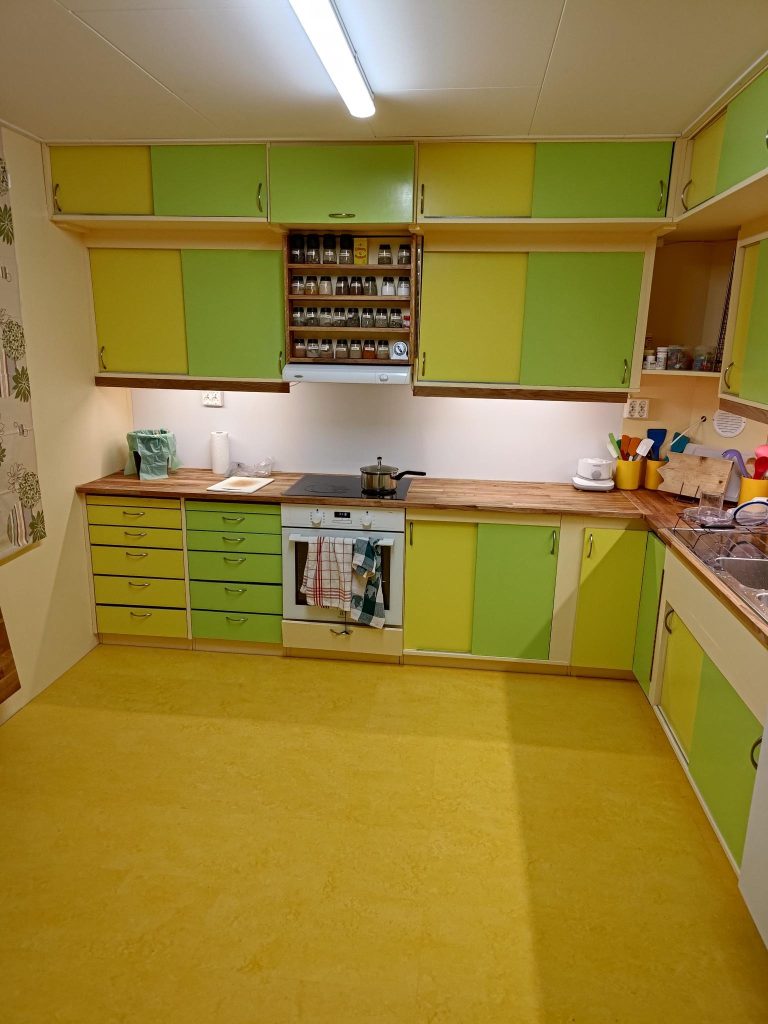 A local plumber added pipe-in-pipe plumbing to the bathroom as well as the kitchen, during the remodelling process. The sink and tap/ faucet as well as the wastewater plumbing associated with the sink, were supplied by IKEA.
The electrical system was upgraded at the beginning of 2023, replacing old 10 A circuits, and adding a couple of new 16 A circuits as well as the 32 A charging robot for electric vehicles. Unlike most of Europe, about 70% of the Norwegian grid is without grounding, using an IT distribution system. Our house is grounded using a stake on our own property. It is unrealistic to assume that this system will change in our lifetime.
The kitchen has a nominal 240 V using one 20 A and two 16 A circuits. The 20 A circuit is used for the cooktop, and has circuit breakers with thermal = heat monitoring. There is also a dedicated 16 A circuit for the oven. The remaining 16 A circuit is used for everything else.
The first part of the kitchen to be constructed was the coffee and tea station. Then, dead storage space for kitchen related materials was added close to the ceiling. At this point, it was possible to put in ceiling lighting and ceiling tiles. Upper and lower cabinets could then be added.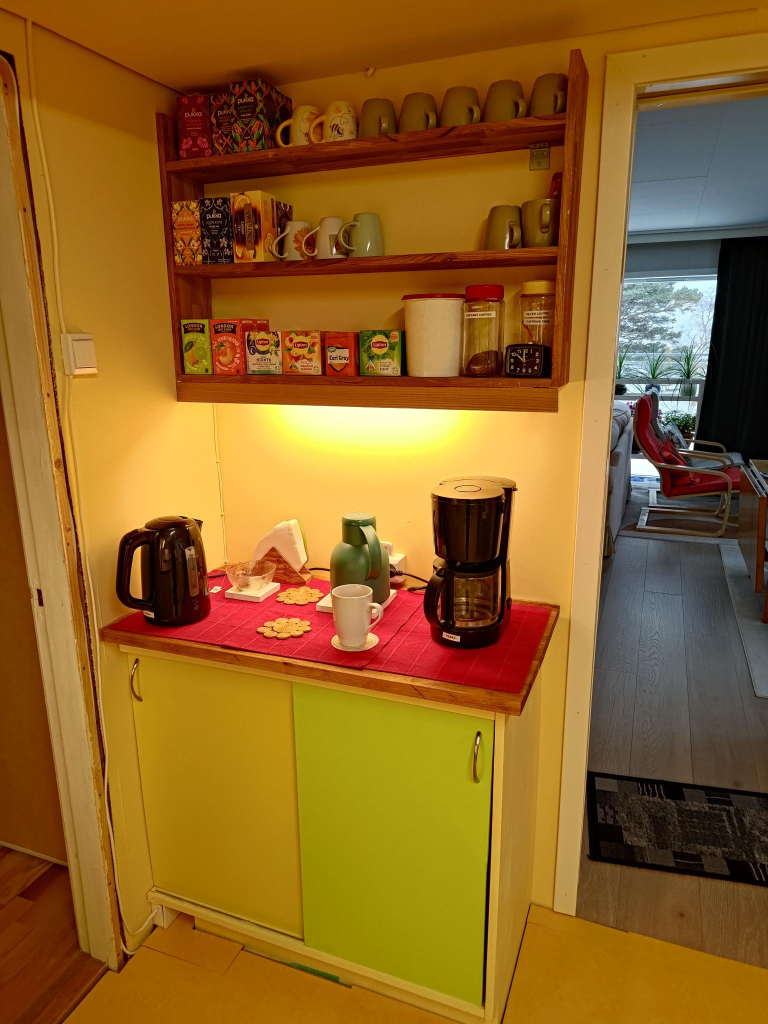 Appliances
A Beha ventilation fan was bought in 2011, but never installed until now. The microwave oven was bought in 2019, followed by a fridge and freezer in 2021. These were made by Samsung. They were bought in Steinkjer at the Power store. The cooktop has a Husqvarna label, but it along with the oven and dishwasher are made by Electrolux. These were purchased in 2023. We decided that we wanted to prioritize buying these from the Elon electrical appliance store located in Inderøy.
There is a lot of hype being written about smart technology in the kitchen. I am skeptical, because I see manufacturers trying to lock people into their own solutions. Despite this, there are two Ethernet connections at opposite ends of the kitchen, but neither are in use.
Both Samsung and Electrolux claim their appliances can be connected using wifi and controlled with a smartphone. Unfortunately, they want to use proprietary software to this. Recently, Matter has been developed as an open-source connectivity standard that can be used by all manufacturers. Manufacturers have not prioritized integrating their own products using this standard. Thus, smart kitchens are still inconvenient, and waste time.
After watching a documentary about linoleum, it was decided that the flooring should be made of this. Forbo Marmoleum Click tiles in Lemon Zest were chosen. Then the rather dull yellow base colour, as well as the yellow and green door and drawer colours were chosen, to support this initial choice. White splashboards were used to make sure that the kitchen remained bright and lively.
This kitchen is designed primarily to support a person who enjoys cooking and baking, and a couple – sometimes more – who enjoy eating the fruits of her labour.