Do I enjoy travelling? The answer has to be no, especially when it involves class Y (economy) travel in cramped seats on airliners. Once I actually get to a destination things are fine, as long as everything is identical to the way it is in Inderøy. This sentence is being written at precisely the minute I eat breakfast in Norway 09:00. Except, I am in Reykjavik, Iceland, and the time is 07:00. Two hours difference. It must be summer. One hour difference, in winter, because Iceland is smart enough to avoid time changes twice a year.
Travel used to be fun, opening my mind to new experiences and ways of doing things. As I approach another milestone in my life (3/4 of a century in four months) I note how closed I am to appreciating new experiences.
Landscape
On the bus trip from KEF airport to downtown Reykjavik, I wondered how my mental health would survive the trip. The landscape could be described in one word, desolate. I am used to forests and hills and a fjord. I do not think that I would ever choose to move away from those elements. Iceland is largely treeless. I need trees to thrive. Because Iceland is more appreciated for its natural beauty, most people write, photograph, draw and paint the natural landscape. This weblog post is going to be the exception. It is going to concentrate on the low culture of Reykjavik.
Baron's Hostel
Alasdair and I are stayed for four nights at Baron's hostel, for the price of staying at a well equipped large, twin bed room with bath at a hotel in Norway, we were offered bunk beds without any opportunity to sit in the room, with a shared bath.
The building itself gives off severe vibrations. It was an orphanage, as well as a medical centre, in a previous incarnation. Today, there are two hostels vying for attention. B47 attracting upmarket hostel users occupies the first to third floors, while Baron's, occupies the fourth and fifth floors. It attracts other, lesser souls. Asking a 50ish woman from Oregon what she was doing at Baron's, she quickly answered: slumming. Her answer resonated. We met many others in the same age group, some older: A man with parents in North Vancouver, currently living in Chicago, working on his PhD in creative writing, and heading off to a writing retreat; an American musician; an entire theatre troop from Perth, Australia, with a parody of Dizney; a Polish marketing specialist who explained that the economy was booming in Poland, with the lowest unemployment rates ever.
The artwork at the top of this post, signed by Hugo Forte, dominates the common room of the Baron's Hostel. This obviously represents the Beatniks of the late 1950s. By the mid 1960s, bell-bottom trousers had replaced the slender ankle trousers.
The Lebowski Bar
The Lebowski Bar is a typical low culture place to eat. The Lebowski (cheeseburger) and the Walker (bacon burger) tasted good. At first I found the music obnoxious, but decided to put that petty concern aside, and to listen to it as if I had chosen it myself. One track, especially, attracted my attention positively. Alasdair, using Shazam, the music discovery app, was able to tell me it was Going Nowhere, by Toma. At the hostel, I was able to listen to it again on YouTube. It was part of an album, Aroma, self-released using the name Tangible Animal Records on 2017-03-31. The day before, 2017-03-30, it had been uploaded onto YouTube by Distrokid. In the 6.25 years/ 75 months/ 2282 days since then, it had been listened to 1 042 times. I became the second subscriber of Toma's music, and am sure I will listen to their other eight tracks made available. Toma is a four-piece band from Austin, Texas. Band members are: Waldo Wittenmeyer (keyboards/vocals), Jake Hiebert (drums), Neil Byers (bass), and Willy Jay (guitar/vocals).
Museums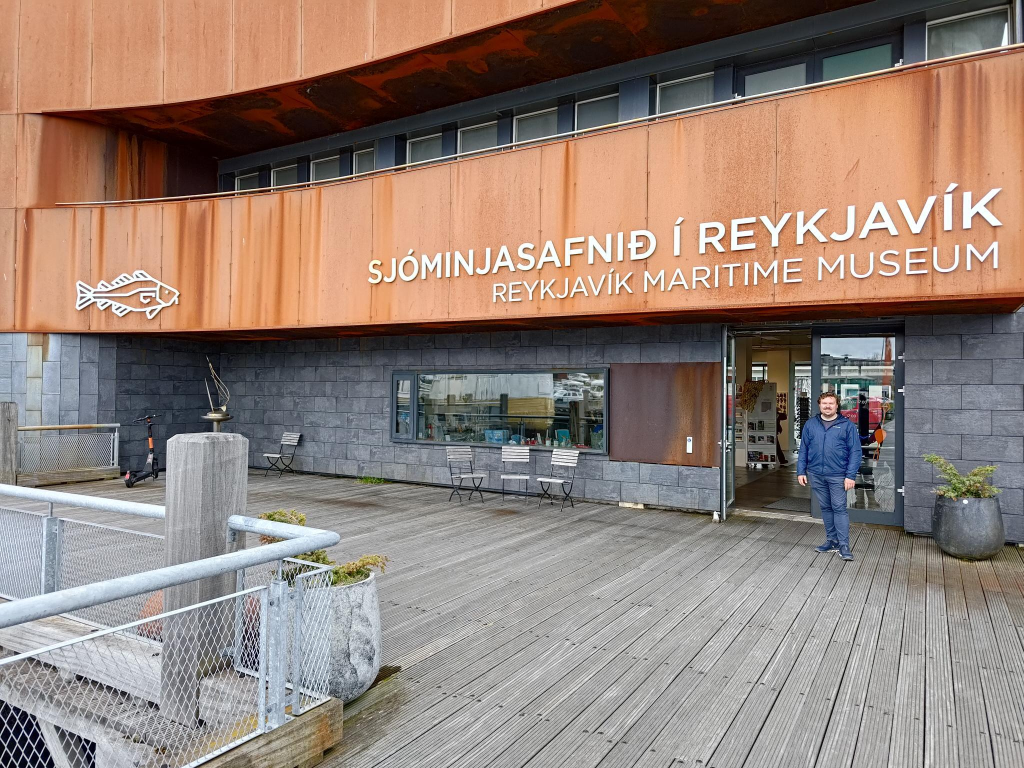 The first major museum that we visited was the Reykjavik Maritime Museum. It explained the role of people with ships, especially in modern Iceland, especially with respect to fishing.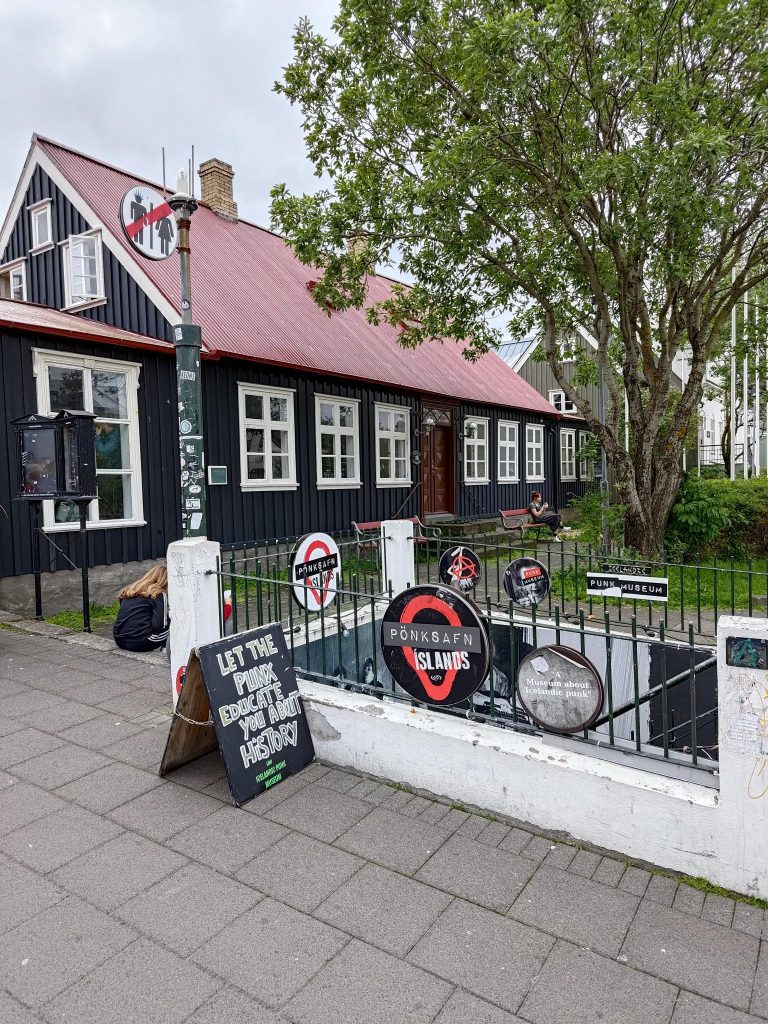 There are so many museums in the Reykjavik area, that we could not afford the time to visit all of them. One of the first not visited, was the Museum of Icelandic Punk/ Pünk/ Punx. Asked what distinguishes this type of music from Rock, I was forced to invent a suitable answer: There is no difference musically, for both encompass a wide range. It is an ethos rather than an aesthetic. Despite this, a notable feature of Punk musicians is their clothing/ fashion/ uniforms that in some way show a disregard for social conventions. It was exemplified by the Sex Pistols lead singer, Johnny Rotten (born John Lydon, 1956 – ), who wore safety pins as earrings. Yet, the safety pins were not merely decorative, they codified punk, but were also practical, holding together clothing including Elizabeth Hurley's (1965 – ) THAT dress in 1994, and to affix patches to the backs of jackets since the mid 1970s.
Religion
One may wonder why Hallgrim's Church, a landmark in Reykjavik, is included in low culture. The petty reason is that its height of 74.5 m was not chosen for design purposes, or even the glorification of God, but to ensure that this parish church was taller than Landakot's Church, the Catholic Cathedral in Iceland. Construction of the church was a slow process. It took 41 years from 1945 to 1986 for it to be constructed. The crypt beneath the choir was consecrated in 1948, the steeple and wings were completed in 1974, and the nave – used by ordinary parishioners – was consecrated in 1986.
The same day we visited Hallgrim's Church, we also visited The Grand Mosque of Iceland, a more modest building, open to the public, but not attempting to profit from visitors. The visit was a much more rewarding and spiritual experience.