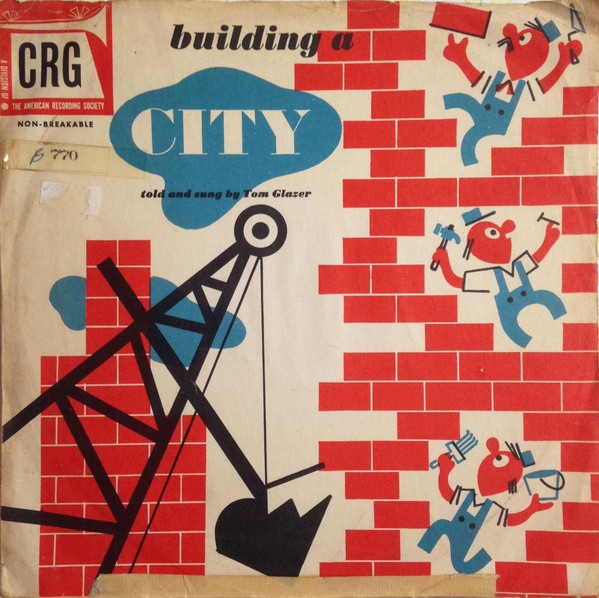 This post lists core sonic moments that are permanently branded/ etched into my brain about music that I have listened to. These are organized by the decade they became influential. Since it is based on memory, rather than written notes, there is no guarantee that this map corresponds to the terrain.
1950s
Tom Glazer (1914 – 2003): Building a City (1948)
This is the first song that I remember. It appeared on a 78 rpm record, that was played on a child's record player in the 1950s. I am not sure exactly when. I had to listen to a YouTube presentation of it, to be sure it was the same song. Surprisingly, I reacted to the mention of an architect and a banker on the first version I heard. I then found out that these were added later. The original version is what I remember from my childhood.
Maria Straub (1838 – 1898), lyrics & Solomon Straub (1842 – 1899), composition: God Sees the Little Sparrow Fall (1874). Of the hymns I experienced at Sixth Avenue United Church in New Westminster, this is the one that had the greatest impact on me as a child. The starting point for this hymn is Matthew 10:29, which the Open English Bible (OEB) translates as: "Are not two sparrows sold for a one copper coin? Yet not one of them will fall to the ground without your Father's knowledge. [30] While as for you, even the hairs of your head are numbered." These two verses are disturbing, because God's role is portrayed as that of an accountant.
1960s
At some point in the early 1960s, our household acquired a stereo record player which occupied a secluded place near the shuffleboard in the basement rec room. The record player could play LPs at 33 rpm, and singles at 45 rpm. It could not play 78s. I found its location to be a place of refuge.
The Highwaymen, a group of musicians with origins at Wesleyan University in Connecticut, whose album of the same name, was the first LP I remember owning. This was world famous for Michael [, Row the Boat Ashore]. They also made the first recording of Universal Soldier in 1963, on their March on Brothers album. It was written by Buffy Saint Marie. Part of my interest in this group came decades later, and relates to one of its founders, Dave Fisher (1940 – 2010), who graduated as an ethnomusicologist.
I also remember my father buying assorted LPs with traditional Scottish music, that I also listened to, sometimes even enthusiastically.
Surfing music, as performed by The Beach Boys and others. Unfortunately: Jan and Dean, were part of this repertoire until they recorded/ released Universal Coward in 1965; Dick Dale (1926 – 2014) and Misirlou, was not part of it, until much later in the 2010s.
The Animals, House of the Rising Sun (1964). I remember listening it for the first time sitting in the back of a Ford Econoline van, being transported to Hollyburn mountain to spend a weekend at a cabin with other scouts.
Other songs by English groups I remember well: The Zombies, She's Not There (1964); The Yardbirds, For Your Love (1965); Herman's Hermits, Mrs Brown You've Got a Lovely Daughter (1965); The Troggs, Wild Thing (1966).
Listening to The Beatles, Paperback Writer (1966) for the first time, moments before hearing about the deaths of two fellow students.
After this event, my musical interests changed, becoming decisively more American. I remember listening to: Country Joe [McDonald] and the Fish; Jefferson Airplane; Janis Joplin; Quicksilver Messenger Service. These were all living in the Bay Area of California. The Byrds, living in Los Angeles, added Turn, Turn, Turn (1965).
Another important event occurred 1967-12-26 to 1968-01-01, when I attended the Cleveland Week of Process, as a representative of the Canadian Student Christian Movement, at this American University Christian Movement event. This, along with the political assassinations of John Kennedy (1917 – 1963), Martin Luther King, Jr (1929 – 1968) and others, ignited an interest in protest songs, especially as recorded by Pete Seeger (1919 – 2014), a Unitarian, Joan Baez (1941 – ) and Buffy Sainte-Marie (1941 – ). It would take some years until I found kindred spirits like Joe Hill (1879 – 1915).
Soon after, I became a Unitarian, and became interested in the music of Béla Bartók (1881 – 1945) and Edvard Grieg (1843 – 1907).
Not all musical choices are rational, including an enjoyment of Desmond Dekker (1941 – 2006) & The Aces, Israelites (1968).
1970s
In about 1970, I remember meeting a girl I had sat beside in the alto horn section of the New Westminster Junior Concert Band, some years earlier in the 1960s. We ended up drinking coffee at a cafe. She put a song on the jukebox, Play with Fire (1965), by the Rolling Stones, and asked me to listen very carefully to the lyrics. Over fifty years later, I am still trying to interpret her message. I have not seen her since.
Whenever, I think of the band, I also think of a trip to Ellensburg, Washington and a stopover in Seattle at the Green Onion cafe, which invariably brings to mind Booker T[aliafero Jones, (1944 – )] and the M.G.s, with their hit Green Onions (1962). Their Stax sound, named after their recording label, is noted for the interaction/ reverberation of the recording studio, the former Capitol Theater, in Memphis, Tennessee, with the musicians, to produce a deep bass and raw mid-range.
This was very different from the controlled sound produced by Roxy Music. Starting in 1972, all of their albums were purchased as LPs. At this point, I took an interest in art school musicians, where stagecraft/ theatre/ melodrama took precedence over any musical content.
Starting in the mid-1970s, I attempted to broadening my musical horizons with jazz. Influences included Django Reinhardt (1910 – 1953), Dizzy Gillespie (1917 – 1993), Miles Davis (1926 – 1991), Herbie Hancock (1940 – ) and Chic Corea (1941 – 1921). This, in part, was because many of the local Baha'is had an interest in jazz.
At about the same time musical tastes were being influenced by film. Notable examples include: Michelangelo Antonioni's (1912 – 2007) Blowup (1966); the musical content of Putney Swope (1969); Issac Hayes (1942 – 2008) and his theme from Shaft (1971),
In 1978 I married Trish, who was an accomplished musician, singing as well as playing the piano and acoustic guitar. In 1979 we travelled to Europe together, taking with us recorders for entertainment. We returned to Vancouver in 1980-03, but departed permanently to Norway in 1980-08. All of our LPs was disposed of in 1980, prior to moving to Norway.
1980s & 1990s
From 1981, various classical music cassettes were purchased. In 1986, we purchased a used CD player. It allowed one to specify and play the first ten tracks. If one wanted to listen to, say, the twelfth track, one would have to specify track 10, then wait until the intervening tracks (10 & 11) were played. After this purchase, much of my musical listening involved CDs. Especially after 1987, Naxos CDs of classical music, were purchased at the rate of one per month. One important work was: Ralph Vaughan Williams (1872 – 1958): Fantasia on a Theme by Thomas Tallis (1910). Works by modern British composers were listened to extensively.
1990s and 2000s
Continued investment in Naxos CDs, of classical music, but at a reduced frequency. The last CD was purchased in 2006. One important work from this time period was: Henryk Górecki (1933-2010): Symphony of Sorrowful Songs (1976). This was first heard in a documentary about a Ford rubber plantation in South America.
From about 2002, work started on digitizing CD content.
Works introduced to me by students included: Smells like Teen Spirit (1991) by Nirvana; Learning to Fly (1991) by Tom Petty (1950 – 2017) and the Heartbreakers; Zombie (1994) by the Cranberries; Tonight, Tonight (1995) by the Smashing Pumpkins, from the album Mellon Collie and the Infinite Sadness. In addition come assorted Finnish symphonic metal bands, such as Nightwish, and a somewhat more diverse list of Norwegian bands, of which the most interesting is Madrugada. In response, I introduced many of them to Mr Oizo = Quentin Dupieux (1974 – ), and Flat Beat (1999), featuring Flat Eric. For those interested, there is also a Flat Beat synth tutorial.
Work at Verdal prison brought me into closer contact with Goth, industrial and related music. In addition, there was considerable interest among inmates, both male and female, in various forms of metal and rock.
2010s
Second Flight (2011) by Approaching Nirvana, heard originally as background music on a long forgotten technical video.
My daughter, Shelagh, introduced me to the Lipdub concept in general, and a University of British Columbia lipdub production, soon after it was made in 2011. After failing to encourage students to produce a lipdub to promote their senior secondary school in Leksvik, by showing them several, including a favourite, Lipdub per la independeència de Catalunya (2010), I attempted to encourage them with something less ambitious, and with fewer people, by using Hideaway (2014) by Canadian Kiesza, born Kiesa Rae Ellestad (1989 – ) in Calgary, but of Norwegian ancestry, as inspiration.
2020s
Original works and covers by The Iron Cross, a Romanian band, including Fear of the Dark (2020).
YouTube provides a number of synth focused channels such as All My Friends Are Synths, the creative exploits of a slightly deranged Scotsman, Stephen Blythe, and Are Sound Electrik? with shockelectrik audio.
Lebanon-Hanover is more difficult to place musically. Larissa Georgiou = Larissa Iceglass (1988-08-24 – ) and William Morris = William Maybelline (1986-03-15 – ) a dark wave duo, founded in 2010 with roots in Switzerland, Berlin and Newcastle/ Sunderland.
Note: The writing of this weblog post was initially begun on 2021-03-27. It was again edited for publication on 2022-11-09, with additional materials added 2023-01-08.