When this weblog post was being planned, it was hard to decide if the focus should be on Swiss engineer Uli Behringer (1961 – ), or on the audio equipment company he founded. Currently the company is privately owned by his holding company, based in the Philippines, but with production facilities in Zhongshan, China. It will be both.
Did Uli Behringer have any options in life apart from becoming the founder of an audio electronics company? Much of his family were professional musicians. He started to learn piano at age four. At age five he assisted his father to built an organ with over 1000 pipes and integrated them into the family house. At age sixteen, he built his first synthesizer, the UB1.
Behringer, the company, was started in Germany in 1989. By 1990, it had moved to China, with products being made by subcontractors to reduce production costs. In 1997, Behringer himself moved to Hong Kong, in an effort to improve product quality. In 2002, the company completed a 110 000 m2 manufacturing complex in Zhongshan. Here, ten separate production locations form a vertically integrated, eight-building facility where 2.5 million products, including assorted electronic units, speakers, guitars and digital pianos are produced annually.
Synthesizers have been produced by Behringer since 2016. In Norway, there are 18 distinct Behringer desktop synthesizer models available, some with keyboards, some without. These are analogue instruments, meaning that they will produce sound through a headphone or speaker, without the use of additional equipment. Many of these are clones of earlier synthesizer products, whose intellectual properties (such as patents) have expired. There are also 63 different Eurorack components available.
The first synths produced were a twelve voice Deepmind 12, a six voice Deepmind 6 that effectively imitate a Roland Juno-106. The Deepmind 12D is a simpler desktop version. In 2022, these cost about NOK 7 800, 5 500 and 6 850, respectively. While these models offer relatively good value for money, they are expensive as a first synthesizer, where a user will want to experiment in order to find something that suits her/his soul. Others disagree.
The next synth, the Neutron, provides a 56 point mini-jack patch bay. This is ideal for enthusiasts addicted to patch cables. For others, the appeal of the Neutron is its low price, currently NOK 3 355, and the fact that it is equipped with a clone of the synth on a chip technology used in the Curtis CEM3396 integrated circuit (IC). This IC was responsible for the main voltage controlled oscillator (VCO) used in many synths from the 1970s and 1980s including: the Oberheim OB-Xa, OB-Sx & OB-8; the Voyetra 8; the Roland SH-101, MC-202, Jupiter-6, and early model MKS-80; the Sequential Circuits Prophet-5 Rev 3, Prophet-10, Prophet-600, Pro-One, and Prophet T8; Moog Memorymoog; Banana Polysynth; Crumar Spirit; Digisound 80 VCO modules; the Synton Syrinx; Steiner Parker EVI; and, Doepfer A-111-1 High End VCO. This allows the Neutron to recreate the sound of many of these former synths. Here is a video that shows the operational characteristics of the Behringer Neutron.
Electronic Dream Plant (EDP), an Oxfordshire, England based synth manufacturer, was started in 1977 by Adrian Wagner, a synthesist, and Chris Huggett (1949 – 2020), an electronics engineer. Huggett designed the Wasp, and EDP started selling it in 1978. In 2019, Behringer made a clone of the original Wasp, the Wasp Deluxe. The Wasp will appeal to those wanting to avoid patch cables. Once again, it includes a clone of the Curtis CEM3396 IC. It is also ideal as a starter synth. Here is a video that shows the operational characteristics of the Behringer Wasp Deluxe. When it first came out, the its price was NOK 3 400. Now it is a little over NOK 2 300.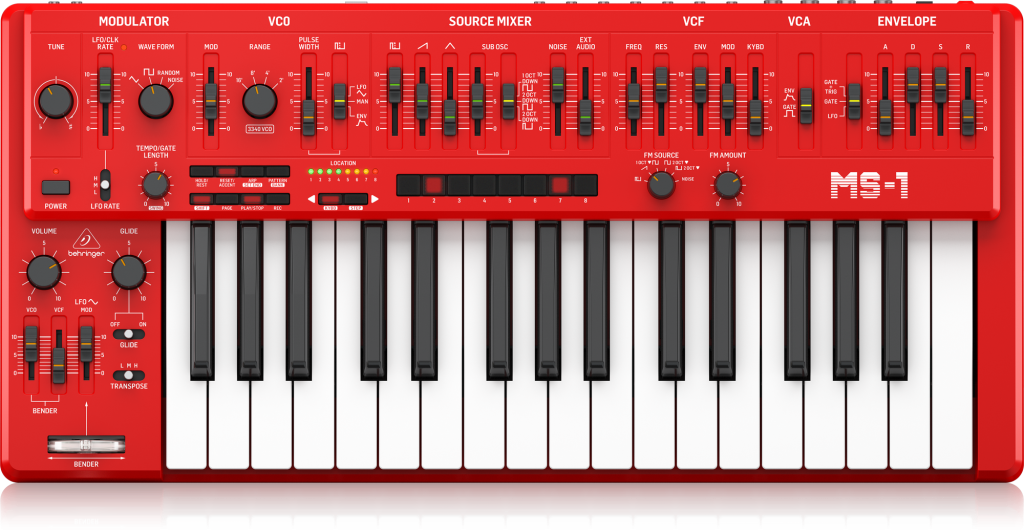 In most situations an open-source software/ app synth on a computer is a suitable substitute for an analogue synth, saving space and money. The challenge is the lack of a musical keyboard for input. On 2022-04-01, I took home a Behringer MS-1 RD in red, as my first analogue synth, their cheapest keyboard synth with 32 semi-weighted, full size keys. It cost NOK 3 600. Another characteristic of this synth, was that it was one of only two MS-1 synths available anywhere in Norway, the only other one was a MS-1 BU in blue, not my favourite colour. The purported reason for this was, once again, a chip shortage.
The other synth under consideration was a Behringer Odyssey, previously mentioned. It increases the number of keys to 37, is duophonic, but occupies considerably more desk real estate. It also costs almost NOK 5 000. While marginally more capable than a MS-1, the Odyssey would not be a stopping point, should my skills develop sufficiently.
At some point in the future, I might be tempted to supplement/ replace the MS-1 with a polyphonic synth with more keys and aftertouch = the ability of a keyboard to change tone (or other sound qualities) in response to velocity, pressure or other playing variations. The Behringer Deepmind 12, previously mentioned, offers more synth at a cheaper price than most other polyphonic analogue synths available. However, the design is dated and it is not on any future shopping list. The main reason is a three letter word, fan = a device that moves air, usually for cooling purposes. It also produces unwanted noise.
My current conclusion is that I have bought my first (and last) Behringer synth. However, they offer good value for money for any individual wanting to buy a first synth.