In discussing this post with Trish, she decided that the cookbook she owned that best suited my personality, was Michele Evans, Fearless Cooking Against the Clock: Great Gourmet Menus in Minutes (1982). The advantage of this cookbook is that it works at the menu (in contrast to dish) level. The recipes in the book are divided into 15 minute, 30 minute and 60 minute "quick and easy" preparation times. Each recipe has been timed, so that the cook can plan accordingly.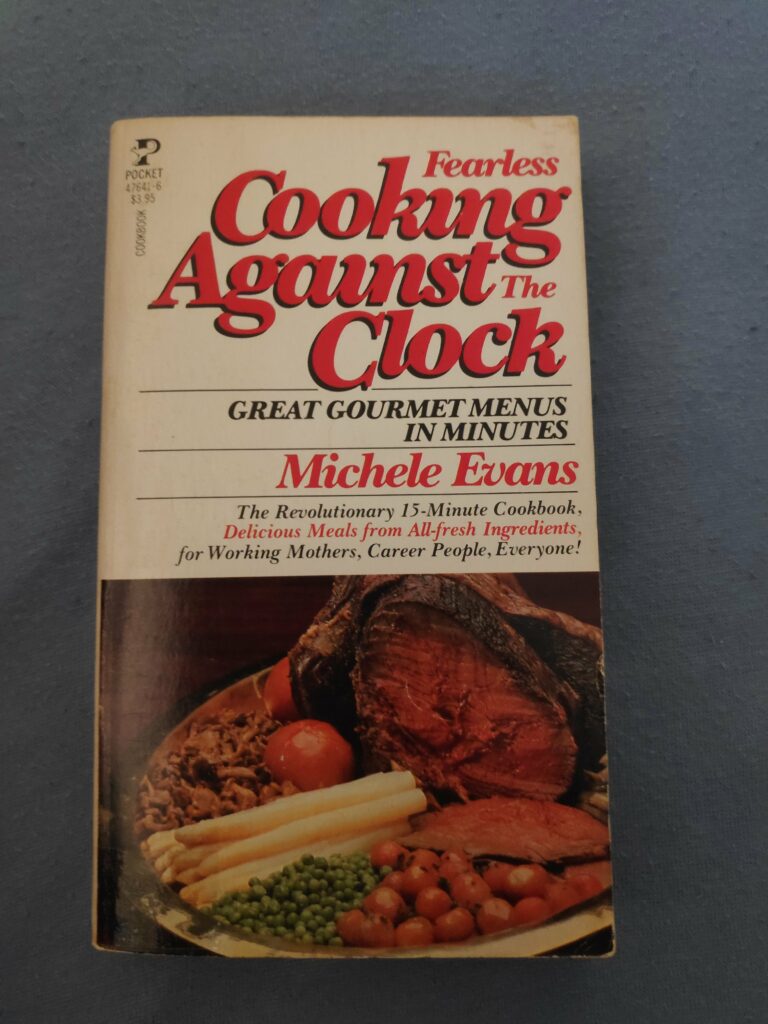 Chapter 1, The Larder, begins with: "A well-stocked larder is essential for convenient and efficient quick cooking." After a short introduction, it is divided into eight sections, named below, along with the number of ingredients in each section in parentheses: Herb and spice shelf (34), Canned products (11), Miscellaneous baking, bottled and packaged ingredients (43 – sometimes with many separate items listed under each ingredient), Dairy products (7), Fresh foods (6), Frozen foods (7 – but with 5 separate types listed under vegetables), Wines, spirits and liqueurs [solely for cooking] (13), and Kitchen supplies (7).
Chapter 2, Cooking Equipment, is similar in arrangement. There is an introduction, followed by five sections, named below, along with the number of items found in each section: Implements and equipment (53), Pots and pans (31), Miscellaneous (5), Knives (9), and Serving essentials (20).
Chapter 3, Strategies for Quick Cooking, will have all ten of its rules quoted here. 1. Select a menu. 2. Make a shopping list of those ingredients not in supply. Keep an ongoing shopping list in the kitchen. 3. Shop for first-quality ingredients at a convenient time. 4. Set table in advance, if possible, and have serving dishes, coffee cups and saucers, etcetera ready for immediate serving. 5. Read each recipe thoroughly before starting to cook. 6. Set out all ingredients needed for each dish on the menu, unless they require refrigeration or freezing. 7. Set out all pots, pans, cooking equipment and utensils needed for preparing meal. 8. Work at a steady pace; don't poke or race. If there are others present who can help by washing and drying lettuce or chopping vegetables, welcome their assistance. 9. Keep waste basket near the work area and clean up as you work, when possible. 10. When it is convenient, serve main courses and vegetables in same serving dish or platter.
The chapters after this are: 4) 15-minute meals, occupying 64 pages. 5) 30-minute meals, using 76 pages. 6) 1-hour meals, over 98 pages. All three of these chapters are subdivided by main ingredient, typically a meat category, such as seafood, poultry or beef. 7) Holiday meals, has 56 pages, after an initial dinner party planning section, holidays appear chronologically through the year. 8) Cocktail parties has only 16 pages. After describing the bar, it looks at the topic by season. The last chapter, 9) Children's parties, is only eight pages long. The book ends with an index, with 31 pages of entries.
While most menus and recipes are for four people, exceptions are made for celebrations where holidays typically involve 6, 8 or 12 people. Valentine's day provides a menu for two. Cocktail parties are huge affairs, involving 12, 25 or 50 people. Birthday parties are for 12.
Evens has also written:
The Salad Book (1975)
The Slow Crock Cookbook (1975)
Fearless Cooking for Men (1977)
Fearless Cooking for One (1980)
Fearless Cooking for Company (1984)
Fearless Cooking for Crowds (1986) [8 to 50 people]
This is the third of an unspecified number of posts about cooking instructions for people who eat to live. All of these posts (will) begin with cook, which can be used as a search term to find previously published posts.