The Stockholm, Sweden consumer electronics manufacturer, Teenage Engineering AB = Aktiebolag = Share company, was founded in 2005. To understand millennial appeal for the OP-1, boomers and gen-x-ers should carefully examine the following photograph of a more mainstream, Eurorack synthesizer.
While there may be many words to describe it, the first that comes to mind is mess. While sound might emerge from this contraption, it will not do so with any elegance. Boomers seem to have spent so much of their lives protesting, that they have failed to realize that they have become the establishment they are rebelling against. Millennial dissent is inclusive, innovative and harmonious.
For someone who grew up with the functionalist designs of Dieter Rams (1932 – ), Teenage Engineering products are a déjà vu, all over again.
OP-1 (2011)
The OP-1 is referred to as a portable synthesizer, and is the company's core product, one that has existed since 2011. The OP-1 is minimalist in design, yet famous, at least among synthesizer users. It looks like a toy, but delivers an exceptional sound. Users comment positively on the build-quality. There are high quality components. The display is crisp and bright. The colour-coded multi-function knobs feel precise. In general, its minimalism results in a compact, portable, durable and simple machine, with an understandable interface.
Users are positive to the sounds produced, both in terms of quality and variety. Jean Michel Jarre commented on the machine's flexibility, but also said that musicians will be still using the OP-1 in 50 years.
There is nothing wrong with an OP-1, if one doesn't look at its price, which is approaching NOK 15 000 (US$ 1 300). That is almost enough to buy a real synthesizer, or several Eurorack modules. There have been attempts to produce OP-1 clones before, such as the Otto.
oplab (2012)
Oplab is a musical interface for electronic instruments, that allows them to interconnect with music software. It has evolved over time. Teenage Engineering first referred to it as a Musical Experimental Board. Later, it was described as a Connectivity Module for OP-Z. The Rumble module is a haptic subwoofer allowing people to feel music. it also has a silent metronome mode, designed for live performance.
OD-11 (2014 – with Stig Carlsson Foundation)
Conventionally speakers are engineered using an echo-free (anechoic) chamber to provide a flat frequency response curve. Unfortunately, people don't live in anechoic rooms. Stig Carlsson (1925 – 1997) developed what he referred to as OrthoAcoustic speakers that were optimized for use in a regular residence. He marketed these using OA + a number. Over the years, he changed his approach to determining how an OrthoAcoustic speaker should sound.
OD-11 wireless, stereo speakers claim to follow the principles established by Stig Carlsson. They are upgraded clones that provide what as warm/ relaxed sounds. The audio quality is generally found to be good, but targeting at fashionistas. Thus, they are available in red, black, blue, yellow, walnut and white.
OrthoPlay is the software remote control for OD-11 available as a app for iOS and Android, and as a web application for any platform. For those wanting a more physical relationship, there is the OrthoRemote, a wireless remote control that allows one to adjust the volume, skip tracks and pause from any room, at up to 20 meters away. It has a magnetic back so sticks to any magnetic metal surface, like a fridge.
Pocket Operators (with Cheap Monday)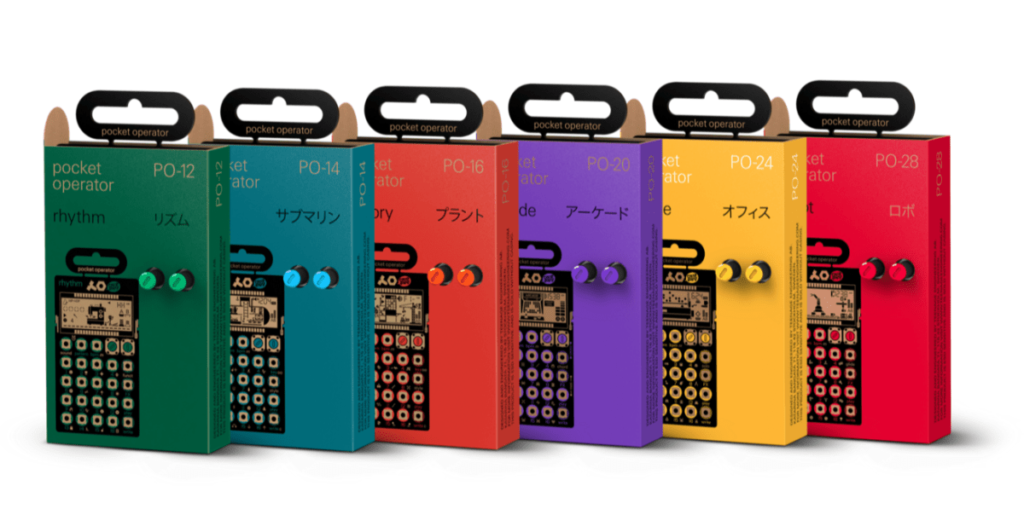 Cheap Monday was a Swedish clothing brand created by Lars Karlsson, Örjan Andersson and Adam Friberg in 2004. Its main product, jeans, were tight fitting, and associated with indie and emocore music styles. At first, they were sold only in the Weekday store chain, before being distributed to other retailers throughout Europe and the USA. The brand was owned by Fabric Scandiavia, who sold it to Hennes & Mauritz (H&M) who made it part of their Weekday Brands subsidiary. Later, the Cheap Monday brand was used on numerous other clothing products. In late 2018, H&M scrapped the brand.
10-series (2015)
Since 2015, Teenage Engineering has produced the Pocket Operator (PO-10) synthesizer series. The PO-12 rhythm is a drum machine; the PO-14 sub is a bass synthesizer; the PO-16 factory is a lead synthesizer. Each model incorporates a 16-step sequencer. In terms of sound characteristics, they are similar to vintage synthesizers.
20-series (2016)
In 2016, PO-20 series synthesizers were introduced with additional effects. The PO-20 arcade synthesizes and sequences sounds associated with pinball and other entertainment games found in arcades; the PO-24 office is a machine for sounds found in an office environment; the PO-28 robot produces fictional robotic sounds.
30-series (2018)
Then, in 2017, the PO-30 added a drum synthesizer, a sampler, and a voice synthesizer. These have a microphone to record audio samples. The PO-32 Tonic is a drum and percussion synthesizer and sequencer; the PO-33 K.O! is a micro sampler with 40 seconds sample memory; the PO-35 Speak is a voice synthesizer and sequencer.
Impossible i-1 (2016 – for Impossible Project)
Impossible Project was the original name of a Dutch photography company founded in 2008, that manufactures instant film for its original cameras, including the Impossible i-1, that was designed by Teenage Engineering, as well as for select Polaroid Corporation instant cameras. In 2017, Polaroid Corporation's brand and intellectual property were acquired by Impossible Project's largest shareholder and the company was renamed Polaroid Originals. In March 2020, it rebranded again, changing its name to simply Polaroid.
The Impossible i-1 was the first new camera system in over 20 years that used the original Polaroid photo format. The camera is equipped with a ring flash, for portrait photography. There is an optional i-1 app to connect the i-1 camera to a phone. Photography is essentially an analog/ manual experience. The camera uses Impossible i-type and 600 type instant film.
Raven products (2017 – with Baidu)
The Raven H
Raven is a startup that Baidu acquired in 2017. The Raven H is functionally similar to other smart speakers, but looks nothing like an Amazon Echo or Google Home. While, it uses the Baidu DuerOS intelligent voice-controlled personal assistant platform, product design is from Teenage Engineering. It consists of a stack of eight metal squares, the top one of which is removable. There is an LED touch screen controller that can be detached from its position at the base of the stack to use as a voice-based remote that connects with Baidu/ Raven's other home devices.
Teenage Engineering is also working on the Raven R, which is a planned robotic smart speaker with six moveable joints, used to perform simple function and express emotions on an LED display.
OP-Z (2018)
The strength of the OP-Z lies in its sequencer. Some may regard it as 3/4 of an OP-1, at half the price. In 2020-12 Teenage Engineering updated the OP-Z app to include many new video functions, especially an update for the Photomatic engine (allowing one to sequence video clips and GIF animations in the photo/video player) and better MIDI compatibility.
Pocket Operator Modules (2019)
These are self-build kits that needs to be bent, snapped and screwed together. These are expensive for Do-It-Yourself (DIY) products.
The POM-400 analog synthesizer came with 3 oscillators, noise, random generator, 2 envelopes, 2 Voltage-Controlled Amplifiers (VCAs), Low-Frequency Oscillator (LFO), filter, mixer, speaker, power supply and a 1-16 step sequencer. The kit featured a yellow powder coated aluminum chassis, 16 modules, 15 patch cables, a screwdriver and an illustrated build guide.
The POM-170 analog monophonic synthesizer with 1 oscillator, built-in programmable sequencer. The kit has a red powder coated aluminum chassis, keyboard, filter, envelope, LFO, VCA, speaker, power supply, 8 patch cables, a screwdriver and an illustrated build guide.
The POM-16 is a stand alone keyboard with individual tuneable keys and a programmable step sequencer. This unit is designed to send control voltage/ gate (CV/ gate), midi, and Pocket Operator syncronization (PO sync) signals to control a POM-400 or other synthesizer. These control signals do not make sounds. The kit has a maroon powder ocated aluminum chassis. Reviewers have reacted negatively to the keyboard especially. A specialist tool is required to change batteries.
This video shows a PO Modular 400 in operation.
Frekvens (2019 – for IKEA)
Frekvens is a series of limited edition products sold through IKEA that combine light and sound. Perhaps the best way to appreciate these is to watch a video.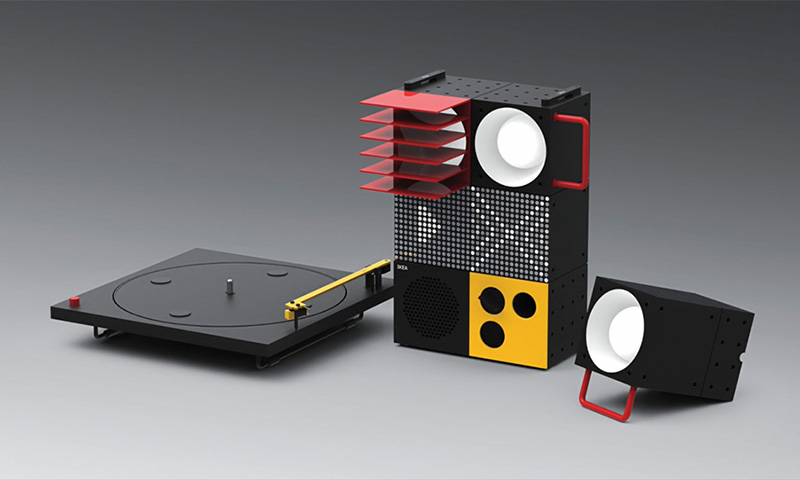 Playdate (2019 – with Panic Inc.)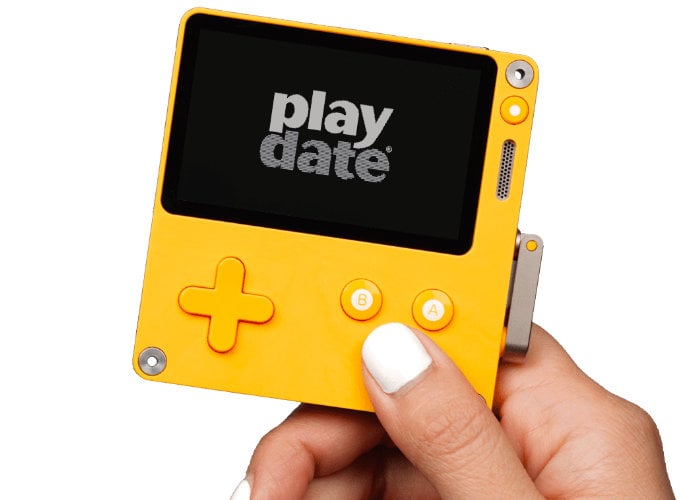 Panic Inc. was founded in 1997, and has its headquarters in Portland, Oregon. Many of its products are exclusively for Apple Mac/ iOS machines, but some are available for Windows and Android. A few even work under Linux.
Playdate is a bright yellow hand-held gaming console/ system with a black and white (400 x 240 pixel 1-bit) screen, a four-way directional pad, two game buttons and a crank, a rotating analogue controller.
Panic stated the Playdate name referred to bundled games being delivered on a schedule of 12 per season, and they were interested in including games by under-represented developers and game makers, as well as stating that in season one, there was at least one game by a woman, as well as games by "queer/trans/enby" developers. It is an open system that allows sideloading of games that are not part of a season, without the need for jailbreaking. Games are created using a Software Development Kit (SDK) that includes a simulator and debugger and which is compatible with both the C and Lua programming languages.
As the timeline for release of Playdate extends into 2021, Teenage Engineering was forced to issue a disclaimer stating "that we were only involved in the crank design of this product …" According to Panic, Teenage Engineering was also involveed in the design of other parts of the physical machine. This certainly looks the case.