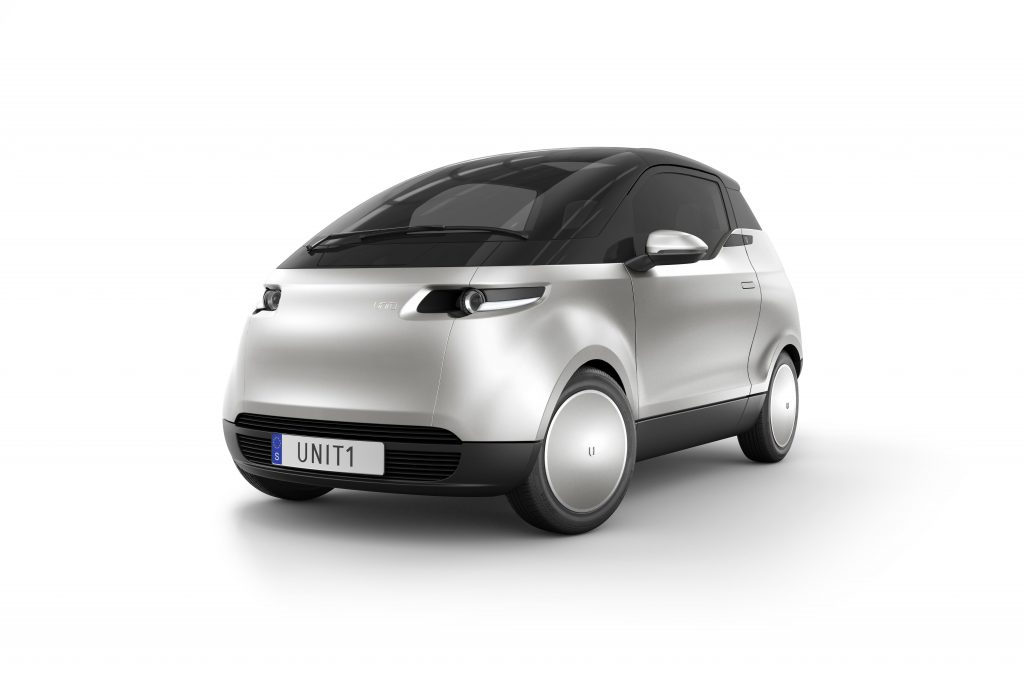 Uniti began life as an open innovation project at Lund University in 2015, then emerged as a Swedish electric vehicle startup in 2016. It is developing an advanced city car. What first attracted my attention, was the replacement of the steering wheel with a joy-stick. Most of the mechanical system appeared equally innovative, and claimed to be sustainable, whatever that means.
Prototype development was funded through an equity-crowdfunding campaign on the Swedish platform FundedByMe, with 570 investors contributing €1,227,990.
The design mandate of the Uniti One seems to be in a state of flux. At one time, it was a relatively unsafe L7e quadricycle. Now, thankfully, it is being lauched as a M1 vehicle requiring crash testing, and more safety equipment. Other details, such as seating arrangements have also been subject to change. It was a side by side 2 seater, before it became one with one person sitting behind another. Now it is launching as a 3 seater, with a driver in the middle in front, with space for two passengers behind. Trunk space is adequate to hold a packed lunch and a charging cable, at 155 litres.
With a 50 kW electric motor and 62 Nm of torque, and a mass under 600 kg, the Uniti One can reach 100 km/h in less than 10 seconds. It has a computer controlled top speed of 120 km/h.
The Uniti One comes with an electrochromatic panoramic roof that darkens automatically to keep the car cool when parked in direct sunlight. Its virtual sun visor darkens the top of the windshield when the sun is in the drivers eyes.
An Android operating system controls the infotainment system and most of the standard features of the car. Voice commands can be issued. Its systems are regularly updated over the air.
A high strength safety cage surrounds the driver and passengers keeps interior deformation to a minimum, in the event of a collision. Other standard safety equipment include driver's airbag, anti-lock braking, electronic stability control and a tire pressure monitoring system. The Intel MobilEye 6 collision avoidance system provides forward collision and lane departure warnings, speed limit indicator, and warning for potential collisions with pedestrians or bicycles and their riders, in real time.
In its current state, what appeals most about the Uniti One is that much of the equipment is optional, which means that people declining options can end up with a lower cost vehicle. Currently, the base model costs about €18 000, before subsidies. The only options I would insist on would be the Intel Mobileye 6 collision avoidance system (€ 700), winter tires (€ 400) and possibly air conditioning (€ 300). This is not a highway vehicle, so a 150 km range with a standard 12 kWh battery and a slow 3.2 kW charger seem adequate. It seems wasteful to spend €2 800 each on a 24 kWh battery and a 22 kW charger.
In terms of a computer vehicle transporting one person and a lunch bag in an urban environment, this is probably a good choice except, in urban environments there is public transport, which would be a better choice.
That said, my greatest disappointment with the production vehicle is its steering wheel, with no joy-stick in sight.