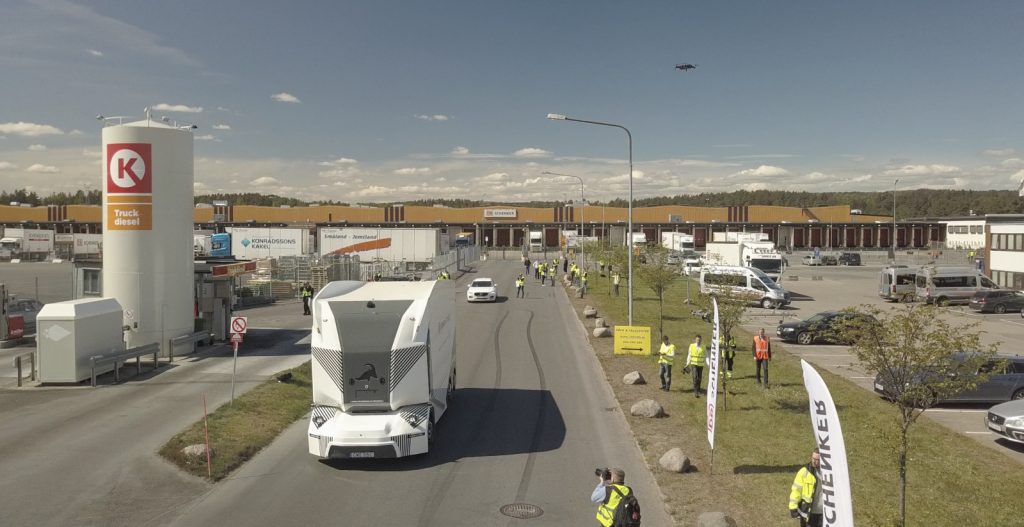 Robert Falck, a former Volvo executive, is founder and CEO of Einride. Together with, Jochen Thewes, CEO of DB Schenker, a major logistics company, and Mats Grundius, CEO of DB Schenker Cluster Sweden, Denmark, Iceland, he hosted a world premiere on Wednesday, 2019-05-15.
Einride and DB Schenker entered into a commercial agreement in 2018-04 that includes a pilot in Jönköping with an option for additional pilots internationally.
Einride's signature product is a T-Pod truck. With a Gross Vehicle Weight of 26 tons, its most notable characteristics are its electric drive train, and autonomous driving capabilities. These two features reduce road freight operating costs by about 60 percent compared to a diesel truck with driver.
However, Einride wants more, a safe, efficient and sustainable road freight transport solution, that can reduce CO2 emissions by up to 90 percent
The T-Pod is level 4 autonomous, the second highest category. It uses a Nvidia Drive platform to process visual data in real time. An operator, sitting anywhere in the world but most probably in Jonsköping, can supervise and control up to 10 vehicles simultaneously. The T-Pod has permits from the Swedish Transport Agency to make short trips – between a warehouse and a terminal – on a public road in an industrial area in Jonkoping, located in central Sweden, at speeds of up to 5 km/h.
In 2018-11, Einride and DB Schenker initiated the first installation of an autonomous, all-electric truck or "T-pod" at a closed DB Schenker facility in Jönköping. It was the first commercial installation of its kind in the world.
On 2019-03-07 the Swedish Transport Agency concluded that the T-pod is able to operate in accordance with Swedish traffic regulations. On 2019-03-11, the agency approved Einride's application to expand the pilot to a public road, within an industrial area – between a warehouse and a terminal. The permit is valid until 2020-12-31.
Since Einride is primarily a software and operations company, they are seeking a partnership with a truck manufacturing company.
Falck said Einride would apply for more public route permits next year (2020). It was also planning to expand to the United States.
For further information, see: https://www.einride.tech/