On 24 June 1996, I purchased a Black & Decker electric drill. Tools at the time were much more expensive than today. This drill cost over NOK 1 000 (USD 200). Until now, I have been happy with that purchase, and the drill works well even after more than 20 years of use. My wife fondly remembers using this drill to screw in all of the boards on the sun deck. Today, this faithful tool was transferred from the workshop to assume new, and less demanding, duties in the house.
The main problem with this drill is not its colour, or its age. It is its lack of power. With only 450 W it is unable to do the work required of a drill in the workshop. Constructing work benches, I have to connect 48 x 96 mm boards with almost 100 each of 5.0 x 90 mm screws, and 6.0 x 160 mm screws. Both types are self-tapping production screws. The B&D was unable to drive the screws in without pilot holes. Even then, it would stop, refusing to move forward, so that an old man could demonstrate his strength driving the screws home, by hand.
On Wednesday, 7 March 2018, a replacement drill was purchased. It is a Meec Red 000 110 hammer drill. It cost NOK 600 (USD 77). It provides 1 150 W of power. Two other differences are: 1) a keyed chuck, and 2) two gears. Otherwise, both are functionally very similar.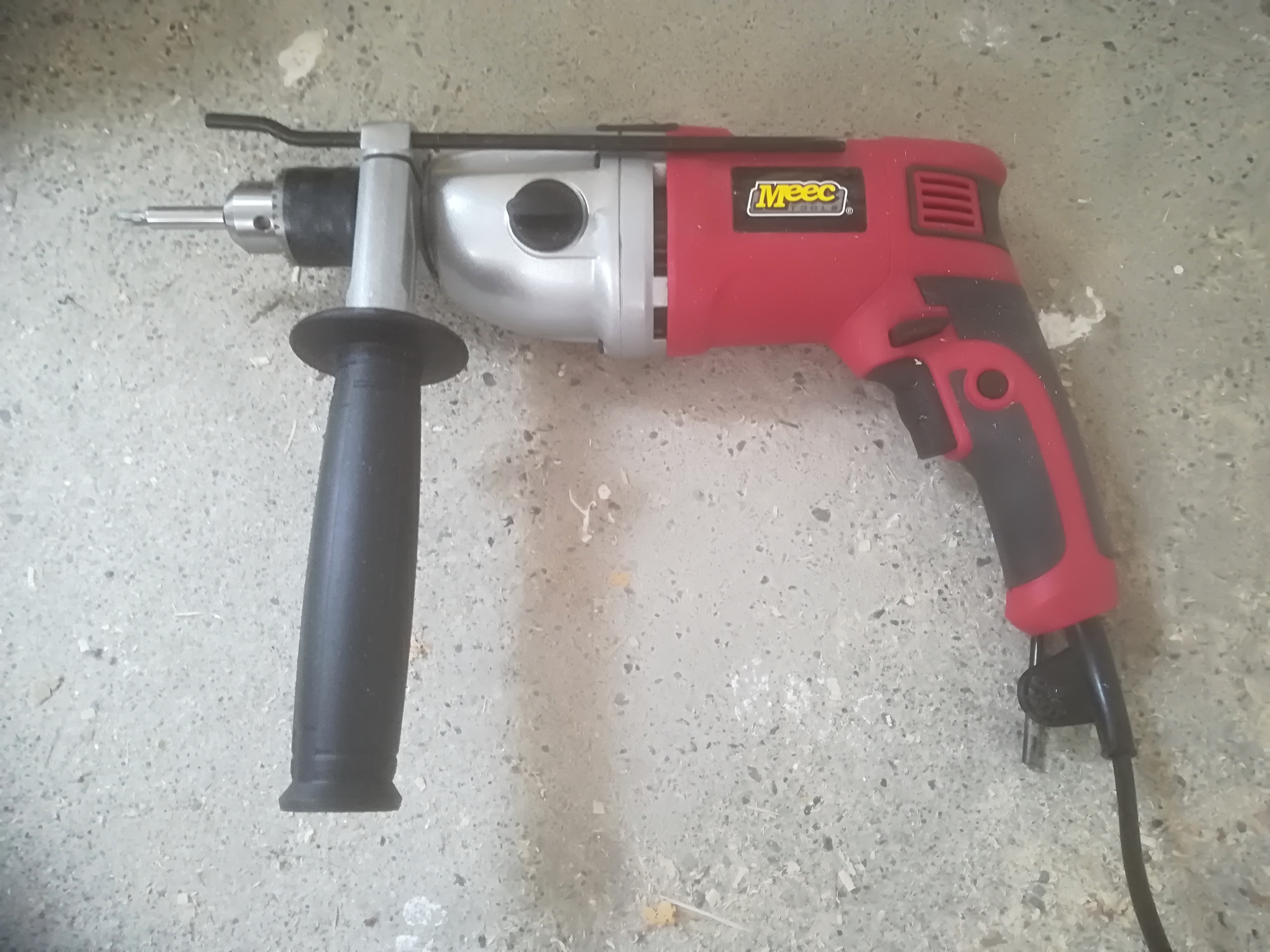 The advantages of using this hammer drill were immediately apparent. First, compared to a key-less chuck, a keyed chuck is able to hold drill bits more securely, and it is easier to release them again. Second, rather than attaching masking tape onto a drill bit, it provides a depth gauge attachment. Third, it comes with a grip, so that both hands can be used to hold onto the tool. A related disadvantage is that this new drill is considerably heavier, so there is a greater need for a grip.
This drill was able to take advantage of the self-tapping screws, and was able to power them completely in. There was no need for any pilot holes. In general, this drill seems to be capable of providing the power a portable workshop drill needs.