My polite friends tell me that I have no taste. My honest friends tell me that I have bad taste. After this post you can judge for yourself.
There are times when I want to opt for the conventional. Over the past decade I have considered having a vehicle stationed in North America for holiday use. Almost always that vehicle turns out to be a Toyota Matrix.
Unfortunately, most of the time something that conventional has only limited appeal. Yes, it would be good on holidays, but for me a car is an enlarged business card. When you show it to someone they should gain some insights into your personality.  My adrenalin junkie persona seeks thrills elsewhere in the automotive landscape than a Toyota Matrix.
I have true affection for the Renault 4L (pronounced, Quatrelle), in hindsight. During the first two decades the Renault 4 was produced there were always other cars that seized my attention, such as a Karmann-Ghia. That said, the Renault 4 was the very first hatchback ever made, and ultimately 8 million were produced.
Despite rumours to the contrary, I have never had the same affection for the Citroën 2CV, a four seater passenger vehicle. That is because in one's youth people are attracted to two seater vehicles. A car was primarily a device for transporting up to one girlfriend. As a need for speed and sports cars grew less important, my preferences changed towards more utilitarian vehicles, in particular the Citroën Fourgonette and its successor the Citroën Acadiane.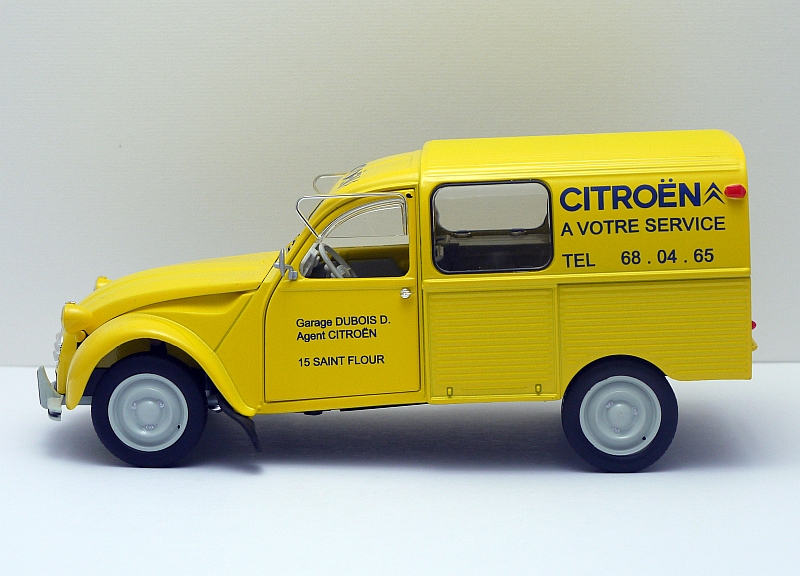 At this point it should be pointed out that we did acquire an updated version of a Fourgonette, a five-seater Citroën Berlingo Multispace. This is probably my favourite vehicle of all of the cars that I have owned.
Enter Méhari
Yes, this is a Méhari camel. Very nice, I'm sure. A fast, saddle camel used in competitions. However, this isn't what I was thinking of. My mind was more vehicular, the Citroën Méhari.
This is an example of a vehicle as business card. When a Landrover 88 is just a little too upscale and far too reliable, the Citroën Mehari brings motoring down to earth, and then buries it in a hole. The above shows the vehicle as it was made in 1969, complete with plastic composite body.
The two photographs, below, show the Méhari's interior, and the utterly simple controls used.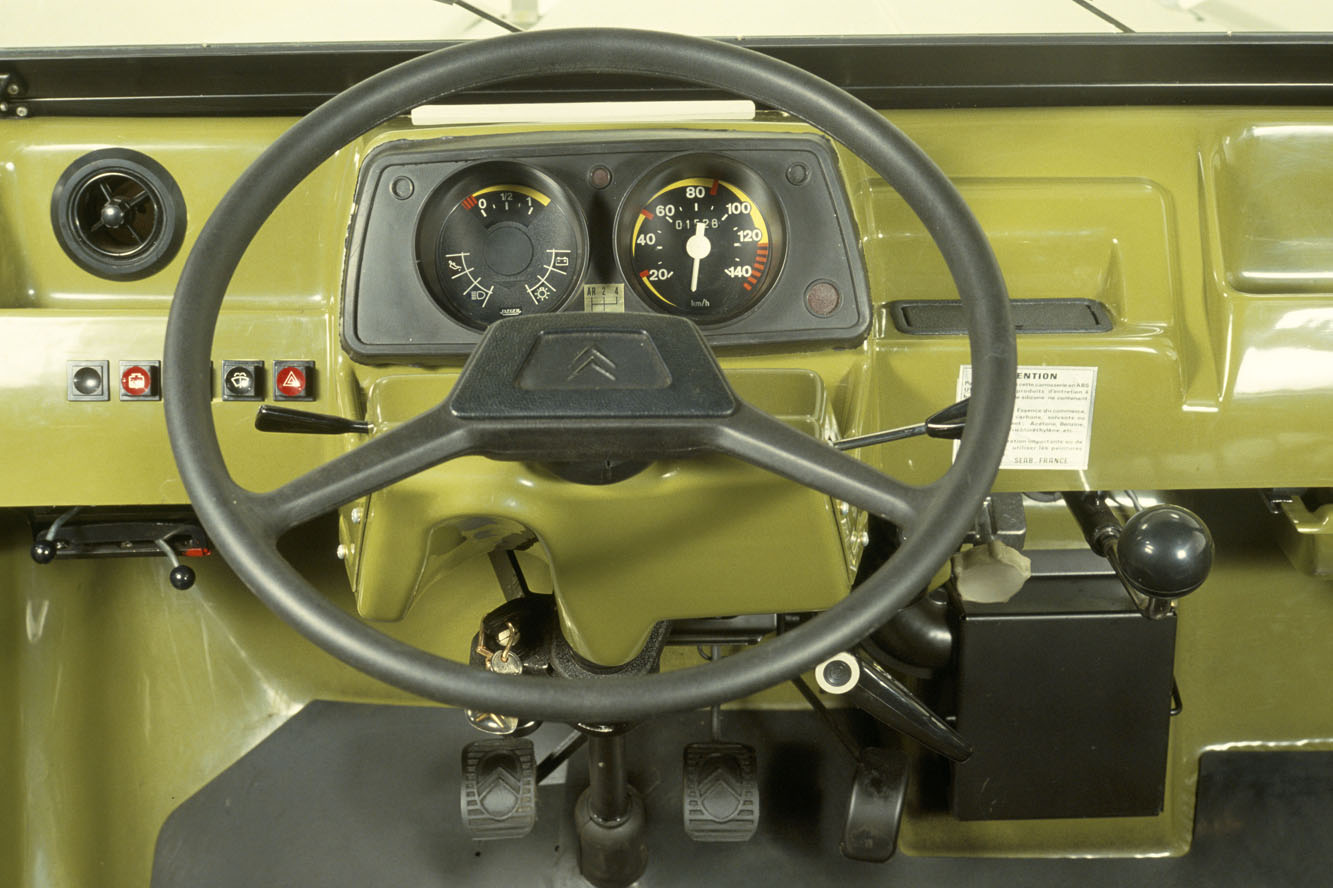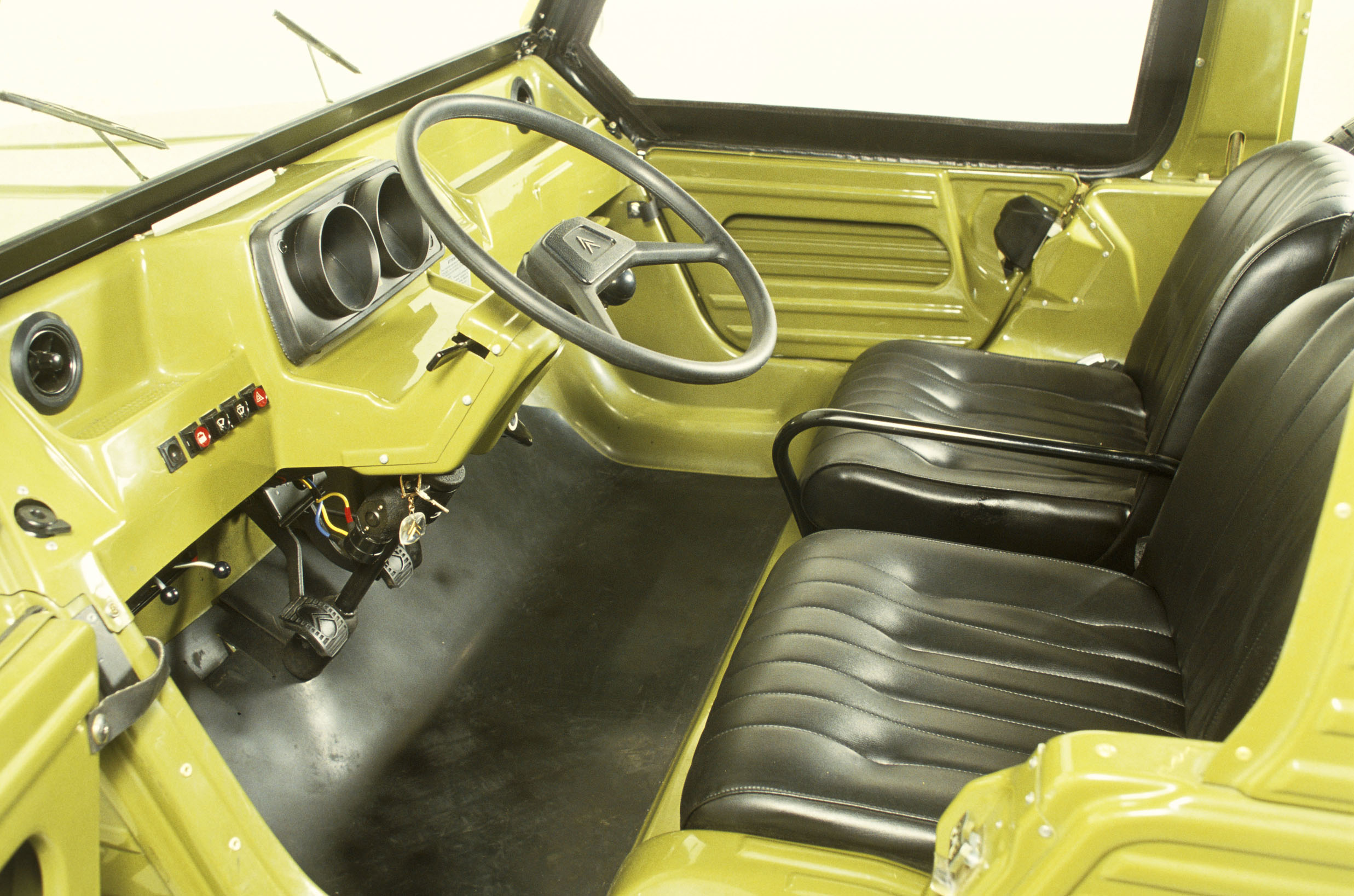 No one can dispute the utilitarian nature of this vehicle and its dashboard. While there may be discussions about the lack of safety features including seat belts and head rests, no one can dispute the claim that this vehicle is minimalistic.
Unbelievable as it sounds, Citroën was not alone in producing for this utilitarian market. Competition came in the form of a Mini-Moke, based on a very British Mini 850. Moke is an obscure/ obsolete term for another beast of burden, the donkey.
Fortunately, for both the environment and passenger personal safety, neither the Méhari nor the Mini-Moke are being made.
We are in an age of electric vehicles. The Citroën e-Méhari is a battery electric. It is unavailable in Norway because Citroën Norway refuses to sell them! Their blessing is needed because unlike many other EVs, e-Méhari owners are required to rent battery packs on a monthly basis.
Here is what the e-Méhari's looked like in 2016.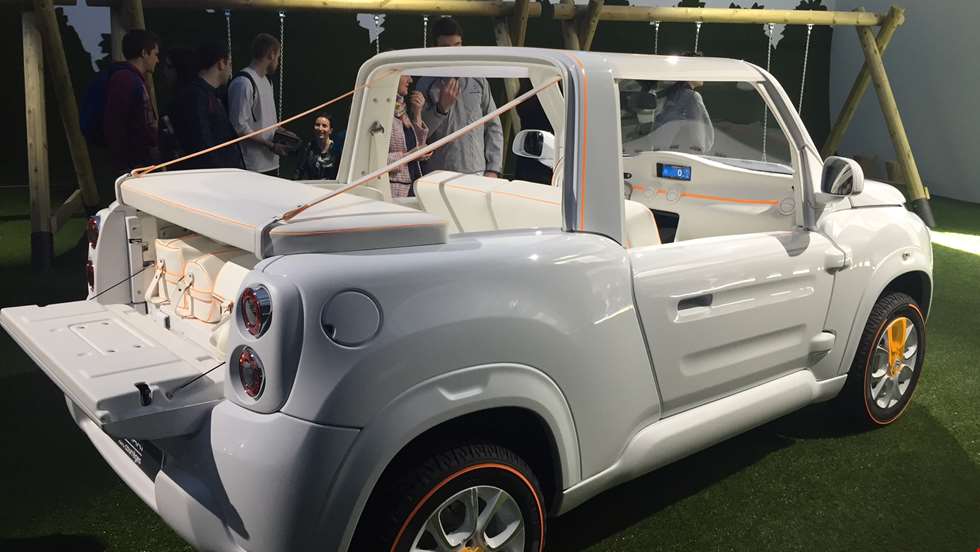 The interior is very attractive, but there are very few safety features. For example, air-bags are entirely missing. The e-Méhari, as depicted here, is an unsafe vehicle. It can be argued that it is immoral to make production vehicles that lack basic safety features known to save lives.
In 2017 the interior was changed to provide a few more controls. One change was replacing a gear lever, with three buttons: forward, neutral and reverse.
The 2018 Citroen E-Méhari all-electric is iconically styled. It is no longer just a four-seater cabriolet. While retaining much of its 2017 appearance, there has been a generational leap in terms of equipment, comfort and versatility. The Hard Top version features side windows and an opening rear window. It is beginning to look like a real family car. The new dashboard is new and features body-coloured trim. There are also new seats with Easy Entry access to the back seats. Safety equipment includes steel roof bars and 4 airbags. Designed in Paris and produced in Rennes, it is the first electric vehicle to earn "Origine France Guaranteed" certification. In terms of electrification, it has a more powerful 166 Nm electric motor, and improved range, at 200 km.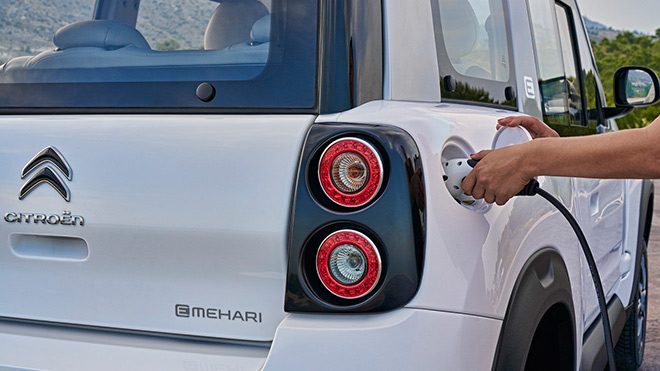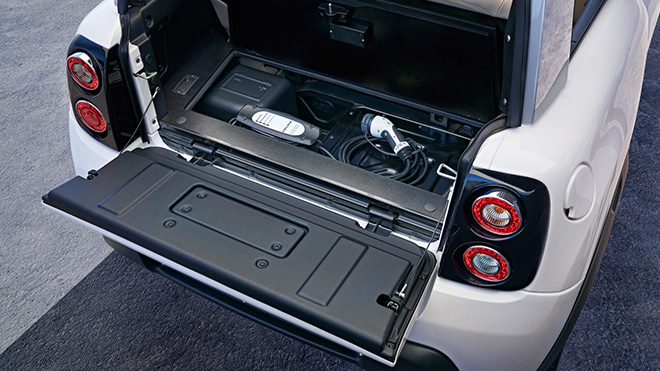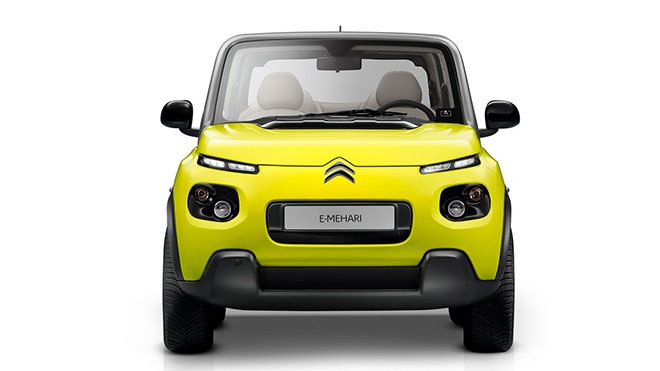 The e-Méhari is available in white, turquoise, orange and yellow.  It is 3810 mm long, 1727 mm wide and 1624 mm high, and has a 2431 mm wheelbase. This contrasts with the original Berlingo which was 4108 mm long, 1719 mm wide and 1810 mm high, and had a 2690 mm wheelbase.
Is this e-Méhari a suitable vehicle for a 70 year old man, who wants a simple car? It has to take him shopping (7 or 13 km away) or to the train station (20 km away) or to one of three other commercial centres (30 or 50 km away in one direction, 35 km in the opposite direction). Would it be more sensible for him to buy a runabout like a Renault Zöe? Unfortunately, I'm not sure that he ready to opt for the conventional.