Once again, this blog has been seized by Precious Dollar, who wants to write a short comment about Canada's housing bubble, which has hit Vancouver, followed by Toronto, hardest.
I'm having to rely on Jesse Ferraras for information that appeared in Huffpost.ca since Capital Economics wants to be paid to let me read their report, "House Price Gains Fuelled by Increasingly High-Risk Mortgages" by Paul Ashworth. Jesse's article is here.
Jesse is not just a "reporter" but adds critical content to Ashworth's report.
Ashworth makes two important statements.
First important statement: "This is a bubble. A very big bubble. And it is going to end in tears."
Second important statement: "… the value of asset prices is variable while the value of debt is fixed."
Lets head back to the future to understand what is happening.
Capital Economics has been wrong and pessimistic about real estate in the past. This time Ashworth felt compelled to support his claims, that the growth of household credit is due to the low cost of debt. Declining interest rates allow households to expand debt without increasing the proportion of incomes needed to finance that debt.
The following chart shows household debt at around 165 per cent of disposable income (2016-Q1).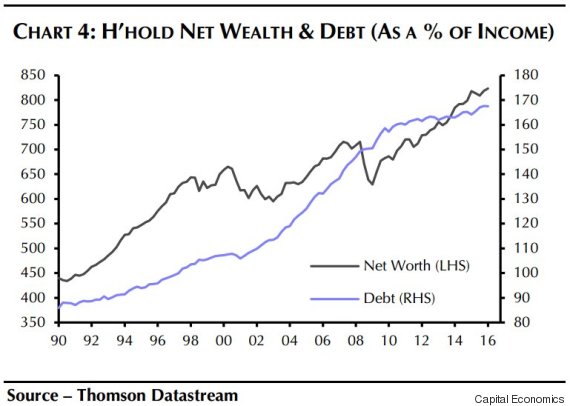 While the chart shows that household net wealth is high it is important to remember that if house values drop in value, the amount of money owed doesn't change.
Ashworth concludes that it's Canadians, not foreign money, driving growth in the housing market. This contrasts with Vancouver planner Andy Yan's 2015 study showing that 66 per cent of west side Vancouver houses were owned by people with non-anglicized Chinese names. Yan said this suggested they were recent arrivals to Canada. Similarly a 2016-05 Royal LePage survey of 250 real estate advisors saw 66 per cent of them say foreign buying had risen in the luxury home market between 2005 and 2015. More than half of those advisors said foreign buyers mostly came from China.
Data from the U.S. National Association of Realtors has shown that buyers from China made up almost 30% of residential real estate acquisitions in 2015, with average an home purchase price of $831,800, more than international buyers from any other country. These purchases are concentrated along the West Coast: Los Angeles, San Francisco and Seattle, as well as East Coast New York.
Assessing the influence of international buyers on Canadian housing markets is difficult, because that data isn't collected.