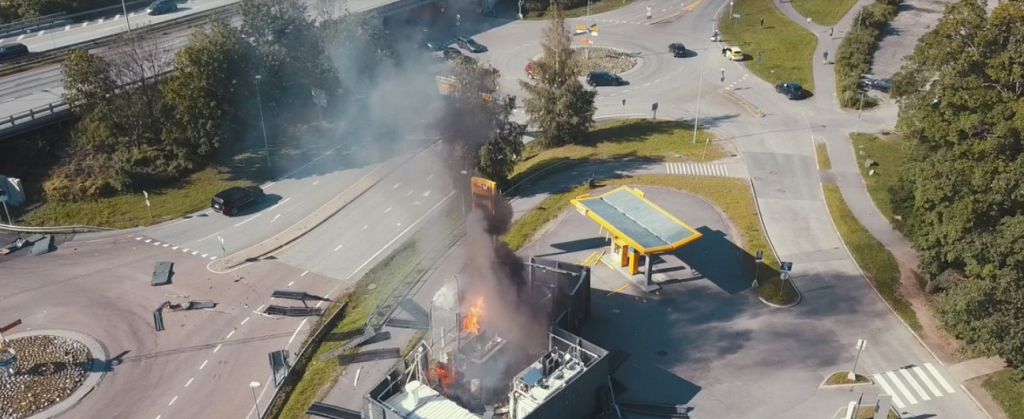 An explosion, most likely in a single hydrogen tank, occurred at the Uno-X hydrogen station at Sandvika, near Oslo, on 2019-06-10. When writing this post, the cause of the explosion was not known.
While no one appears to have been directly injured in the explosion, two people driving in the vicinity were injured when their airbags activated because of air pressure from the explosion.
The explosion resulted in the closing, in both directions, of two major highways. European Highway 16 (E16) is the major east-west connection between Bergen and the Swedish border. The E18 connects southern Norway with Oslo.
For those interested in robotics, a LUF 60 wireless remote controlled mobile firefighting support machine, was actively used to suppress the fire that followed after the explosion. More importantly, it was used to cool other unexploded hydrogen tanks, to prevent them from exploding. In addition, a platform lift with water canon assisted with this task. These two vehicles allowed firefighters to keep their distance.
Norway's other two hydrogen stations, one in Skedsmo, another Oslo suburb, and the other in Bergen, have now been closed.
According to Norwegian Hydrogen Forum as of 2018-12-31 there were 148 hydrogen cars registered in Norway: 57 Toyota Mirais, 27 Hyundai Nexos, and 64 Hyundai iX35s. In addition to this there are 5 buses and 1 truck. In contrast, as of the same date there were 200 192 plug in electric vehicles, plus 96 022 hybrid vehicles.
In another post titled Methane vs Electricity, a significantly flawed study from the Munich-based IFO Institute for Economic Research, was examined, along with its support for methane based, hydrogen vehicles.
With this explosion, hydrogen supporters in Norway will have lost much of the little good will that hydrogen fuel cells have built up. It has probably resulted in the last nail being put into the hydrogen car coffin.