What right does an individual have to be transported in an inefficient and heavy pod? This, and other strategic questions, are ignored in discussions about electric vehicles. Debate focuses on narrow tactical issues, rather than those of strategic importance.
Yes, vehicles are necessary, but not all vehicles are necessary. Electrification of vehicles is a necessary transition if the world is to avoid the calamity of global warming. Unfortunately, it is probably an insufficient measure. This means that very shortly one must come back to the initial question about individual rights.
Nations and Cities
Much of the debate about electric vehicles has been left to vehicle manufacturers, who have a vested interest in the status quo. EV1 developed by General Motors was a pubic relations dream. Everything about the EV1 was orchestrated to show the impracticality of EVs, except for the fact that the consumers who used them loved them. In the end, GM used all means at its disposal to destroy all vestiges of the EV1. They didn't succeed.
While vehicle manufacturers have their own particular strategies, these will have to be harmonized with those of nations and cities where EVs will be operated. California requires manufacturers to sell EVs in order for them to be allowed to sell environmentally dangerous vehicles. They do so at a loss. Both Norway and the Netherlands have stated that they will not allow the sale of new fossil fuel vehicles after 2025 and 2030, respectively. Many other nations are talking about 2040. The Paris Accord may force these and other nations to react before then.
Consumers
It would be easy to be a vehicle manufacturer, if one could ignore customer needs and desires. Unfortunately, vehicles still have to be sold. This means that consumers are concerned with such matters as net acquisition costs, that is the cost of a vehicle after any government subsidies have been taken into consideration, and operating costs, especially the price differential between gasoline or diesel and electricity.
This said, a mid 21st century consumer may not be a private individual. It may be a ride-share company or other consortium of investors. The riders in that vehicle may not just consist of a vehicle owner and her immediate family.
Types of vehicles
With a little good will, there are six types of motive power in use. ICEV = internal combustion engine vehicles, found in two variants, gasoline and diesel. In addition, there are: HEV = hybrid electric vehicles, PHEV = plug-in hybrid electric vehicles, BEV = battery electric vehicles, and FCV = fuel cell vehicles.
Unfortunately, there is no reason why any of these variants should exist in 2040. WPTEV = wireless power transfer electric vehicles, are the future, especially if they are equipped with auxiliary batteries for "last kilometer" use, and as a safeguard against grid disruptions. In the future, the term hybrid may designate a WPTEV equipped with a battery.
Market segment
The European Union has divided the automotive market into nine segments, referred to by as single letter. These are (with 2011's market share followed by 2015's in parenthesis, to closest tenth of a percent) – A: mini cars (8.7/8.8); B: small cars (26/22); C: medium cars (23/20.6); D: large cars (11/9); E: executive cars (3/2.7); F: luxury cars (0.3/0.3);J: sport utility cars (including off-road vehicles) (13/22.5); M: Multi purpose cars (13/10.5); and, S: Sports cars (1/0.7). This leaves (1/2.8) not reported. While other segments show some change, SUVs have almost doubled in quantity. This trend was not noticed in Norway, perhaps because SUVs have already been overrepresented. Further information is found here.
While some electric vehicles target luxury segments, many are for the 99%, segments especially A to C. Low-speed neighbourhood vehicles are largely electric. A large number highway speed A-segment vehicles are found, including the Fiat 500e, VW e-Up and Smart ED. Only a few B-segment vehicles, such as the Renault Zöe, are battery electric. Choice is further restricted in the C-segment, which is dominated by the Nissan Leaf. The Tesla Model S is in either E or F. J-segment SUVs, such as the Hyundai Kona, are just coming onto the market. The Workhorse W-15 pickup prototype, indicates that electric vehicles may soon enter this market segment.
Manufacturing strategy
Automotive manufacturers tend to concentrate on what they perceive to be their core competencies. They insource everything from electrical components to car interiors from specialist manufacturers, such as Bosch (electrics) and Faurecia (interiors).
Strategic decisions have to be made regarding manufacturing platforms, as well as product design
Platforms
There are two approaches to platforms to produce electric vehicles. Either one can produce battery electric vehicles on existing platforms, or design a completely new platform for electric vehicles.
Product design
There are, similarly, two approaches to electric vehicle product design. Either one can adapt battery electric vehicles to existing ICE designs, or design a completely new product. While an adapted battery electric vehicle could be produced on either type of platform, a new electric vehicle design would almost certainly require the use of a new electric vehicle platform.
Case study # 1 – Fiat-Chrysler
Fiat-Chrysler CEO Sergio Marchionne is an EV skeptic. In November 2009, he disbanded Chrysler's electric vehicle engineering team and dropped sales targets for battery-powered cars, that had been set as it was approaching bankruptcy and needing government aid. Its electric car program had been part of the case for a USD 12.5 billion federal aid package.
As late as August 2009, Chrysler took $70 million in grants from the U.S. Department of Energy to develop a test fleet of 220 hybrid pickup trucks and minivans. Chrysler's previous owner, Cerberus Capital Management, had set up a special division in 2007 called "Envi" as in, environment, to develop hybrid technology.
Chrysler announced in September 2008, that it was developing three electric vehicles and would sell the first of the models by 2010. In January 2009, at the Detroit Auto Show, Chrysler pledging to have 500,000 battery-powered vehicles on the road by 2013, including sports cars and trucks. By November 2009, Chrysler's five-year strategy made no mention of electric cars. It was the only one of the six top-selling automakers without a hybrid offering.
In May 2012, Marchionne urged people not to buy Fiat 500 EVs because the company loses about USD 10 000 on every sale.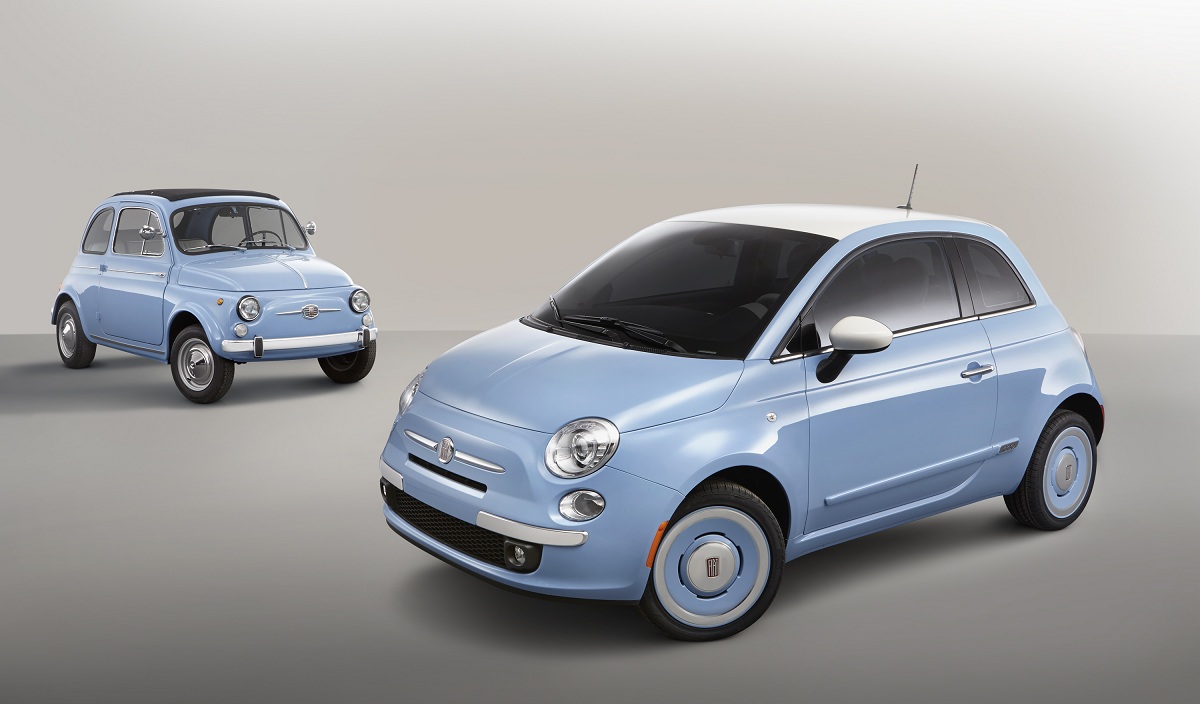 What actually concerns Marchionne is a fear that increased use of electric powertrains will lead to car manufacturers losing control to vehicle components suppliers. Yet, his head-burying approach will lead precisely to that outcome.
Case study # 2 – Volkswagen
Currently, Volkswagen uses MQB, Modularer Querbaukasten, translated as "Modular Transversal Toolkit" or "Modular Transverse Matrix". It launched in 2012 for all VW Group brands, including Volkswagen, Seat, Audi and Škoda. It covers the A0 segment to the C segment. It is flexible in terms of powertrains and vehicle's chassis. Larger vehicles use MLB, which stands for Modularer Längsbaukasten, translated as "Modular Longitudinal Matrix". This was officially launched in 2012, but has its origins in 2007, with the Audi A5.
MQB and MLB are not platforms, but production systems for transverse and longitudinal engine vehicles, respectively, regardless of production platform, model, vehicle size or brand. There is a core "matrix" of components. A frequently cited example is their common engine-mounting core for all drivelines (e.g., gasoline, diesel, natural gas, hybrid and battery electric) of the specific approach (transverse or longitudinal). In each system, the pedal box, firewall, front wheel placement and windscreen angle are fixed. Otherwise vehicles can be shaped to fit any body style and size range. Results from this approach include reduced vehicle weights (which reduces vehicle operating costs) and allows different models to be manufactured at the same plant, reducing production costs.
The only problem with MQB and MLB is that they were eclipsed by Dieselgate, the Volkswagen emissions scandal, revealed in September 2015. The challenge is that while catalytic converter technology has been effective since the early 1980s at reducing nitrogen oxide in gasoline engine exhaust, it does not work well for diesel exhaust because of the relatively higher proportion of oxygen in the exhaust mix.
In 2005, there was disagreement at Volkswagen regarding the use of Mercedes-Benz BlueTec technology. If they had opted for this, there would have been no scandal. Instead, starting in the 2008, Volkswagen began using a common-rail fuel injection system that failed to combine good fuel economy with compliant NOx emissions. Already about 2006, Volkswagen programmed the Engine Control Unit to switch from good fuel economy and high NOx emissions to a low-emission compliant mode when it detected an emissions test. This made it into a defeat device.
Dieselgate forced Volkswagen to re-think its options. It lied and deceived consumers as well as environmental authorities. In order to claw back its reputation, Volkswagen decided to position itself as a leading battery electric vehicle manufacturer, but without a significant number of battery electric models to offer the public. In this new world, the driveline approach of MQB and MLB became obsolete.
Welcome Modularer Elektrifizierungsbaukasten (MEB). In terms of vehicle size this approximates that of the MQB, but is is restricted to electric vehicles. The MEB is optimizing axles, drive units, wheelbases and weight ratios for battery electric vehicles. It is focusing on the design and position of high-voltage drive batteries. battery. Its flat placement on the vehicle floor free up interior space. Other changes allow the dashboard to be more compact, the position of the centre console to vary, and provide space occupants in an autonomous vehicle to work or enjoy leisure.
Volkswagen has released a time frame for five EMB vehicles. The first will be the 125kW, 500km ID Hatchback shown at the Paris Motor Show in 2016. It could/should be available in 2019. Europe will be the priority market for this model. At the far end of the spectrum with a 2022 debut, is the ID Buzz. This has been a long journey for Volkswagen, which has been teasing the public with such a vehicle since 2001, when it presented a Microbus concept vehicle. The ID. Buzz was first shown at the North American International Motor Show, in Detroit, in 2017. It has potential markets throughout the world. The Buzz may also play a significant role in Volkswagen's upcoming Uber rival, MOIA, launched in December 2016.
MOIA was set up to redefine urban mobility. With offices in Berlin, Hamburg and Helsinki it aims to become a leading mobility service providers by 2025, including on-demand ridehailing and ridepooling services. It is investing in digital startups and collaborating with cities and established transport providers
Between these two vehicles, three other vehicles will be released. The next vehicle will be the ID Crozz crossover coupe. At 225 kW, it is more powerful, but will retain the same 500 km driving distance on a single charge. It will be available in Europe and China. The ID. Crozz was first shown at Shanghai Auto Show, in 2017. Perhaps the most important feature of the concept vehicle were the four roof-mounted laser scanners for autonomous driving mode, or in VW-speak, ID. Pilot mode.
After this come two additional vehicles with code names ID. Lounge and ID. AEROe. The Lounge could be a luxury car, possibly a promised Phaeton, whose second generation development was halted, then changed to an electric vehicle post Dieselgate. The AEROe could be a sporty four-door coupe.
In contrast to Fiat Chrysler, Volkswagen is focused on controlling its electric future.
This weblog post was updated 2021/12/21. to eliminate Seeds from the title. This post formed part of a Needs, Seeds and Weeds website that belonged to my daughter, Shelagh. In addition, other things are also out of date, or my opinions have changed. Apart from the title, updating the text to a block format and other minor formatting changes, the text above this paragraph remains as it was before. Any significant content changes are found below this paragraph.