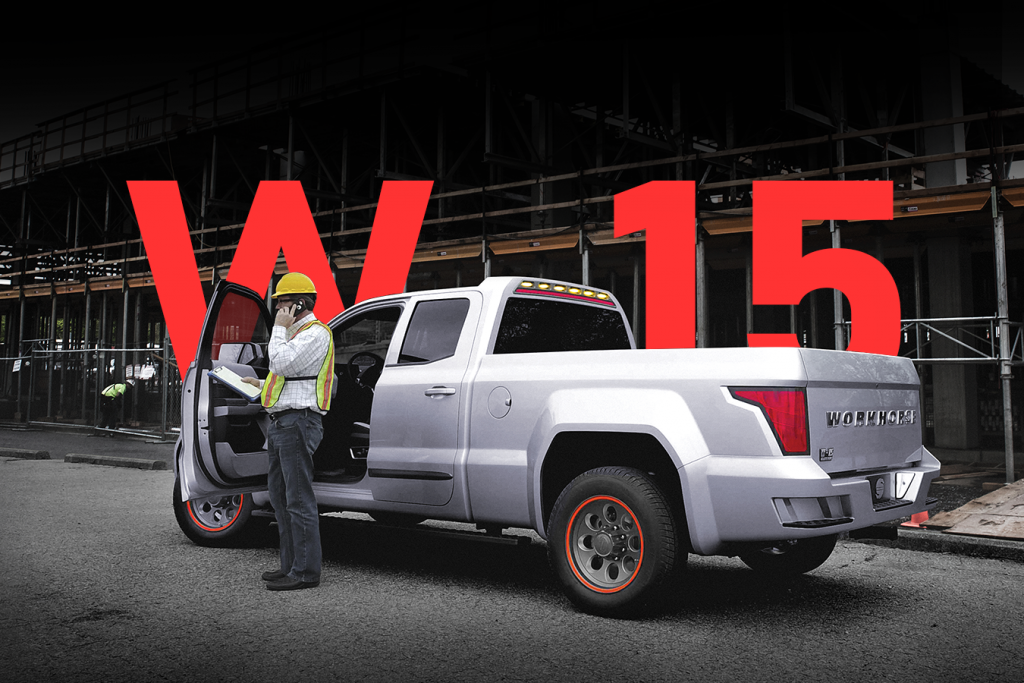 In 1998, Workhorse Custom Chassis was founded in Cincinnati, Ohio to take over production of General Motors' P30/P32 series stepvan and motorhome chassis. By 2005, the company was taken over by Navistar International, its supplier of diesel engines. Navistar then closed the plant in 2012.
AMP Electric Vehicles bought the company in 2015, and changed its name to Workhorse Group Incorporated, scattering attention on electrically and ICE powered delivery vans, buses and recreational vehicles.
In 2016, Workhorse introduced a W-15 Hero prototype, an all-wheel drive plug-in pickup. It used custom battery packs, to provide power to an electric-drive, with a range oft 80 miles/ 130 km. These batteries were housed underneath the vehicle to save space and provide more payload capacity. Confusingly, a BMW three-cylinder generator/ range extender was also provided, making this a hybrid ICE vehicle, rather than a pure battery electric. The vehicle was be built with four motors — one for each wheel — to deliver all-wheel drive. It also had outlets to run power tools off the vehicle battery.
In 2018, Workhorse scattered attention again, by announcing Surefly, its two-seat gasoline/ electric hybrid eVTOL (vertical takeoff and landling) octocopter.
On 2019-11-07, the newly constituted Lordstown Motors Corporation purchased the 576 000 square meter Lordstown Ohio assembly plant from General Motors. This plant originally opened in 1966. Confusingly, some reports say Workhorse Group has a 10% stake in this plant, others state that it has no financial involvement.
The plant has been a political liability for GM since its 2018 announcement that it would not use the facilities. This became an immediate political liability for Donald Trump, who earlier had discouraged supporters from selling their homes in Lordstown because of all the jobs he would bring back to the area
Steve Burns, previous CEO of Workhorse, and current CEO of Lordstown Motors, is fundraising to convert the plant so it can manufacture electric vehicles. What used to be called a Workhorse W-15, is now being called a Lordstown Motors Endurance, targeting pickup truck fleet buyers.
Meanwhile, Workhorse Group is bidding on a contract to make plug-in mail trucks for the U.S. Postal Service. Even if Workhorse wins the postal contract, it is unclear if the Lordstown plant would build those vehicles. Lordstown Motors does have an agreement to transfer the 6 000 existing pre-orders for the W-15/ Endurance from Workhorse Group to Lordstown Motors for production.
Burns has stated that Workhorse and Lordstown Motors share intellectual property related to electric-drive systems.
Production of the W-15/ Endurance is dependent on successful funding. If sufficient funds were raised, Burns said he would work with the UAW (United Auto Workers Union) to hire staff who didn't transfer to other plants. Burns wants experienced vehicle assemblers to build the trucks.
Lordstown Motors has the money to buy the plant and work on the vehicle, but needs more money to continue development, conduct crash and safety testing, get the truck approved for sale and to retool the factory.
Lordstown Motors is not the only electric pickup attracting attention. The Rivian R1T pickup is possibly the top contender, is fully electric, has an exciting design that it shares in part with its R1S SUV sister, a large fan base willing and able to purchase vehicles, financing under control, and production facilities secured in Normal, Illinois. Ford has also announced its own fully electric version of its F-150 pickup. Yet, the pickup everyone is wanting to learn about is the Tesla Cybertruck, to be unveiled in Los Angeles, 2019-11-21. Which is why anything about the Workhorse W-15 Hero/ Lordstown Motors Endurance had to be pushed out now.