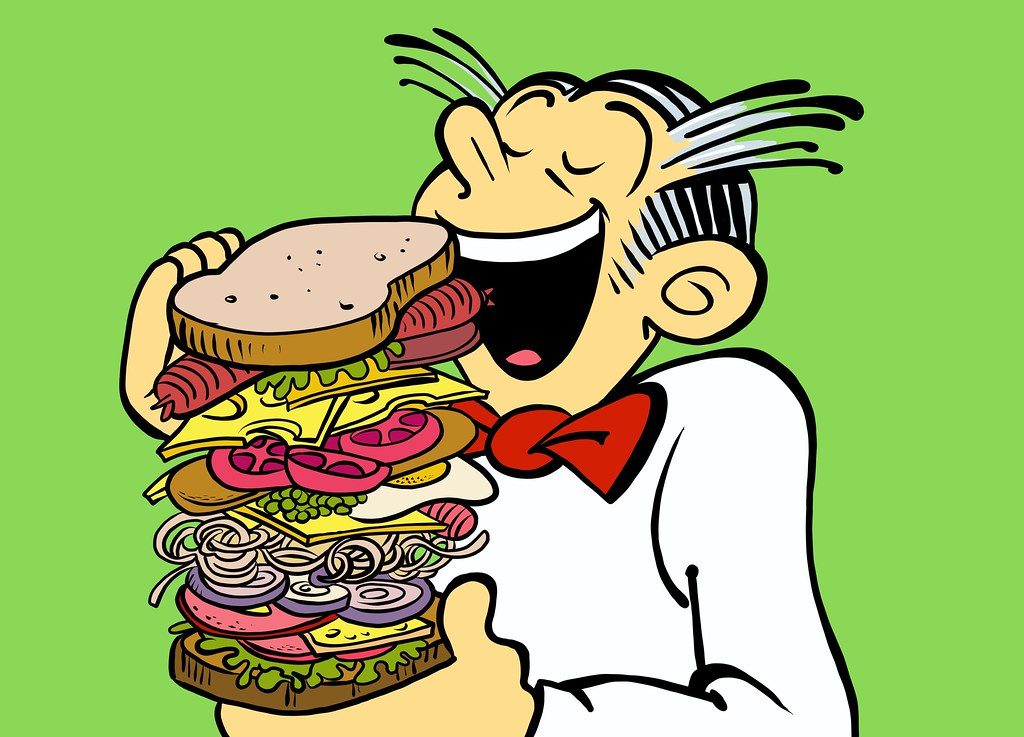 In a weblog post about sandwiches, no American or Canadian can fail to mention Dagwood Bumstead and his impossibly high Dagwood sandwiches. Chic Young (1901-1973) created the comic strip Blondie 1930-09-08. It relates the adventures of flapper Blondie Boopadoop both before, but especially after, her marriage to Dagwood, and their life together with children Alexander and Cookie and dog Daisy, in Joplin, Missouri. In my childhood, this comic strip was required reading.
Here, the topic is the vegan recreation of iconic meat based sandwiches including tuna, clubhouse and BLT – bacon, lettuce, tomato. It is inspired by an article in the Guardian, about upcoming vegetarian makeover at Pret a Manger:
Some common ingredients: Cheese, at Cliff Cottage, refers specifically to just one variant – Cheddar, which was the only type of cheese its residents actually grew up with; Roasted shiitake mushrooms are used to imitate rashers of bacon; mayonnaise can be regular or vegan, depending on whether or not the consumption of eggs is a dietary consideration.
Cheese Fantasy (a Cheese Dream, but without the bacon)
Open-faced grilled cheese sandwich with roasted shiitake mushrooms.
FLT (Fungus, lettuce, tomato)
Pret a Manger refers to their equivalent as VLT, as if mushrooms were vegetables. Roasted shiitake mushrooms, with sliced tomatoes, green salad and mayonnaise. The mayonnaise can be filled with finely chopped tofu.
Funa (fake tuna)
Kabuli chickpeas aka garbanzo beans, can successfully mimic tuna. They are crushed then flavoured with chopped pickled onions, capers and seaweed mixed with vegan or regular mayonnaise, depending on whether or not the consumption of eggs is a problem. The precise formulations are left as an experimental exercise.
Gladys sandwich
This sandwich is named after Gladys Love Presley (née Smith; 1912 – 1958) who made these sandwiches for her son, Elvis (1935 – 1977). It consists of toasted bread slices with peanut butter, sliced or mashed banana. Originally it sometimes contained bacon. Where this taste is wanted, roasted shiitake mushrooms can be substituted. Honey is sometimes used as a condiment.
Hangout (is the new clubhouse)
Wikipedia tells us that vegetarian club sandwiches often include hummus, avocado or spinach, as well as substitute the real bacon with a vegetarian alternative. Mustard and sometimes honey mustard are common condiments. The sandwich is commonly served with an accompaniment of either coleslaw, or potato salad, and often garnished with a pickle. Due to high fat and carb content from the bread, bacon and dressing, club sandwiches have sometimes been criticized as unhealthy.
Waterloo Sandwich
Food writers James Beard (1903 – 1985) and Evan Jones (1915 – 1996) believed that the Denver sandwich was created by Chinese chefs who cooked for logging camps and railroad gangs in the nineteenth and early twentieth centuries, and was probably derived from egg foo young. The first written reference to a Denver sandwich appears 1903-04-07 in the, Semi Weekly Iowa State Reporter (Waterloo, Iowa), pg. 6, col. 1. In honour of this, the hamless equivalent of a Denver sandwich, has been renamed the Waterloo sandwich. It features shiitake mushrooms, onions and green peppers in a cheese omelette.
Conclusion
Reducing red meat consumption in sandwiches doesn't seem to be a major problem, as long as one appreciates roasted shiitake mushrooms!