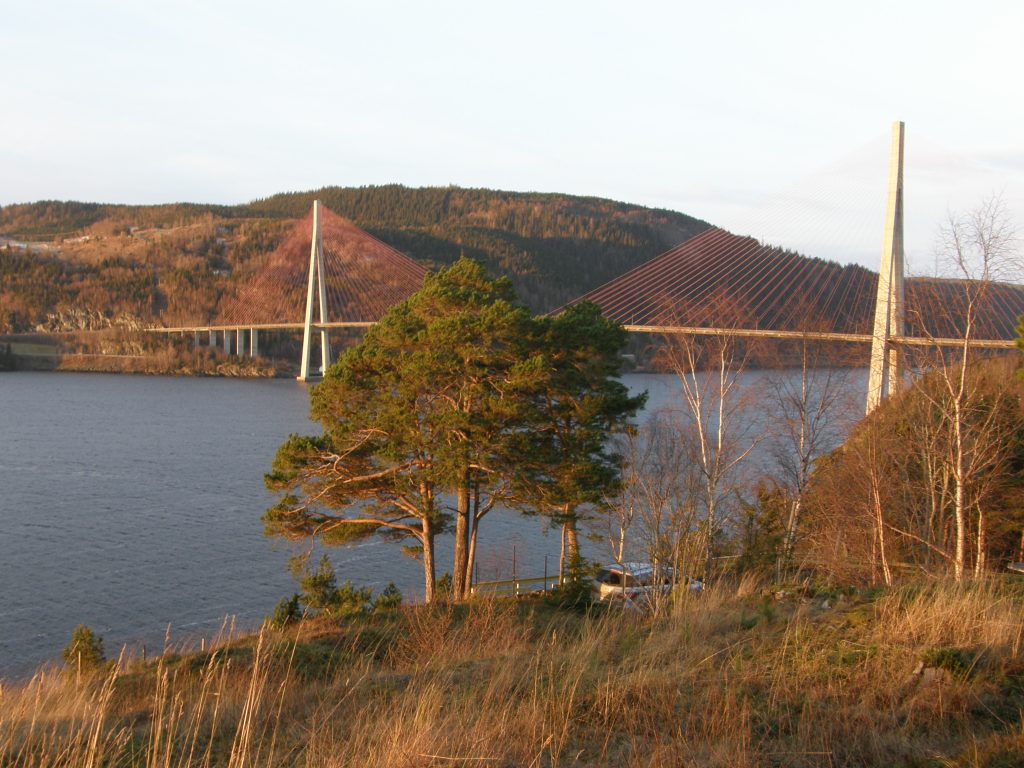 Welcome to a Norwenglish lesson, designed to help you learn a few Norwegian words, and some aspects of the Norwegian culture.
Identity
Personnummer (identification number) This 11 digit number is the equivalent of an American Social Security number or Canadian SIN. It provides the owner's date of birth in clear text in the first six digits, but cannot distinguish the century. It also codes for binary gender in the ninth digit – odd numbers for males, even numbers for females. Not particular appropriate in a society where people face age and sex discrimination.
Folkeregister (population register) This is a database that tells where every resident lives. One of the newer iterations of this was to encode street addresses, so that emergency services could find their way to every building in the country. From the start of a street, odd numbers are on the right hand side, even numbers on the left. Our house number, 82, indicates that our driveway starts somewhere between 820 and 840 meters from the start of the road, on the left hand side.
Possessions
Hus (house) also referred to as an enebolig (single family dwelling) is the standard occupancy unit for families. Apartments are far less common than in Sweden, for example.
Hybel (dorm room) takes what would be storage space in a house and transforms it into rental accommodation, typically for students. In addition to providing a place to live, it also gives the house owner a number of tax advantages.
Garasje (garage) is a building used to store anything and everything, with the exception of a car. Building a garage is a side effect of renting out dorms.
Bil (car) is a public display of outdoorsmanship, rather than wealth. While Norwegians are increasingly becoming more European, and buying more SUVs, they have for many decades prioritized station wagons, where other nationalities would choose sedans, or at least hatchbacks. In an idealized world, a car is used to transport people to the mountains or the seashore – for recreational purposes. Unfortunately, in the real world, it is most often used to commute. The word bil itself shows how many Norwegian words are created. In this case take automobil, discard the front, and use the tail of the word. In contrast, Germans use the front, Auto.
Tilhenger (trailer) has two related meanings. Literally, it means follower, sometimes translated as believer. However, it also refers to a poor person's pickup truck. Most cars are equipped with a krok (literally hook but implying hitch or tow bar). These are used for trips to the local recycling center as well as visits to Ikea. One would never dream of buying a car, without knowing the mass of trailer it is allowed to pull. Ordinary mortals are allowed to pull 700 kg, but with a special license higher weights are permitted. We have a trailer with a weight limit of 2 000 kg, but our Mazda 5 is only allowed to pull 1 200 kg. The trailer weights almost 400 kg, so we can take 800 kg of junk to the dump at a time.
Båt (boat) today usually refers to something made of fiberglass, powered by a 9.9 hp outboard motor. Fishing is the common excuse used by people to explain their presence on the water. People born in 1980 or later, need to have a boat operator certificate. Those born before are grandparented in.
Naust (boathouse) comes from an age before boat trailers became common. It is a building at the edge of the shore used to house boats, fishing equipment and all things nautical. Nausts don't like to be alone, so there are often several of them in a line. Like a garage it has an alternative use as a bar and dance floor used specifically on Sakthans (Saint John's Eve). Celebrations start at sunset on 23 June. This closely coincides with the Midsummer solstice. In addition, the celebration features burning of pyres, the higher the fire, the better.
Ski (skis) are wooden sticks used to propell a person across the countryside during the winter. Purists will only reluctantly admit alpine (or downhill) skiing, favouring a Nordic (or cross-country) variety, or ski jumping or the biathon which combines cross-country skiing with rifle shooting. Many of the best competition skiers come from Trøndelag, including Inderøy.
Hytte (cabin) is home away from home. If this is to be used at Easter (or during the winter) it should be located in a mountainous area. If it is to be used during the summer, it should be located by the sea. Increasingly, people are finding it more convenient to rent an apartment in the mountains for a week, or to buy a boat with live-aboard accommodation. Since we live in a hyttefelt (cabin community) we feel no need for an extra cabin.
Julebord (Christmas party) is one of those obligatory events featuring excessive amounts of traditional Christmas foods, that vary according to the region, and – optionally – excessive amounts of almost anything else. Foreigners are never quite sure if jul (pronounced yule) is a Christian or a pagan celebration, for it seems to accommodate liberal amounts of both.
Obsolescence
Postkontor (post offices) have closed down, but reopened as post-i-butikk (post-in-the-shop), moving to a large grocery store in each area previously served by a post office. Hours have expanded to match that of the shops, which for us means from 7:00 to 22:00 (10 pm) Monday to Friday ; 9:00 to 21:00 (9 pm) on Saturday; closed on Sunday. This is where we come to pick up most on-line purchases, although if we were willing to pay more, some can be delivered to the door. Yes, we still have mail delivery, but this has been reduced to five days a week.
Bank (bank) size and services are being reduced. First, the bank bok (bank book) was eliminated. Kontanter (cash) is seldom required any more. Bankkort (debit and credit cards) are used in stores and for on-line purchases. While there was a period when a minibank (ATM/ cash machine) was to be found outside any bank, these have been reduced in number. Most food stores offer cash back when making purchases, since each and every bank card has approved picture ID on its reverse. Sjekk (cheque/ check) was a payment system that was in use when we first moved to Norway. The last check we wrote in Norway was in 1992. We have two 10 kroner mynt (coins) in the car to use at stores that require a coin to be inserted in order to use a handelvogn (shopping buggy). We only shop at one store now, that has this prehistoric condition. In addition, there is Vipps which is cell-phone based payment system.
Fasttelefon (landline) is dying fast. When we first moved to Norway in 1980 there was a ten year waiting list to receive one. When we moved to Bodø in 1985, we were able to get one installed in two weeks. The number of landlines reached a peak of about 2 million in 2001. Since then numbers have deteriorated to 200 000. Last month the telephone company announced that they would no longer repair service to the remaining phones, and said the last ones would be eliminated in 2023. This anouncement was met with outrage. We have not had a landline since the beginning of 2019.
Fjernsyn (television, literally distant vision) is doomed. Nobody under the age of 40, some would say 50, watches programs according to a television schedule. That is performed as a matter of public service to the elderly. Most of the population stream programs at their convenience. The exception, of course, is sports.