The Old Colossus
Colossus was the world's first digital, electronic, programmable computer, although it was programmed by switches and plugs and not by a stored program. It was constructed at Bletchley Park, England in 1943-4.  It was designed by research telephone engineer Tommy Flowers (1905-1998), assisted by William Chandler, Sidney Broadhurst and Allen Coombs; with Erie Speight and Arnold Lynch developing the photoelectric reading mechanism.. Twelve machines were built, which were used for military (decryption) purposes during World War II.
A colossus machine used massive amounts of electrical energy (8.5 kW) compared with a today's devices (sometimes less than 50 W), but it was able to undertake massive amounts of computation – for its day, the value of which far exceeded its electrical consumption. 272 women (Wrens) and 27 men were needed to operate ten machines.
Fast forward to today. My aspiration for the Internet (and computing in general), is that it will (help) transform the World, by allowing everyone, including the poorest, access to vital information on numerous topics, including but not limited to: weather and climate, health, nutrition, education, appropriate technology, assorted innovations, ethics and art. We must treat all people as equal citizens with dignity, welcome in a digital world that is still in the process of being created. We must forge peace, not wage war!
The New Colossus
The world anno 2019 does not need an old colossus. Big data, and the information that derives from it, fuels the world. A new colossus is needed, server farms, that can provide data and information to everyone. Unfortunately, the major technological firms are less interested in supplying data, than they are in collecting it, especially personal data.
The new colossus has an energy challenge. For every watt needed to run a server, half a watt is needed to cool it. Selecting a location for a server farm can be as important as selecting a processor, to achieve energy efficiency. Iceland is a preferred location, not just because of its cold climate all, but also because of its cheap and carbon-neutral geothermal electricity.  Fibre optic cables connect it to North America and Europe.  Other prime locations are in Canada, Finland, Sweden and Switzerland. At the most well regulated sites, waste heat from servers warms residential, commercial and even factory buildings, compensating their computing usage.
An Aside
It is in this spirit that the words of Emma Lazarus (1849–1887) are repeated. She wrote them in 1883 to raise money for the construction of a pedestal for the Statue of Liberty. In 1903, her sonnet was cast onto a bronze plaque and mounted inside the pedestal's lower level:
The New Colossus
Not like the brazen giant of Greek fame,
With conquering limbs astride from land to land;
Here at our sea-washed, sunset gates shall stand
A mighty woman with a torch, whose flame
Is the imprisoned lightning, and her name
MOTHER OF EXILES. From her beacon-hand
Glows world-wide welcome; her mild eyes command
The air-bridged harbor that twin cities frame.
"Keep, ancient lands, your storied pomp!" cries she
With silent lips. "Give me your tired, your poor,
Your huddled masses yearning to breathe free,
The wretched refuse of your teeming shore.
Send these, the homeless, tempest-tost to me,
I lift my lamp beside the golden door!"
Devices
Computer is an inappropriate term to describe personal devices used to access and manipulate data.  These devices seldom compute! Several equipment manufacturers produce devices for the poor of this world. Often, these are referred to as phones, but larger devices, such as tablets, laptops and desktop machines, are also provided. One of the most important device categories was the netbook, that emerged in 2007 and died in 2012. The netbook did not simply appear, but was part of an evolution that had a past and has a future.
eMate
Miniaturization has always been important for computer development, and I have always been attracted to small computers. One of the first of these was the Apple eMate 300. It had a 172 mm diagonal screen ( with 480 x 320 pixel resolution),  16-shade grayscale display with a backlight, stylus pen, keyboard with about 85% the size of a standard keyboard, infrared port and standard Macintosh serial/LocalTalk ports. Its rechargeable batteries lasted up to 28 hours on full charge. It used a 25 MHz ARM 710a RISC processor. It was first introduced on 1997-03-07. While I waited patiently for it to come to Norway, it was discontinued less than a year later, 1998-02-27.
The eMate was not a netbook, but an inspiration. While the Internet existed, it was nothing like it is today. Public and commercial use of the Internet began in mid-1989. By the end of 1990, Tim Berners-Lee had created WorldWideWeb, the first web browser,  and had built all the tools necessary for a working Web: the HyperText Transfer Protocol (HTTP), the HyperText Markup Language (HTML), tHTTP server software, the first web server and the first Web pages (they described the project). By 1995 many of the components that characterize the current concept of the Internet had been developed, including near instant communication by email, instant messaging, telephony (Voice over Internet Protocol or VoIP), two-way interactive video calls,  discussion forums, blogs, social networking, and online shopping sites. Increasing amounts of data are transmitted at higher and higher speeds over fiber optic networks operating at 1-Gbit/s, 10-Gbit/s, or more. About the only thing missing were ordinary people, and internet speeds beyond what a dial-up modem could provide.
While ADSL was available in Norway from about 1998, we were only able to obtain it in 2004. Norway was a rich country at this time, so one can only imagine what was happening (or more correctly, not happening) in the poorer regions of the world. Even then, we lived almost at the limit of what could be provided through the copper wires of the telephone system. After using it for fourteen years, we have now progressed to fiber broadband. We have chosen 50 Mbps, but could have chosen anything up to 1 Gbps, if we had wanted to pay for it. We didn't.
OLPC
The One Laptop Per Child (OLPC) is known for its innovation in producing a durable, cost- and power-efficient netbook for developing countries, it is regarded as one of the major efforts to encourage computer hardware manufacturers to create low-cost netbooks for the consumer market. Seymour Papert (1928 – 2016) provided the pedagogical inspiration with his version of constructionism, encouraged the use of computers by young children, to enable full digital literacy. Nicholas Negroponte (1943-) was chief promoter of the project, starting in 2005 at the World Economic Forum, at Davos, Switzerland.
Netbooks
A netbook is a category of small, lightweight, inexpensive laptop computers. These are legacy-free, meaning that they use USB ports to replace bulky components such as floppy drives and device-specific ports. This allows machines to be more compact.
The first real netbook was a Asus EEE PC 700. Originally designed for emerging markets, the 225 × 165 x  35 mm device weighed 922 g. By today's standards it was very primitive, with a 178 mm diagonal display (800 x 480 pixels), a keyboard approximately 85% the size of a normal keyboard (yes, the same as an eMate 300), a 2, 4 or 8 GB solid-state drive  and Linux with a simplified user interface.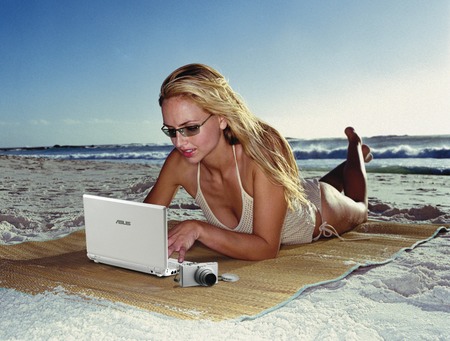 Between 2009 and 2011, netbooks grew in size and features, and converged with smaller, lighter laptops. At this point, the netbook's popularity fizzled as manufacturers tried to add features to prevent netbooks from cannibalizing their more profitable laptops. Peak Netbook,  at about 20% of the portable computer market, was reached in early 2010. After that, netbooks started to lose market share. In 2011 tablet sales overtook netbooks. The netbook era ended in 2012 when netbook sales fell by 25 percent, year-on-year. Asus, Acer and MSI announced they would stop manufacturing their most popular netbooks in September 2012. At the same time, Asus announced a focus on their Transformer line.
Chromebooks
Chromebooks are in many ways the new netbooks. They are  laptops and tablets running Linux-based Chrome OS, used to perform a variety of tasks using a browser, with most applications and data residing in the cloud (read: servers run by major corporations) rather than on the machine. They were first introduced by Acer and Samsung in June 2011.
In 2013, Chromebooks became the fastest-growing segment of the PC market. While current Chromebooks function better offline than before, they are still dependent on an Internet connection  to function optimally.
Netbook sized computers, including Chromebooks, offer several distinct advantages. First, their compact size and weight make them appropriate in compact work areas, such as cafes and classrooms. Second, the size makes them easy to carry and transport. Third, they are low priced. They are fully capable of accomplishing general tasks: word processing, presentations, Internet access and multimedia playback.
In North America, especially, schools have limited budget to provide computing resources. This has led to a rise of tablets, including iPads. Yet, Chromebooks provide a more complete hardware solution, such as a full-size keyboard. There has been a transition away from tablets to Chromebooks, so that almost 60% of school computers are Chromebooks. However, the most important factor for success in education, has little to do with the physical machine, it has to do with the human resources need for large-scale deployment. Chromebooks save IT (information technology) workers time!
Our Computers
It is not my job to support computer manufacturing companies so that they can reward executives with excessive salaries and bonuses. Thus, I want to avoid purchasing expensive computer equipment, and stick to minimal products. For example, much of our server equipment is purchased used, and I am a proponent of single board computers, such as the Raspberry Pi.
Here is a history of our netbook related computers since 2010, with comments.
An Asus EEEbox 1501p was purchased 2012-10-28 as a media centre. It ran assorted versions of Linux Mint, through its life. Unfortunately, it always ran hot, and developed heating issues that required repair. It was replaced by an Asus Tinkerboard, a Raspberry Pi clone, that was purchased 2017-03-31.
Since my employer supplied me with a laptop, I never felt that I needed a second one. Thus, I used an 2010 Acer Aspire tower for 6.5 years, until it was replaced with an Asus VivoMini VC65 desktop in 2017. Both of these were used at a height adjustable desk.
When I retired at the end of 2016, and handed in my workplace laptop, I used Trish's retired Asus, a U31F 13.3″ laptop originally purchased 2011-02-13 with an i3 core, 4 GB RAM, a 500 GB HDD, running Windows 7, before it was modified to run Linux Mint. Trish retired this machine because it was running hot, and the battery needed replacement. On 2017-05-15, I decided not to replace the battery, but instead bought an Asus Vivobook E402SA. This was not a good decision. While this new machine came with Windows 10, it was a direct decendent of the Asus EEEbook. Linux Mint was installed on the machine, but it never worked correctly. The screen would freeze, and the machine would have to be powered off and restarted. This could happen up to several times a day. It stopped working entirely in September 2018. Undoubtedly my worst computer purchase ever.
An Acer Chromebook 11 was acquired on 2018-11-16. This version allows Linux apps, such as LibreOffice (for word processing, presentations and spreadsheets), Mozilla Firefox web browser and Thunderbird mail server to be installed. In addition to its role as a workhorse, it was also purchased so that I could gain hands-on experience of Chromebooks, as a concept. The main problem with the machine is that the currently installed version of Firefox, ESR (Extended Support Release), will not play audio, although it will display video.  It will be uninstalled, and replaced with other versions, to see if there is one that works.
Most people do not need high-end devices. By opting for machines with modest specifications, modest machines will continue to be made.
Appendix: Asus
Former Asus CEO Jerry Shen attracted my attention in 2007 when he created (what I regard as) the first netbook, the Eee PC, in 2007. Shen is now off to lead a new AIoT (AI = artificial intelligence; IoT = internet of things, often referring to smart home applications) startup, iFast.
Wikipedia describes Asus as "a Taiwanese multinational computer and phone hardware and electronics company headquartered in Beitou District, Taipei, Taiwan. Its products include desktops, laptops, netbooks, mobile phones, networking equipment, monitors, WIFI routers, projectors, motherboards, graphics cards, optical storage, multimedia products, peripherals, wearables, servers, workstations, and tablet PCs. The company is also an original equipment manufacturer (OEM). Asus is the world's 5th-largest PC vendor by 2017 unit sales."
On 2018-12-13, slashdot.org wrote about Asus chairman Jonney Shih announcing a comprehensive corporate transformation involving the resignation of CEO Jerry Shen, a new co-CEO structure, and a shift in mobile strategy to focus on gamers and power users. There will be more ROG Phones and fewer ZenFones. During his 11 years as CEO, Shen oversaw the launch of the PadFone series, Transformer series, ZenBook series and ZenFone series. It may seem a worrisome development, but the place abandoned by Asus will undoubtedly be taken over by other companies who see the merits of supplying devices to people with lower incomes.
The McLellans have a history of buying Asus technology including numerous laptops, NAS (Asustor = Network Attached Storage), home theatre desktop (EEEBox), Tinkerboard single board computers, repeaters, etc. Of course, we also have family members who use Apple products exclusively, and another family member who uses Chinese developed products such as Lenovo computers and Huawei phones. Even I am forced to admit that my latest purchase was an Acer, after a difficult year of owning a Asus Vivobook.