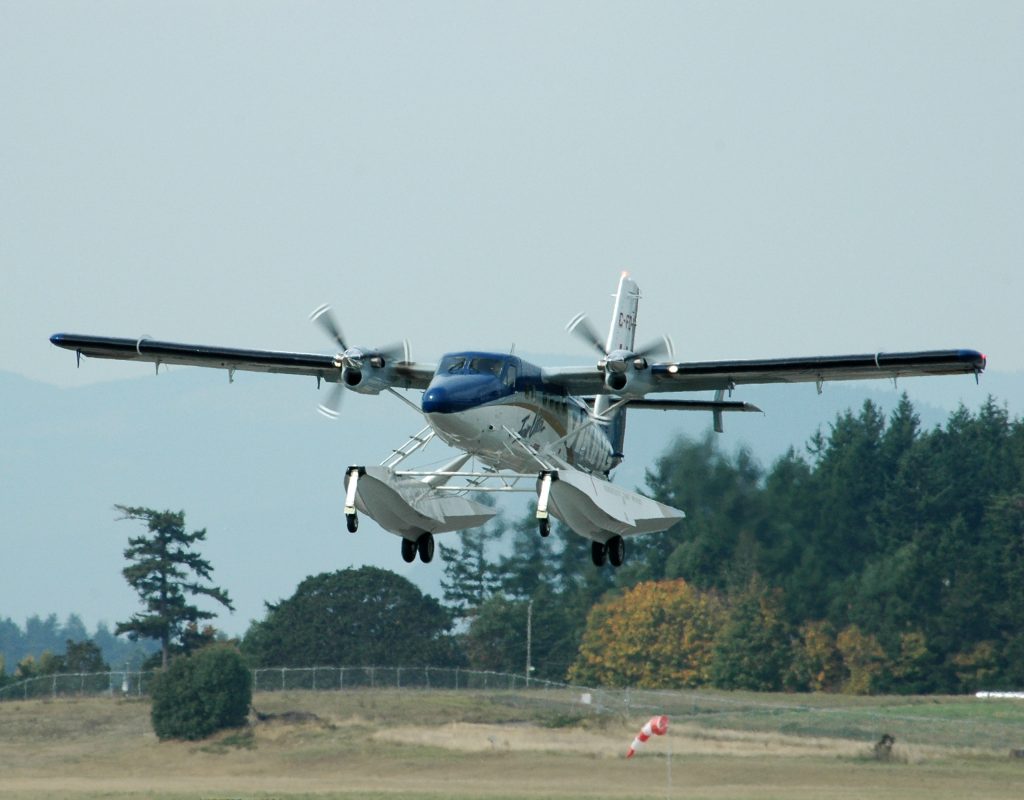 The Twin Otter is a popular and successful commercial aircraft, with 985 units built, as this weblog post goes to press. It is praised for its rugged construction and STOL (Short take Off and Landing) characteristics. Its price in 2017, was US$ 6.5 million.
Development of the Twin Otter started in 1964-01, when de Havilland Canada commenced work to modify the DHC-3 single-engined Otter design into a twin-engined turboprop STOL commuter airliner and utility transport, designated DHC-6. This involved lengthening the wings, and redesigning the rear fuselage, tail, and nose. Seating was increased to a maximum of 18.
Construction of a prototype began in 1964-11, which was first flown on 1965-05-20. There have been several production series, most notably the 100, 200 (from 1968-04) and 300 (from 1969). De Havilland ceased production of the Twin Otter in late 1988 after producing 844 aircraft.
Fortunately, after Series 300 production ended, the remaining tooling was purchased by Viking Air of Victoria, British Columbia, allowing it to manufactures replacement parts for all of the out-of-production de Havilland Canada aircraft.
On 2006-07-17, Viking Air announced its intention to offer a Series 400 Twin Otter. On 2007-04-02, Viking announced it had received 27 orders and options, and was restarting production of the Twin Otter. In 2007-11 a new assembly plant was established in Calgary, Alberta. The design has been modernized.
As of 2019-12, The 141 Series 400 Twin Otters have been made. Currently, 38% are operated as regional airliners, 31% in military aviation or special missions, 26% in industrial support and 5% in private air charter. About 70% use regular landing gear wheels, 18% are configured as straight or amphibious floatplanes, 10% use tundra tires and 2% use wheel skis.
In Norway, Widerøes Flyveselskap A / S became the major civil buyer of Twin Otters. In the late 1960s there was a large-scale development of small airports in Northern Norway and on the coast of Western Norway. Most of these airports had 800 meters long runways, suitable for Twin Otters, but almost nothing else. Widerøe bought their first Twin Otter in 1968, LN-LNM (s / n 127). In total, Widerøe bought 12 Twin Otters directly from the factory, besides 2 that were purchased used.
The Twin Otter showed outstanding reliability, and remained in service until 2000 on certain routes. Widerøe was, at one time, the world's largest operator of Twin Otters. During one period of its tenure in Norway, the Twin Otter fleet achieved over 96,000 cycles (take-off, flight, and landing) per year.
Further information about the Twin Otter in Norway, but written in Norwegian, can be found here.